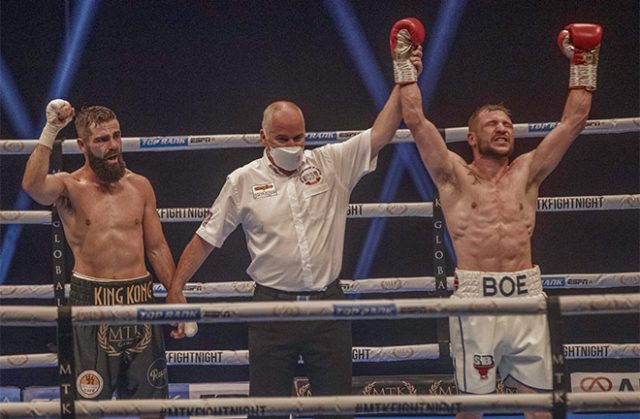 Jono Carroll returned to action in what was a potential banana skin, and the Dubliner certainly slipped up, against Maxi Hughes who took a deserved points win over ten rounds.
It was MTK Global's first offering behind closed doors and the action came from Production Park Studios in Wakefield. 
'King Kong' Carroll was coming off a career best stoppage win against Scott Quigg in March, and he returned here against two time British title challenger Hughes.
Carroll began in authoritative fashion, leading with good head movement and attacking in bursts in the opening frame.
Both men were setting traps for each other in the early going, with plenty of feints and posturing involved. 
Hughes landed some solid shots to head and body in round three as he began to settle and it was good competitive action as the two exchanged at regular intervals. 
After halfway, Carroll attempted to assert himself, but did walk into a stiff left hand in the sixth as a reminder to keep alert. 
Hughes is a tough nut to crack though and Carroll had to keep busy as Maxi was still having his own successes, making it a tricky fight to score.  
Carroll would attack in clusters but was punished on occasion when throwing from wide angles. 
The final round saw Hughes again get through, this time with a right hand, and a big left with a minute to go was a shot that Carroll absorbed well.
The pair reached the final bell, Where the result was no formality.
John Latham and Mark Lyson scored the contest 96-95, and Ian John Lewis tallied 97-93 as Carroll's hopes of a swift return to World title class went up in smoke.
"It's about time! I've been in with all the top boys, and pushed them all the way, I just knew deep down I had it tonight," said Hughes to Alex Steedman post fight. "Jono is world class and he brought the best out of me".
"It was a great fight, I just never got my range and was sluggish on my feet tonight" said a disappointed Carroll. "I'm just shocked. I thought I was better in most departments than Maxi, and I thought that would get me over the line tonight. I didn't overlook him though, my timing just wasn't there tonight."
Sean McComb impressed with a dominant ten round win over Siar Ozgul, who had previously been the distance with the likes of Viktor Postol and Anthony Yigit.
It was the first time that Belfast based McComb had been past eight rounds.
'The Public Nuisance' was in control for much of the contest and displayed good movement and shot selection as London based Turk Ozgul struggled to close the distance. 
McComb did sustain a cut in the third from a clash of heads but was rarely in trouble frustrating Ozgul with his quick feet and accurate punches. 
The result was a procession, with McComb getting the nod by scores of 99-92 and 97-93 twice.
Bolton's Sahir Iqbal picked up the vacant WBC Youth Welterweight belt and remained unbeaten with a points win over Maredudd Thomas, who tasted defeat for the first time as a professional.
Iqbal was slick and managed to stay out of range for the most part, but was momentarily stunned in the fifth from a Thomas left hand as the Welshman piled on the pressure. 
Iqbal returned to his boxing for the remainder, and although Thomas did come on strong in the eighth and final round in an attempt to tighten the scorecard, it proved to be to no avail. 
Scores of 77-76, 78-75 and 78-74 secured an unanimous win for Iqbal.
Dublin's Pierce O'Leary won the battle of the unbeaten Super-Lightweights as he ground down Huddersfield's Jacob Quinn in four rounds to move to 5-0. 
'Big Bang' O'Leary put in a controlled performance, winging in several body shots, as well as cuffing shots to the head. 
Quinn complained of a loss of hearing at the end of the third, which suggested a perforated eardrum, and a huge left hand at the very start of the fourth lost Quinn his balance and he fell to the canvas. 
On rising, the fight was rightly waved off. Quinn fell to 4-1 as a result of his first pro loss.
The opening contest of the evening featured promising undefeated Super-Lightweight Craig McIntyre and the Scot patiently went about his work before stopping Birmingham's Ishmael Ellis in five rounds.
A left hook to the body from McIntyre dropped Ellis in the fourth, and the Midlander survived the count and the round, but was breathing heavily at the end of the session. 
McIntyre upped the ante in the fifth, and a volley of spiteful shots forced referee John Latham to intervene.