In the continued fallout from the Mayweather vs. Ortiz fight two weekends ago, many of the biggest fighters in the world are getting their punches in… on Twitter. A huge war of words has been heating up on the social networking service, with Floyd Mayweather, Oscar De La Hoya, Victor Ortiz, Amir Khan, and many others chiming in with some choice words. Take a look and see what these guys have been saying to each other… here's a hint so far, round 1 goes to Mayweather!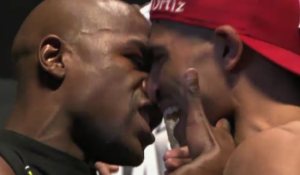 All of this really got going after De La Hoya and Ortiz held a conference call earlier this week to discuss the Mayweather fight and more or less demand a rematch. They were widely lambasted by the media and by other fighters for whining and complaining, making excuses and also taking the stage about a week too late to discuss their grievances once again. From there, Mayweather had plenty to say about Ortiz and his performance, and it's been back and forth.
—–> Also be sure to check out our full collection of boxers on Facebook & Twitter. You can also follow ProBoxing-Fans.com on Twitter for more updates.
Mayweather:
"I left the fight in the ring but Oscar and Ortiz keep doing interviews crying like some Golden Girl bitches. I will fuck both of you up."
"I named this car "The Karate Kid". It's doing what Victoria Ortiz should've done. Put your hands up!" Link to his Karate Kid car
"Hey Victoria Ortiz, I have a new avatar that you should use #MoneyTeam" Link to Ortiz swollen and bruised
"Victoria Ortiz's idol is Oscar De La Hoya aka Golden Girl" Link to De La Hoya in lingerie photo
"I've fallen and I can't get up.." Link to Ortiz on the canvas
"Victoria Ortiz's new nickname is "Take 2 of these and call me in the morning""
"Victoria Ortiz thought it was a head-butting contest. But that 2-piece gave him some act right."
"Does Victoria Ortiz want another rematch because he thinks he can win or does he want another payday?"
"Victoria's Secret" Link to Victor Ortiz underwear shoot
De La Hoya:
"It's so sad mayweather has to bash people and flaunt money he's not going to when he retires.give Ortiz a rematch.try beat him fair…And then maybe just maybe i will give you a mother chance at me."
"Dan Rafael is lucky he doesn't write for mma because he wouldn't get a credential." (After writer Dan Rafael criticized the conference call)
"I think dan rafeal takes it to personal.maybe he needs a hug?"
"I just feel dan talking all that s%*#t is so unprofessional.I'm standing by my fighter 100 %"
"I'm just saying a great fight was cut short because of bad sportsmanship."
"Ok ok you guys win I guess we will never know what would have happened just watch the fight again and try to be honest."
"It's like when fighters touch gloves in the last round and then all of a sudden someone cheap shots you."
"Watched the Ortiz fight again and I have to say Ortiz was coming on.it was only the 4th round and Ortiz was letting his hands go….He was just warming up putting may weather on the ropes.then the cheap shot came along and the ref was lost looking at someone ringside…. Ortiz wanted to make it a street fight not an unfair fight…. I'm not trying to sell I'm just saying that at 24 years young victor was going to come on strong.4 rounds u are just warming up…. The head butt was penalized.wasn't it?… You cannot tell who's going to win just by seeing 4 rounds especially when u have a young strong puncher like victor in front of you…. I'm just still fired up because of victor being young and strong and was in amazing shape and was hungry to win."
Victor Ortiz:
"As a man who shall be treated equally and respected by anyone and all SOME need to learn ALOT ;)"
"I hope I get to finish what I started against FLOYD, unfair. I head butted but he elbowed. I paid 4 it he walks away w unfair win REMATCH"
Amir Khan:
"and as for @floydmayweather…. the guy is a legend i think he will be more appreciated when he retires, love him or hate him we all …still watch him, hes kept boxing alive, i look up to him and met him afew times and hes a great guy, but to be the best you have to beat the best, and i want to be the first to beat him, 2012 i will be ready and no i aint looking past Peterson, it will be a mega fight even though Floyd bashed me for having 2000 unsold tickets for the Judah fight in Vegas, his fight vs Ortiz there was 1200 tickets given away and 3000 tickets unsold and thats in his hometown… oh well shit happens, im sure he done well on ppv and on the gate, im working towards the Mayweather fight and in a couple of fights time i will be ready, theres only one way of beating him, and his last few opponents all picked the same gameplan which was wrong…. love me or hate me im gonna get to the top and do whatever i have to do to get there"
"Floyd is ruthless he dne what he had to do against Ortiz, i nearly mde the sme mistake against maidana in the opening seconds of the 1st rnd"
"if Floyd done what he did in the begining of the 12th rnd where boxers show respect, it stil wud have counted bad sportsmanship doesnt count"
That's a lot of the chatter that has been circling. There's surely plenty more to come, and there's talk of Mayweather-De La Hoya rematches, Mayewather-Ortiz rematches, Mayweather-Khan and on and on from there. We couldn't even try to round up everything that has been said, and there's also been plenty of back and forth about the Larry Merchant interview from members of the boxing community and other promoters. Keep on checking back with ProBoxing-Fans.com for more updates and breaking boxing news coverage.