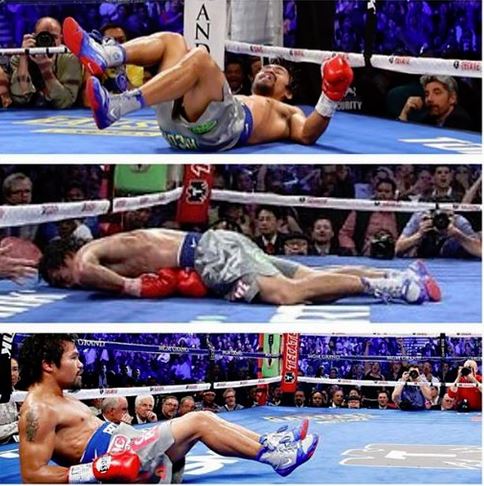 There have been some shots fired from both Floyd Mayweather and Manny Pacquiao as of late. Pacquiao has been talking about how Mayweather doesn't want the fight and isn't ready for it. Well, Mayweather has now answered with his own attack of sorts, posting a photo montage on Facebook. Check it out here.
The post features three images of Pacquiao, two on knockdowns, and the third with him faceplanted into the canvas, unconscious and knocked out. Mayweather says he's promoting a new DVD, called "3 Ways to Sleep: Back, Face and Butt, and I'm Falling & I Can't Get Up".
Here's what the post said in full:
"My new boxing DVD is coming soon and is called "3 Ways to Sleep". Back, Face and Butt and I'm Falling & I Can't Get Up. Miss Pac Man is broke and desperate for a pay day. Your Pay-Per-View numbers are a joke. "
So Mayweather is actually taking a couple of shots at once here. Talking about Pacquiao being knocked out, and also calling him broke and desperate for a payday. Not to mention the "Miss" Pacman reference.
Any fight fan has to be sick of the Mayweather vs. Pacquiao nonsense, as we are about five years past when the fight would have been ideally held. Still, all this back and forth could actually signal that the fight has a more realistic chance of happening in the future. We'll see.