All Access: Mayweather vs. Canelo Alvarez Episode 1 Debut:
Saturday night on Showtime, the premiere of All Access: Floyd Mayweather vs. Saul "Canelo" Alvarez debuted, with the first of four episodes in the documentary series building towards the September 14th mega-fight between these two stars. Right here, you'll find the full Mayweather vs. Canelo All Access episode 1 recap to see what went down in this opening inside look at the lives of each man.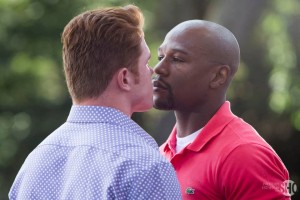 The first episode of All Access: Mayweather vs. Alvarez begins with a look back at May 4th, with Mayweather ending up victorious over Robert Guerrero. Then we go two weeks earlier, as Canelo Alvarez defeated Austin Trout, proving himself ready to face Mayweather and provide a legitimate challenge. Now, they're set to meet and determine which man is The One.
Now we're with Canelo Alvarez, and he's getting dressed and says "I like shoes too much." Then we see Mayweather and the Money Team shopping in Times Square shops for watches and jewelry.
It's the Mayweather vs. Canelo NYC press conference, the first stop of an absurd 11-city press tour. And now we see tons of flashes of the press tour, as the fighters travel from one city to the next, meet and greet with fans, talk to the media, hang out on their private planes and more.
Now, Oscar De La Hoya talks about his fight with Floyd Mayweather, which holds the pay-per-view buys record. The two men still aren't exactly the best of friends, but they manage to get along.
At the next press stop, Mayweather is a no-show, and Alvarez talks about how disrespectful it is. De La Hoya talks about Mayweather always trying to get the advantage. Canelo talks about how he respects everyone out of the ring, but nobody inside the ring. Oscar firmly believes that Canelo is the man to beat Mayweather, of course, Money Mayweather disagrees, and takes offense to hearing Canelo being called boxing's biggest star.
After all of that touring, it's back to the gym. We're at the Mayweather Boxing Club and Floyd is getting going in training camp, with less time off than usual, his quickest fight turnaround in a decade. Mayweather talks about how he could be Canelo's father, and that he grew up watching his fights, and trying out his skills and tricks.
In Mayweather's camp, Uncle Roger is still on hand working the mitts and taking part, but Floyd Sr. is head trainer once again, for the second straight bout. For Floyd, it's all a part of having a successful team, and he's on the same page with his father.
Off to Mexico, and Canelo's camp in Guadalajara, and he's getting underway himself. He's the youngest of seven brothers, but of course, he has always stood out. It's not just the red hair and pale skin, he says he was a troublemaker, getting into fights from a young age.
He started training at age 10, and eventually began working with Chepo Reynoso. It wasn't long before national championships followed, and then quick success in the pro ranks.
Most fans don't know it, but Canelo is a father, and he works to give his daughter a better life. He doesn't like having her on camera and in the eyes of media and fans, but what he does is for her. Still, he has to leave her to continue training in Big Bear.
For Mayweather, he's off to the Nevada Boxing Hall of Fame, to be honored as their fighter of the year. He gives his thanks to the fighters that came before him, as we hear Canelo talking about how he wants to be remembered as the best fighter.
Now it's training montage time, a favorite of all of these preview shows. We see clips of each man in the gym, working hard, and talking themselves up. These two are very different from one another, but are similar in their drive and their focus on this fight and their place in the sport.
Thanks for checking out our recap of Mayweather vs. Canelo Alvarez All Access episode 1, and be sure to keep on checking back with us for more updates and coverage on The One: Floyd Mayweather vs. Saul Alvarez.