All Access: Floyd Mayweather vs. Canelo Alvarez episode 4 debuted on Wednesday evening on Showtime, in the midst of fight week, and with just days remaining until the big event. Right here, you'll find the full recap of Mayweather vs. Canelo All Access episode 4, take a look.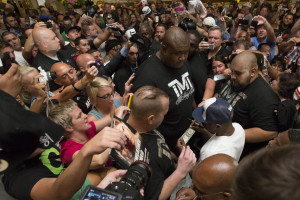 We begin right in Las Vegas, with pictures of Mayweather and Canelo on the slot machines. One of his assistants is going around to casinos and "cashing out", collecting hundreds of thousands of dollars of cash to bring back to the Mayweather mansion, and we hear talk of the hundreds of millions of dollars the fight will bring to the city.
Canelo Alvarez is also in town right now, finishing up his training for the fight, and just trying to peak. His trainer says everything has been perfect and gone to plan, and he's on schedule to be at his best. Canelo says he's just staying active right now, but that he's ready to fight already.
Full Episode Video
Director Peter Berg comes to pay a visit and just lends his support and talks him up a bit. Then we flash back to Canelo's last fight, against Austin Trout in April, and the crowds and throngs that showed up to support him.
Did Canelo bite off more than he could chew with that fight? Some questioned, but Canelo knocked Trout down and then went on to win the bout. It was a closer fight than many people like to remember, in my opinion, but Canelo got the nod. And what did he say in the ring immediately after the fight? That he hopes to fight Floyd Mayweather.
Back to The Money Team, and everyone is relaxing with some bowling. It's Mayweather Promotions vs. The Money Team apparently, and we see Mayweather's tab, a quick $5,000. No big deal. Mayweather has been here, and there, before.
The Floyd Mayweather Appreciation Party, a pre-fight tradition, is coming up, and his daughter is passing out the invites. But now, Mayweather is pulling out a printed article of Canelo saying he'd go to 150 lbs to fight Mayweather. Floyd is holding court in the gym, and everyone is laughing up a storm as Mayweather goes through his training routine and preaches to the choir.
Back to Team Canelo now. Canelo is in a rage about Mayweather's antics, and him insulting him and his team. He says that Mayweather can dish it out but he can't take it, he definitely seems worked up. If anything, that doesn't work in his favor.
Canelo heads to the doctor for his 7-day pre-fight weigh-in, and he weighs 157.4 lbs at the time, which is well within rage. He says that the weight is the hardest part for him, but that it's under control, and they're ready for Saturday night.
Shane Mosley, a recent opponent of both men, is interviewed. We see highlights of Mosley rocking Mayweather early. Some tense moments there in that fight in Round 2. Of course, from that point on, Mayweather dominated, a fire lit under his belly.
Mosley says that Mayweather is a great fighter, and he may cheap shot you, he does what's necessary, and he has the master mind of the sport. Still, he says that Canelo is better than what he thinks.
He fought Canelo as well, of course, and in that fight basically got beaten around and seemed like a washed up fighter. Mosley says that Canelo is strong and faster than you think, and that he can box and counter. He also says he's more knowledgeable, and he believes it's an interesting fight, wondering if Mayweather has lost a step and Canelo has risen just the right amount.
It's Mayweather's final complete workout, and they kick everyone out besides the essentials. We see Mayweather on the bag and in the ring, and he's talking about working hard, and preparing for everything.
We hear a bit about the co-featured attraction, Danny Garcia vs. Lucas Matthysse. Mayweather talks about putting those fighters on the big stage, and how it's a main event quality fight, but he wants to build fighters like that up. But it's relaxation time now, and it's the Mayweather party, All Black this time, instead of All White, and everyone is cutting loose and dancing and laughing and having a good time.
But everything can be put aside once they step into the ring. It's been 79 days since they first squared off for the opening press tour. They've been through that, through the training camps and everything else, and now it's fight time.
And in All Access: Mayweather vs. Canelo episode 4, it's training montage time. We see tons of clips of the fighters in the gyms, dealing with the throngs of fans, interacting with one another, previous fight footage, and more, in a fast-paced series of footage that definitely gets your blood pumping. And now we're left to tick off the remaining hours until fight night…
Comments
comments