Floyd Mayweather vs. Saul "Canelo" Alvarez Results & Round by Round Blog:
On Saturday, September 14, The One is finally here, with Floyd Mayweather vs. Canelo Alvarez. After months of buildup, buzz and anticipation, whose hand will be raised? Will Money Maywether remain unbeaten, taking out one of the toughest challenges of his career? Or will the legend of Canelo be created as he unseats the long-reigning top pound for pound boxer in the world?
ProBoxing-Fans.com is your place to be for live Mayweather vs. Canelo Alvarez results and round by round coverage. We'll be providing continuous updates all evening long, including the entire The One pay-per-view undercard, highlighted by the extremely intriguing Danny Garcia vs. Lucas Matthysse bout.
Check out our HUGE Mayweather vs. Canelo photo gallery!
Mayweather vs. Canelo Round by Round Scorecard
| | | | | | | | | | | | | | |
| --- | --- | --- | --- | --- | --- | --- | --- | --- | --- | --- | --- | --- | --- |
| Round | 1 | 2 | 3 | 4 | 5 | 6 | 7 | 8 | 9 | 10 | 11 | 12 | Total |
| Floyd Mayweather | 10 | 9 | 10 | 10 | 10 | 10 | 10 | 9 | 10 | 10 | 10 | 10 | 118 |
| Canelo Alvarez | 9 | 10 | 9 | 9 | 9 | 9 | 9 | 10 | 9 | 9 | 9 | 9 | 110 |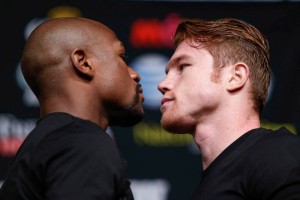 Mayweather vs. Canelo Results & Updates
Rd 1: They trade jabs to start. Mayweather actually coming forward. Canelo doesn't seem very warmed up right now. Crowd with deafening chants of CA-NE-LO! Canelo's a big boy in there. Mayweather jabs to the body. Canelo comes forward, misses, and misses again. Mayweather jabs. Mayweather comes forward, Canelo counters, Mayweather caught off balance. Canelo double jabs. Not much action to judge on in Round 1, Floyd's round.
Rd 2: Things picking up a bit more here. Mayweather looking for his left hook. Pops Canelo's head back with a jab, Canelo misses with a big counter. Canelo jabs. Then double jabs. Goes to the body. Keeps going downstairs. They clinch and break. Mayweather jabs. Lots of feinting in there. Canelo comes forward, Mayweather utilizing his signature shoulder roll. Canelo's round here. 19-19.
Rd 3: Canelo looking to eager to press a bit more here in Round 3. Canelo gets him in a head lock. Mayweather jabs then bulls in and they clinch. Mayweather sticking the jab. Now he doubles the jab, and follows it with a right, then another right. Canelo tries to respond downstairs but Mayweather dodges away. Canelo lands a jab. Mayweather bobbing and weaving against the ropes. Canelo looking for big shots. Canelo goes downstairs, Mayweather counters upstairs with a hook. Mayweather's round, 29-28.
Rd 4: Each man looking to land harder shots now. Canelo looking for a home for his left hook. Mayweather lands a big, flush right hand. Canelo not fazed. Canelo goes downstairs. Mayweather and Canelo get into a shouting match. Mayweather tries to touch gloves, Canelo doesn't have it. Mayweather jabs, misses a hook. Canelo lands downstairs. Mayweather with a combination, then a jab. Canelo goes with a body shot, and a few more. Mayweather responds with a counter hook. Mayweather jabs. Lots of good inside action here. Mayweather with a left hook. Then a right hand. Canelo with a left, then Mayweather answers with a left hook and a right hand. Great action! Mayweather takes the round. 39-37
Rd 5: Mayweather standing very squared up to Canelo, almost inviting him in. Canelo looking to press forward. Mayweather fairly stationary in there. Mayweather jabbing. Gets to the ropes and circles away. They clinch. Canelo lands a nice left hook. Mayweather smiles. Canelo lands again. Canelo jabs, Mayweather counters, then Mayweather lands a nice left. Mayweather lands a left hook to the body, Canelo jabs in return. Good action, close round goes to Mayweather. 49-46.
Rd 6: Canelo looking fired up here in Round 6. He's coming in with a bit more fury and action. He lands a left hook. Mayweather answers with his signature right. Canelo misses an uppercut. They clinch and Canelo bulls him ahead. Canelo lands a left, Mayweather lands a right and a left. There's some dirty action in there, and they get broken up, and Canelo points his glove at him with disdain. Mayweather leads with the right, then 1-2s, then 1-2s again. Lead right from Mayweather. Canelo just misses with a left hook. Canelo looking a bit tired in there. Crowd going crazy. Mayweather's round and more good action. 59-55.
Rd 7: Some serious shots being traded in there. Canelo is opening up more, and the fight is picking up. But it's leaving Canelo more open, and Mayweather is countering him. Mayweather staying behind the jab, then lands a body shot. BIG uppercut from Mayweather. Canelo backs up into the corner. Mayweather is opening up, he's working him over against the ropes. Canelo just covering up. He looks to answer but Mayweather dodges. Mayweather's round. 69-64.
Rd 8: Canelo with some nice body shots. He looks a bit frustrated, and he's really on his toes and looking to press ahead. Gets Mayweather to the ropes and starts throwing. Mayweather spins away and jabs. Canelo lands with Mayweather on the ropes. Mayweather comes ahead and lands, Canelo answers with a big shot downstairs. Now he's doing good work with Mayweather against the ropes. Mayweather circles away. Canelo gets him to the ropes again and lands. Mayweather answers with a big right upstairs. Then picks him off with a 1-2. Canelo comes ahead again, but those last shots took away some of his vigor. Canelo's round. 78-74
Rd 9: Canelo doing good work to begin the round. He's just throwing and throwing but working behind the jab. It's keeping Mayweather away. Floyd comes ahead and lands a 1-2. Canelo barely misses with a counter after Mayweather landed a body shot. Canelo lands a 1-2. Canelo looking a bit sloppier and tired. Mayweather with a big right, Canelo staggers a bit. Canelo misses with a counter shot. Then misses wide. He's looking gassed and worn out. Mayweather double jabs, then back downstairs. Mayweather's round. 88-83
Rd 10: Mayweather taking control here. Canelo's tired, he's missing and throwing wide. Mayweather is backing him up, taking his time and looking for his opening. Now he opens up and lands a few nice shots with Canelo against the ropes. Canelo now with a big right hand. He follows it to the body. Mayweather snaps his head back with a jab. Canelo double jabs to the body. Mayweather jabs and circles as time clicks off. Another Mayweather round. 98-92.
Rd 11: Canelo looking for the big shot at this point. Mayweather lands a big right hand though. A few seconds later, another big right hand. Canelo looking a combination of tired, confused and frustrated. Now Canelo comes ahead and gets Mayweather to the ropes, and lands a few solid shots. Mayweather looks to be baiting Canelo into a trap, letting him come ahead. Canelo misses with an uppercut. 108-101
Rd 12: Everyone in the arena knows Canelo needs to land a bomb. Canelo pressing ahead but not setting up his shots. Now he gets Mayweather close and tries to rough him up a bit, looking for a Sergio Martinez-Julio Cesar Chavez Jr. moment. Mayweather not having it. He's not making that mistake, at least not tonight. The 10 second bell rings, Mayweather starts hopping around, and at the final bell, a dejected Canelo meanders back to his corner. The two fighters greet and quickly embrace.
ProBoxing-Fans.com scores the fight 118-110 for Floyd Mayweather.
Official Scorecards:
114-114, 116-112, 117-111 Floyd Mayweather via Majority Decision
That draw is a joke. But the right man won.
PPV Status Updates:
12:27pm – Canelo got a huge ovation and tons of cheers as he entered. Mayweather gets booed as he arrives, with Lil Wayne on the mic, Justin Bieber along for the ride, and the Money Team with him. He's wearing blue and metallic black/grey and his face is all business. Canelo weighs 165 lbs unofficially tonight. It's time for the intros, and then Ding Ding Ding!
12:17pm – National anthems! "Tank" signs the US national anthem. Fight time coming right up!!
12:05pm – Garcia defeats Matthysse via Unanimous Decision! Mayweather vs. Alvarez is next!
11:05pm – Danny Garcia-Lucas Matthysse is next, and Matthysse is now making his ring walk.
10:55pm – The Ishe Smith-Carlos Molina fight is thankfully over. Molina takes home the Split Decision win to grab the IBF title at 154 lbs.
10:20pm – We see Canelo in his locker room getting the instructions from Kenny Bayless as Smith vs. Molina continues on.
9:55pm – Cano defeats Theophane via Split Decision. Ishe Smith vs. Carlos Molina will be next, stay tuned for the live updates below.
9 pm – OK Folks, the PPV is now live. Right now, they're talking about the event and the hype, and the Cano vs. Theophane fight will be first up next.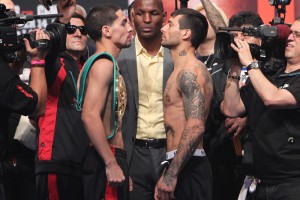 Danny Garcia vs. Lucas Matthysse Results
Rd 1: Each man comes out sharp. They're trading shots while picking their moments. Garcia is swinging for the fences early already. Matthysse lands a nice hook to the body. Now a hook upstairs. Garcia using lots of side to side movement. Pretty close, even keeled first round. 1st round to Matthysse, 10-9.
Rd 2: Matthysse doing good body work. Also slipped a shot, then came up with a hook that shook up Garcia a bit. Garcia looks to lead with a big shot, Matthysse blocks it away. Garcia goes downstairs now. Things picking up a little, but each man pacing himself. Matthysse lands a right, and Garcia answers. Garcia jabs. Matthysse to the body again and then presses forward. Another close round, Matthysse takes it, 20-18.
Rd 3: Matthysse lands a left hook, gets Garcia to the ropes, and lands another. Garcia starting to cover up a little bit, but then he throws a counter hook. Matthysse to the body again. Garcia with a big right. Action continuing to pick up. Matthysse landing harder shots, and definitely dictating the action here. 30-27.
Rd 4: Garcia sitting down on his punches as Matthysse comes in. Looking more in control here. They tie up and break. Matthysse comes in, Garcia does nice work to fend him off. Garcia looking good here in Round 4. All Garcia right now, Matthysse getting picked off. Nice right hook by Garcia. Then a 1-2 which pushes Matthysse back. Very nice Garcia round. 39-37 for Matthysse.
Rd  5:  Garcia doing a good job not overreacting to Matthysse's aggression. He looks calm in there right now. Matthysse getting busier to try to find a home for his offense. Garcia blocking most of the incoming fire. Garcia gets warned for low blows. Close round, but Garcia in control. 48-47 Matthysse.
Rd 6: Matthysse getting back into his groove here. Straightening up his shots, maintaining his work rate, not allowing Garcia the same opportunities to counter. Each man doing good body work. Matthysse with a big right. Garcia answers against the ropes. Matthysse's round. 58-56.
Rd 7: These two are trading left hooks, and each man has the chin to take it. Matthysse with some swelling under his eye. But now he gets Garcia to the ropes, Garcia pivots away. Matthysse's right eye is closing here. Garcia with a huge 1-2  combo, each shot lands flush, and it's enough to take the round for him. Best shots of the night for either man. 67-66 Matthysse.
Rd 8: Garcia coming on here. Matthysse's eye is completely shut, and he can't get out of the way of the incoming shots. He's in trouble right now. Garcia looking to exploit that opening. All Garcia here as Matthysse is in a bad place with that eye. 76-76.
Rd 9: Matthysse responding like a champ despite the eye issues. He's pressing forward and working, but he knows his time may be limited. It could be stopped by the doctors here. Garcia standing his ground. He's either taking the round off a bit or he's tiring. But he lands a nice hook. Matthysse comes back, gets Garcia to the corner. Matthysse's round here actually. 86-85 Matthysse.
Rd 10: Matthysse starting quick again. Garcia counters with a left. Matthysse can't see from that eye. He's coming forward and throwing rights, and 1-2s. Garcia being pushed back, but counters with a big shot. Matthysse with a big right to the body. Pushes Garcia to the corner, Garcia pushes back out. Matthysse slips down and his glove touches. Matthysse somehow pulls it out once again. 96-94.
Rd 11: Matthysse comes out with a huge shot, and Garcia's mouthpiece goes flying. Garcia warned again for a low punch. Matthysse just bulling forward with that shut eye. Garcia getting punished a bit here. But then he answers with a right hook. Then a big left hook downstairs, and it puts Matthysse down! He followed up the body shot with a shot upstairs. Huge moment for Garcia, could win him the fight. 10-8 here for Garcia, which makes it 104-104.
Rd 12: Each man comes straight out to the center of the ring. Garcia with a 4 punch combination that Matthysse just eats. Garcia lands another big combination that Matthysse doesn't answer. Garcia pushes him off to keep his distance. Garcia lands a thudding body shot, but it lands too low, and Garcia loses a point! That could mean the fight! 30 seconds left. Garcia needs to make sure he wins this round. Both men are just swinging and going for it. Toe to toe trading, nonstop action, wow, what an ending! Each man just going for it. And the bell rings.
Because of the deduction, it's a 9-9 round, which means unfortunately, we have it a draw 113-113! Let's see what the official cards say.
Official scorecards:
115-111, 114-112, 114-112, all for Danny Garcia.
Ishe Smith vs. Carlos Molina Results
Molina gets started with an active Round 1, coming forward and throwing nonstop. Smith looking to be patient and find his spots. As Round 2 begins, Molina continues pressing ahead, Smith circling, and looking to counter. Molina finding a home for his right hand.
Molina really outworking here. Smith doing what he does best, not much of anything, allowing Molina to dictate and tally up some points.
The fight is, as expected, fairly sleepy. It's getting a bit rough in there, Molina getting warned some for leading with his head, and Smith doing lots of holding. He's stopped using the jab but is still pressing in, Smith hasn't found much success with his attack, but lands a nice counter here or there.
Smith having his moments, and he's tying up so much on the inside that he's making it difficult for Molina to be effective on the inside. The crowd is about asleep here. So am I.
Moving onto the championship rounds here, the dull action and nonstop holding and smothering continues. Well, this one is going to be a hard one to score. Punch numbers are fairly even, and it's sloppy.
I feel like Molina has done enough to win the fight with his pressure, but Smith is the reigning titleholder, for whatever that's worth.
Official scorecards:
117-111 Molina, 116-112 Smith, 116-112 Molina, Carlos Molina wins via Split Decision and grabs the IBF Junior Middleweight Title.
Pablo Cesar Cano vs. Ashley Theophane Results
Both guys come out for Round 1 looking quick and sharp. Cano working behind the jab and double jab, and seems to be taking early control. Theophane boxing and circling more in Round 2, as Cano continues playing aggressor, working hard to the body.
Cano lands a big left midway through Round 3, and Theophane goes flying backwards but doesn't fall. Theophane recovers but Cano continues pouring on the pressure. Cano doing great bodywork in Round 4, and Theophane has definitely lost a step.
Cano lands a big right in Round 5 that rocks Theophane. Theophane comes back with a few big shots though here that force Cano to slow down. Theophane reinvigorated in Round 6 after that success.
The fight has slowed a bit in Rounds 7 and 8. Cano working at a slower pace than earlier. Theophane steadier and more solid than he was in the first half of the fight. They trade blows, with Cano edging forward and Theophane fighting him off.
Cano seems to be working on heart, and fumes, here. But he digs to the body and lands an uppercut upstairs. Lands a right upstairs. Big Round 9 for Cano to reestablish himself. Then in Round 10, each man battling hard to close the show. Cano starts turning the tide with more bodywork, mixing in some jabs to the head as well.
Looks like Cano wins the day here.
Official scorecards:
96-94 Theophane, 98-92 Cano, 97-93 Cano, winner by Split Decision Pablo Cesar Cano.
—
Stay tuned for more post-fight updates and analysis of The One pay-per-view, and thanks for checking out all of our live coverage of the Mayweather vs. Canelo results!