The aftermath of the Floyd Mayweather vs. Robert Guerrero fight has been more focused on the business of the fight than what happened in the ring.
Over the course of 12 rounds, Mayweather put on a clinic against Guerrero, winning a clear decision and sending another challenger packing. Once the fight was over, though, talk shifted to the potential that the fight bombed at the box office, producing less than 1 million PPV purchases.
However, according to the latest information from Showtime, the fight did indeed exceed that total, making it a financial success, and at least ensuring that Showtime broke even.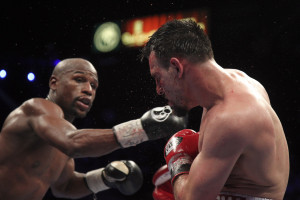 In a story on RingTV.com, Showtime executive VP and general manager of Showtime sports Stephen Espinoza had this to say:
"We wanted to take our time and wait until we had enough data to speak responsibly about this, so based on what we've seen, now we are very comfortable saying that we're definitely going to exceed a million pay per view buys.

"We are very happy with the event from all standpoints, from the financial to the programming, to the exposure that it's given our network, to the message that it's given to boxing fans that we're going to be in boxing at the highest level for a long, long time."

"What this pay per view performance also says to us is that Floyd Mayweather is still, without question, the No. 1 pay per view star in boxing, and, actually, in all of sports."
Meanwhile, Nevada Athletic Commission executive director Keith Kizer released the gate figures for the event, and they were pretty impressive. The Mayweather vs. Guerrero gate nearly reached the $10 million mark, coming up just short, at $9,922,350, with 14,258 tickets solid, 139 unsold, and 1,459 comped tickets.
The Mayweather vs. Guerrero gate would be slotted in at about the top 15 range of the all-time largest boxing gates in Nevada.So, while the early indications and rumors were bad, it would appear that Mayweather vs. Guerrero did just fine financially. Of course, Showtime may never release the total, official numbers, so perhaps we'll never know.