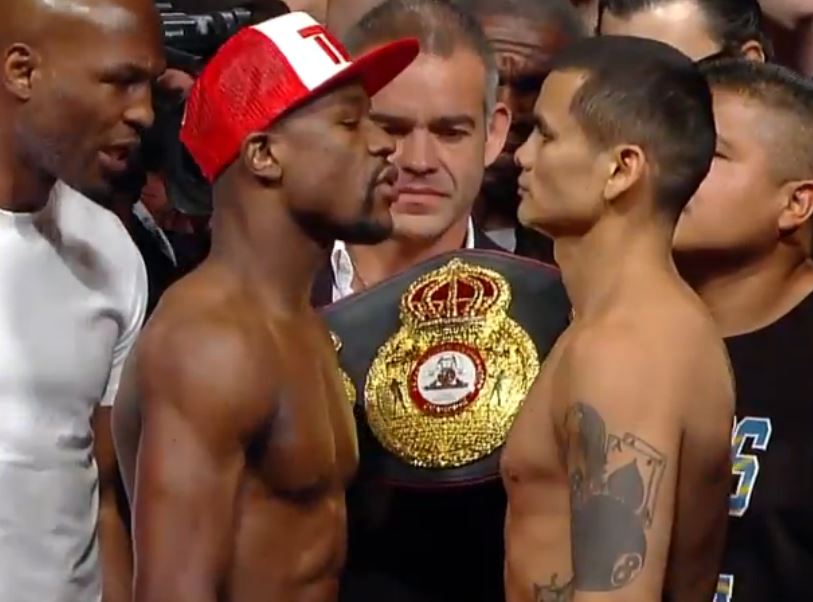 Today at the MGM Grand in Las Vegas, Nevada, in front of thousands of screaming fans, the official Floyd Mayweather vs. Marcos Maidana weigh-ins were held in advance of The Moment pay-per-view on Saturday night.
Right here, you'll find the complete Mayweather vs. Maidana weigh-in results, along with the weights for the entire undercard, weigh-in photos, and more.
Mayweather vs. Maidana Weigh-in Photos
Mayweather vs. Maidana Weights
Floyd Mayweather: 146 lbs
Marcos Maidana: 146.5 lbs
It's amazing that 8,000 fans will wait hours to watch a weigh-in. That's the kind of crowd that Mayweather attracts, and commands, at this stage of his career.
Both guys made weight, although there were some fight-week murmurs that Maidana was having trouble making weight. He got there, but his body certainly doesn't look like Floyd's. Mayweather is absolutely jacked, as usual. Huge difference between body composition between Mayweather and Maidana.
The stare down was very short. Mayweather, as usual, chewing away on his gum. Maidana was all business, bemused by the whole experience, if anything.
Undercard Weights
Amir Khan: 147 lbs
Luis Collazo: 147 lbs
Both of these guys are on weight. Khan looks to be more jacked than I've ever seen him before. Looking very strong and muscular at this weight right now. Collazo was relaxed and comfortable, big smile on his face. seeming very happy to be involved in this kind of stage and event. Khan had a strong contingent of his traveling fans with him, and received a big cheer.
Adrien Broner: 140 lbs
Carlos Molina: 138.5 lbs
Adrien Broner, beard and all, relegated to 3rd-fight status. Seems to have a chip on his shoulder, but not much newfound maturity. In against an opponent he should look good against.
J'Leon Love: 168 lbs
Marco Antonio Periban: 168 lbs
A little bit surprising to see the height advantage that Periban has in this match. Love has a ton of skill, but operates best behind his jab, so we'll have to see if Periban's size can take away from that.
Be sure to hang out with us all weekend long for our live Mayweather vs. Maidana round by round blog, and thanks for stopping by for our coverage of the Mayweather vs. Maidana weigh-in results!