With the recent quotes from Floyd Mayweather about his slippage, along with the reports that Conor is impressive in camp, I ask the question, does Conor McGregor have a chance to pull off the biggest upset in boxing history?
What's key in Mayweather's quotes isn't just his own admission that he has lost a step and isn't the same fighter. What's key is his admission that Conor on paper should be favoured because of his advantage of age, reach, power, and height.
While many could see this as a ploy to create excitement for the fight with fans having the chance to possibly see Mayweather lose, there could be some substance here. Naturally Father Time is undefeated, and in boxing the primary skill that leaves is your power. Mayweather hasn't had a knockout since 2007, which was against Ricky Hatton (not counting his 2011 legal sucker punch against Victor Ortiz) but He's always had underrated discipline power.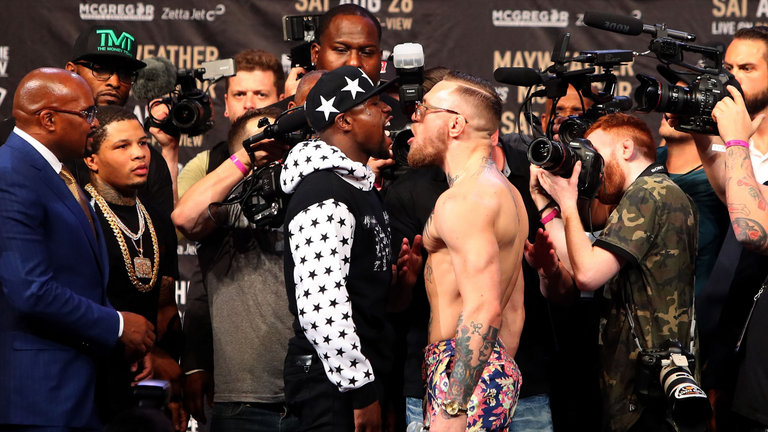 Key to Floyd's game plan has always been to discipline his opponent with counter right hands which slows down the attack of his opponents. If that discipline power is no longer there, McGregor who's used to fighting stronger fighters with smaller gloves will have the opportunity to walk through Mayweather's shots to land his own. If Mayweather's legs can no longer be as active and contribute to his elusiveness, will that force him into a toe to toe battle with the UFC champion and if so give Conor more chances to land his shots as well?
The hardest thing for athletes and many non-athletes is self-evaluation. I believe Floyd Mayweather's evaluation of himself when saying he has lost a step. I believe him when he says he isn't the same fighter from two years ago, or five years ago. On August 26th, the answer we will all be looking for is how big of a step has he lost.