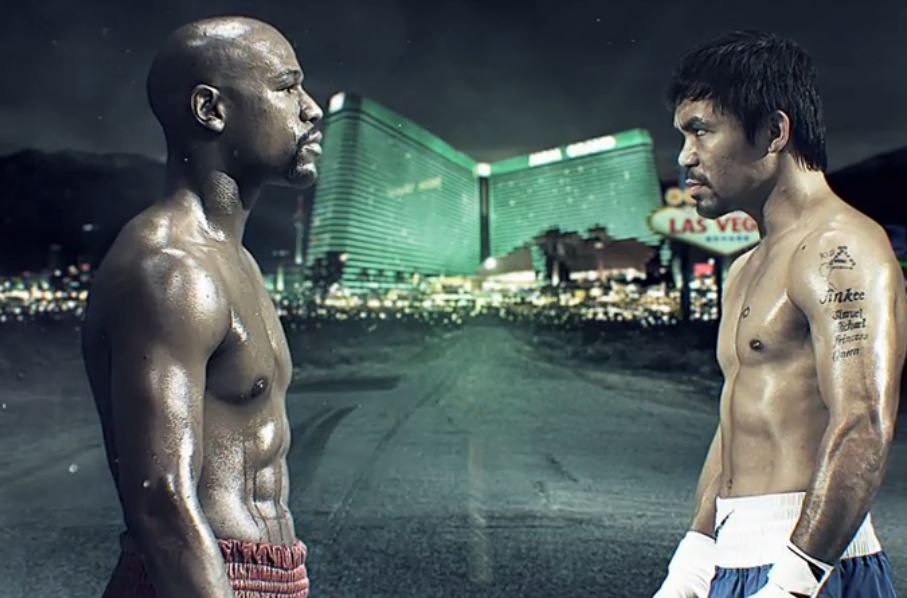 Staff Picks – Floyd Mayweather vs. Manny Pacquiao Predictions Round-up
It's officially fight week, and while the build-up to this fight has been nothing but bizarre, it does appear to actually be taking place this weekend, one way or another. That means it's time for our big-fight predictions round-up from our writers and team members.
So what does we all have to say about Floyd Mayweather vs. Manny Pacquiao, and which legend gets his hand raised, along with permanent bragging rights over the other? Let's take a look.
Jake Emen: Mayweather has more ways to win. He'll be physically stronger, and could rough Pacquiao up on the inside, clenching, pushing off, and using all the dirty tricks in the playbook which he knows better than anyone this side of Bernard Hopkins. He could play keep away, sticking, moving and circling, throwing enough meaningful right hands to keep Pacquiao honest as he wins a decision, quietly racking up one uneventful round after another. He could also attempt to force Pacquiao to move backwards, steadily walking forward behind his longer jab, putting Pacquiao in an uncomfortable position of retreat.
Even if Pacquiao does land something meaningful in the beginning of the fight, Mayweather has shown the ability to recover. Judah and Mosley both tagged him early, only to be shut out for the rest of the fight that followed. While many find it easy to question Mayweather's heart or his ability to stand the heat, in practice, it hasn't played out that way, and I don't believe it would be in what he very much realizes is the key, legacy-defining moment of his career.
Prediction: Mayweather via Majority Decision (114-114, 116-112, 115-113)
See Jake's full preview & prediction here
Blair Newman: As this huge event draws closer I'm becoming more and more excited by it – not because I think the fight is going to produce fireworks; more because it will be a relief just to say that Floyd Mayweather and Manny Pacquiao did actually meet in the ring.
The contest itself will be fairly one-sided. Pacquiao simply isn't as explosive and relentless a force as he once was. The fire hasn't gone out entirely but it is petering, while Mayweather's style has allowed him to adjust better with age. I can see Mayweather toying with Pacquiao from the fourth round on, perhaps allowing the Filipino into the fight in the name of entertainment. Over 12 one-sided rounds, though, Mayweather will win a pretty clear decision.
Prediction: Mayweather via Unanimous Decision
Rich Thomas: When I think about this match-up, two major factors stand out above all other considerations. First is that if anyone in the welterweight division approaches Manny Pacquiao in the hand speed and reflexes department, it's Floyd Mayweather. On the latter point in particular, Mayweather might even surpass Pacquiao.
Second, Juan Manuel Marquez has proven that Pacman is still there to be nailed by a skilled counter-puncher who can weather the Filipino buzzsaw assault. Marquez weathers it by being a tough guy, but Mayweather would handle it by making Pacquiao miss, an even more dangerous proposition for the man from Kibawe. Add to that the plain fact that we know Mayweather can take a punch, and he looks like a certain winner in this match-up. He was always the certain winner, but a few years ago that was obscured by Pacman's incredible run of success. Now it should be obvious to anyone who isn't blinkered by fanboyism.
Prediction: Mayweather by Unanimous Decision
Frank Ingiosi: Since the announcement of the fight, I've talked with those whose opinion on the sport I trust and seek out as well as the legions of casual fans and interested observers who suddenly care about the science behind the 'sweet science.' Oddly enough, once you peel away some of the more ridiculous posturing and pontification by each group, a common nugget of insight remained: It's going to come down to the guy that does one thing better than the other. Seems ridiculous, right?
But, when you have two equally matched talents of this magnitude, each of whom do not regularly make mistakes or have large holes in their respective games, it's usually not that suddenly one overwhelms the other with something they've never seen before. My heart, and selfishness as a boxing fan looking for a potential rematch, would like to see Pacquiao win the fight; my mind tells me that the superhuman counterpunching ability of Mayweather is that 'one thing' that separates the two.
Prediction: Mayweather by Split Decision

Matt Andrzejewski: Manny Pacquiao had issues dealing with the counter punching style of Juan Manuel Marquez during all four of their fights. Unfortunately for Pacquaio, Floyd Mayweather Jr. is an even better counter puncher than Marquez. Of course, Mayweather is also much quicker than Marquez and much better defensively. To make matters worse for Pacquiao, being a southpaw, he is vulnerable a straight right and left hook to the body and those are two of Mayweather's best punches. Mayweather is just going to take what is given and nothing more in the form of counters as well as lead rights all night long. The result will be a very tactical one sided fight in which Mayweather wins nine of twelve rounds for an easy unanimous decision.
Prediction: Mayweather by Unanimous Decision (117-111)
Brian Shott: I cannot see this fight ending in a knockout either way, and I do worry that a very close fight could be marred by the type of screwy scoring that has befallen Pacquiao previously. If this was prior to Pacquiao's loss to Juan Manuel Marquez, I probably would have taken Pacquiao. But it's not.
While basing a fight prediction on results against only one of several common opponents is definitely not the best way to go in many cases, the relative ease with which Mayweather was able to dispatch Marquez three years prior to JMM's brutal KO of Pacquiao is the decision-making factor for me. This comes down to who has more left in the tank for a fight that the fans deserved years ago, and for me, that's Mayweather.
Prediction: Mayweather by Unanimous Decision
Kylie Krabbe: As with everything surrounding this fight, the devil is in the details with regards to who comes out on top. As such, my prediction hinges on the deciding detail being whomever fights the "perfect" fight playing to their strengths, with Pacquiao's being speed and punching power and Mayweather's being a virtuosic nearly impenetrable defense.
If Pacquiao gets to Floyd with that Manila Ice of old, I think Manny wins by delivering a lights out in round six or seven. Still, while that's possible, I don't see him breaking through Mayweather's defense. And should the fight go the distance, the battle goes to Mayweather by decision. The longer the fight goes the more likely Mayweather is successfully doing what he does best – striking at will without equal repercussion and remaining elusive enough not to be touched or rocked hard enough to be out pointed or stopped.
Prediction: Mayweather by Unanimous Decision

Official Mayweather vs. Pacquiao Predictions Tally
Mayweather: 7, all by decision
Pacquiao: 0
Clearly we seem to believe that Mayweather is the betting favorite for a reason, and that he'll emerge with his undefeated record intact on fight night. Be sure to chime in with your own thoughts and official Mayweather-Pacquiao predictions in the comments below.