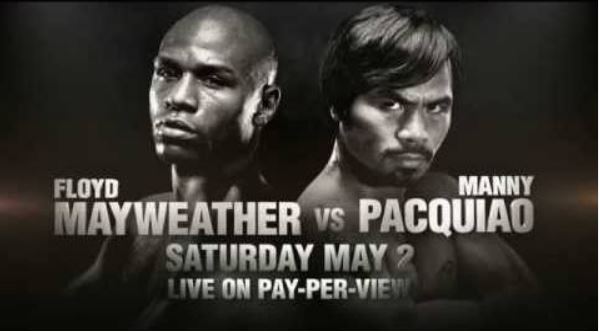 The Official Mayweather vs. Pacquiao Fight Preview & Pick:
It's the fight the whole world will be watching, and whether you think it's five years too late, or better late than never, once that bell rings, all the hype, debate and discussion will mercifully come to a close, and we'll see once and for all – will Floyd Mayweather or Manny Pacquiao have his hand raised?
The Fight
May 2nd, 2015
MGM Grand, Las Vegas, Nevada
HBO/Showtime Pay-Per-View
Meet the Fighters
[tabs type="horizontal"][tabs_head][tab_title]Floyd Mayweather[/tab_title][tab_title]Manny Pacquiao[/tab_title][/tabs_head]
[tab]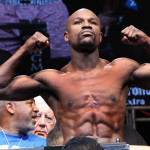 Height: 5'8″
Reach: 72″
Age: 38
Record: 47-0, 26 KOs
Last 5 Fights: UD Miguel Cotto, UD Robert Guerrero, MD Canelo Alvarez, MD Marcos Maidana, UD Marcos Maidana
Rankings: #1 Pound for Pound, Welterweight World Champion, WBC, WBA Titlist
[/tab][tab]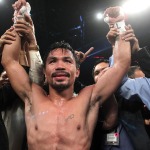 Height:5'6.5″
Reach: 67″
Age: 36
Record:57-5-2, 38 KOs
Last 5 Fights: Loss SD Timothy Bradley, Loss KO6 Juan Manuel Marquez, UD Brandon Rios, UD Timothy Bradley, UD Chris Algieri
Rankings: #6 Pound for Pound, #1 Contender at Welterweight, WBO Titlist
[/tab]
[/tabs]
Mayweather vs. Pacquiao Preview
Obviously this fight has been a long time in the works. Ever since Pacquiao dominated Miguel Cotto, Mayweather vs. Pacquiao has been the must-make fight in the sport. In the years that have passed though, things have changed quite substantially.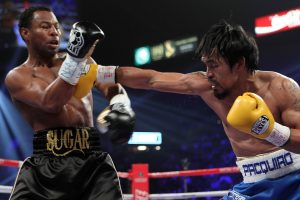 Pacquiao went onto largely ho-hum wins against Joshua Clottey, Antonio Margarito and Shane Mosley. Next came his 3rd fight against Juan Manuel Marquez, in which he scored another debatable, razor thin decision win.
After that, Pacquiao's luck changed. He finally came up on the wrong end of a highly controversial decision, to Timothy Bradley, and then was flattened by Juan Manuel Marquez in their 4th encounter. After pondering retirement, Pacquiao has returned to string together three straight wins. He cruised past an over-matched Brandon Rios, righted the wrong against Bradley, and thoroughly dominated Chris Algieri in his most recent encounter.
While Pacquiao's last half decade has been marred by defeat, Mayweather's has been marred by out of the ring controversy, including a stint in jail. He defeated Shane Mosley, then was on the shelf for nearly a year and a half before his memorable, controversial punch-on-the-break KO win over Victor Ortiz.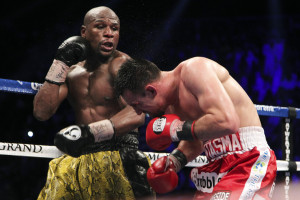 After a quicker return, he turned back a sturdy challenge from Miguel Cotto, and then served his jail time. Next came a record deal with Showtime, and a win over Robert Guerrero. He put on a master-class against an unbeaten Canelo Alvarez, and is coming off two wins over Marcos Maidana — a clear enough win followed by an unnecessary rematch, and an even more one-sided performance.
Mayweather vs. Pacquiao Analysis
While Pacquiao has reasserted himself as a world-class fighter and the top contender at Welterweight, much of the luster and aura surrounding him remains lost. He hasn't scored a stoppage since that landmark win over Cotto in November 2009, and much has been made about his lack of killer instinct as of late. Getting starched as he did by Marquez could certainly do that to you.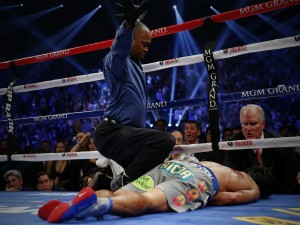 On the other hand, while it could be true that Mayweather has ever so slightly slipped as of late, he remains unscathed. So, what can be said in Pacquiao's favor?
One factor which bodes well for Pacquiao is that despite being at a height and reach disadvantage, the two men who have given Mayweather the most difficult times in the past decade, Maidana (5'7″, 69″ reach) and Cotto (5'7″, 67″ reach), are quite similar in stature to Pacquiao (5'6.5″, 67″). While both of those men are thicker, and sturdier built, neither has the speed of Pacquiao, and nor are they capable of his overall offensive wizardry.
Pacquiao also has a two year age advantage over Mayweather. Comparing a 36-year-old to a 38-year-old fighter might not mean much, until you consider that Mayweather's number 1 asset is his defensive reflexes. A small dip there – as has been suggested at moments in recent fights – could eventually spell disaster for Mayweather. A shoulder roll just a few milliseconds later than intended means that a Pacquiao lead left hand smashes him on his cheek rather than being pushed aside by a glove or careening harmlessly into a meaty upper arm.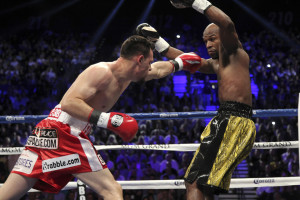 As for Mayweather, he's taking the challenge of a speedy, power-punching southpaw seriously, bringing in former foil Zab Judah to serve as a chief sparring partner. Judah was highly effective through the first four rounds of their 2006 clash – a fight tainted not only by the melee which ensued, but by Judah's prior loss to Carlos Baldomir – and should have perhaps been credited with a knockdown.
Perhaps the most important stylistic element of this particular match-up though is Mayweather's ability to deal with come-forward, active aggression. Many of the best performances of his career have come against fighters who were determined to get into his face and apply pressure. Mayweather's ability to counter-punch and play matador to an aggressive-minded foe, while also controlling pace and taking away his opponent's best weapon, is unmatched.
In recent years, we've seen a maturation in Mayweather's style. He's shown a willingness to walk down foes and play aggressor, while still being able to lure his man into a game of rope-a-dope. He has done more toe-to-toe fighting, confident in his defensive capabilities paired with his unparalleled, pinpoint accuracy. While he has never fought anybody exactly like Pacquiao – and Pacquiao assuredly has never fought anybody close to Mayweather – Mayweather has seen and dealt with a broader range of styles and challenges.
When I look at Pacquiao's Hall of Fame resume, this stands out: I don't see any fighter, at any point, whom Mayweather would not have defeated if they had met at that time instead. Conversely, there's a series of obstacles which Pacquiao may not have been able to navigate on Mayweather's often overlooked body of work.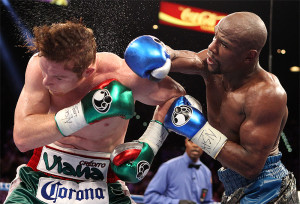 Would Pacquiao have gotten past a prime, wrecking ball, 2001 version of Diego Corrales, standing at 5'11"? A 2002 Jose Luis Castillo that gave Mayweather fits at lightweight? Even a 2013 Canelo Alvarez? Not to mention Marquez, who kayoed Pacquiao when they last shared a ring together, while Mayweather toyed with him for a dull 12 rounds.
Styles make fights and comparing results isn't always meaningful — and I'm not forgetting that Pacquiao one-upped Mayweather with his more emphatic wins over Cotto, Ricky Hatton and Oscar De La Hoya — yet the overall takeaway in comparing those resumes remains. Pacquiao may have won all of those fights, but I'm more certain Mayweather would still be undefeated had he moved through Pacquiao's track record instead.
The Official Mayweather vs. Pacquiao Prediction
Pacquiao's road to victory requires a wake-up shot, or series of them, which alters Mayweather's approach from the early rounds. Whether or not he scores a knockdown, if Pacquiao is able to rattle Mayweather with an unseen shot, Mayweather will be forced to change his tactics.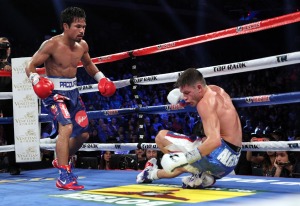 Contrary to popular opinion, Pacquiao need not knock Mayweather out to win. If he does enough early damage, and puts a tinge of doubt into Mayweather's mind, he could simply turn up the work rate and win a decision through activity and aggression.
Mayweather has more ways to win. He'll be physically stronger, and could rough Pacquiao up on the inside, clenching, pushing off, and using all the dirty tricks in the playbook which he knows better than anyone this side of Bernard Hopkins. This would ruin Pacquiao's rhythm and limit his ability to score clean shots.
He could play keep away, sticking, moving and circling, throwing enough meaningful right hands to keep Pacquiao honest as he wins a decision, quietly racking up one uneventful round after another. He could also attempt to force Pacquiao to move backwards, steadily walking forward behind his longer jab, putting Pacquiao in an uncomfortable position of retreat.
Even if Pacquiao does land something meaningful in the beginning of the fight, Mayweather has shown the ability to recover. Judah and Mosley both tagged him early, only to be shut out for the rest of the fight that followed. While many find it easy to question Mayweather's heart or his ability to stand the heat, in practice, it hasn't played out that way, and I don't believe it would be in what he very much realizes is the key, legacy-defining moment of his career.
To answer the question posed at the top of this article, some 1,400 words ago — Floyd Mayweather will have his hand raised.
Prediction: Mayweather via Majority Decision (114-114, 116-112, 115-113)

Comments
comments