Shane McGuigan has added two new prospects to his growing stable of fighters, brothers Adam and Hassan Azim.
The Azim brothers, who hail from Slough were both standout amateurs with Adam winning 10 national titles, whilst Hassan was a six-time national champion and a Youth Olympic bronze medalist.
Adam, the younger of the two made his debut in December securing a points win over Ed Harrison at lightweight and first caught McGuigan's eye when he was brought into spar Luke Campbell prior to his clash with Ryan Garcia.
The 19-year-old says sharing the ring with the now-retired former two-time world title challenger and Olympic Gold medalist and his experience in the gym encouraged him to link-up with McGuigan.
"I spent so many weeks sparring Luke Campbell before that Ryan Garcia fight," Adam Azim told proboxing-fans.com.
"I learnt so much just from Luke Campbell. When I was sparring there I liked the environment, how everyone was training.
View this post on Instagram
"It's serious training as well. You've got one of the best trainers in the world. You've got Barry [McGuigan] there to dictate, tell us what's right and what's wrong as well. He's also a former world champion as well.
"It's one of the best experiences I've ever had when I was sparring Luke Campbell and when I was sparring him I thought I would love to train here and get to know what it's like and what it's like to be at the world level as well."
The pair have joined a thriving gym which includes WBO cruiserweight world champion, Lawrence Okolie, former WBA interim heavyweight titlist, Daniel Dubois and current British, Commonwealth and European cruiserweight champion, Chris Billam-Smith amongst others.
Hassan is joining the professional ranks as a welterweight and the 20-year-old who is nicknamed the 'Hitman' is hoping to carry on the alias which was carried by his hero, Thomas 'Hitman' Hearns.
"My inspiration was Muhammad Ali especially, because he wasn't just good in the ring, but he was also good outside the ring," Hassan Azim told proboxing-fans.com.
"I want to have a legacy rather than having the fame.
"I look at the 'Hitman' Hearns, hence the reason why I'm called the 'Hitman'. I'm going to take that name and rebuild that name for this year. I want to carry that name for the 'Hitman'.
"The 'Hitman' Hearns was long, rangy and powerful. He could fight on the inside and outside so I can fight similar to that as well."
View this post on Instagram
Adam displayed glimpses of his slick skills and talent against Harrison and has full belief that he can make it to the very pinnacle of the sport within three years in the same vein that the likes of WBC champion, Devin Haney and Garcia have done so at a young age.
"I want to get to the top quite quickly," Adam added.
"I want to fight Haney, I want to fight Ryan Garcia, I want to fight all these lot. Hopefully I can get more experience, build myself up before actually fighting them.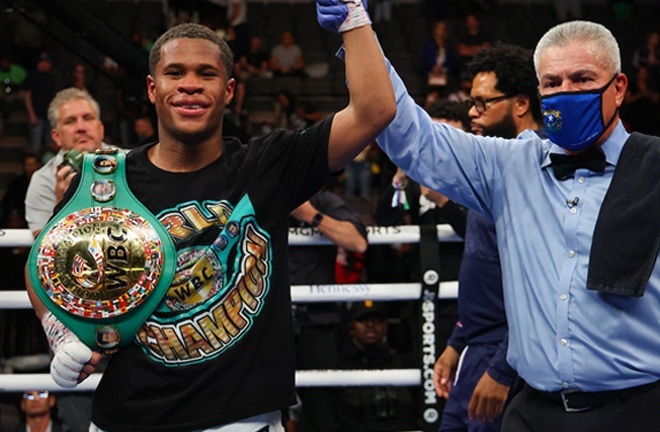 "Obviously Haney became world champion at 21/22, Ryan Garcia he's also at the top, you've got Gervonta [Davis], youngest world champion as well so if they can do it, hopefully I can do it as well.
"I want to be a world champion by 22/23."
Watch the full interview with Adam and Hassim Azim below: