It's not that we mean to get behind with our divisional weight class rankings. It's just that sometimes we do. But enough is enough, and it's time for a Mega Rankings Update Binge. We've gone ahead and updated the top 10 divisional rankings for a slew of the different weight classes in the sport, incorporating all of the most recent action and fight results. Dive in and take a look, and as always, leave your comments with your thoughts.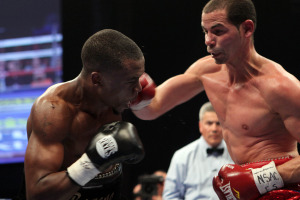 So, let's see, here are a few of the biggest fights, results and topics we've been dealing with in our latest rankings haul…
Abner Mares has moved up to the Featherweight division, and therefore is now ranked at 126 lbs and not 122 lbs… Lamont Peterson got back on track with a dominant stoppage win over Kendall Holt, asserting his place in the Junior Welterweight division, where there are tons of great fighters, fights to be made and more.
At Heavyweight, undefeated David Price was toppled by two-time American title challenger Tony Thompson, who resurrecting his career and badly damaged Price's standing. It's still the Klitschko brothers atop things, and Thompson can't compete with them. But this still shakes up the rest of the division.
The Lightweight division has been busy, as Richard Abril decisioned Sharif Bogere to show he belongs at the top of the division. Well, near the top, but a league below Adrien Broner, who blew out Gavin Rees and continues to keep everyone buzzing.
Junior Middleweight is another of the sport's deepest divisions, and Ishe Smith was able to capture his first title strap by defeating Cornelius Bundrage. Now he'll try to position himself for some big money fights, in a division where Saul "Canelo" Alvarez will soon be meeting Austin "No Doubt" Trout to determine the true top dog.
All of this and much, much more. So enjoy all of our latest boxing divisional rankings and updates, and keep on checking back with us for more boxing news and results all day, every day.