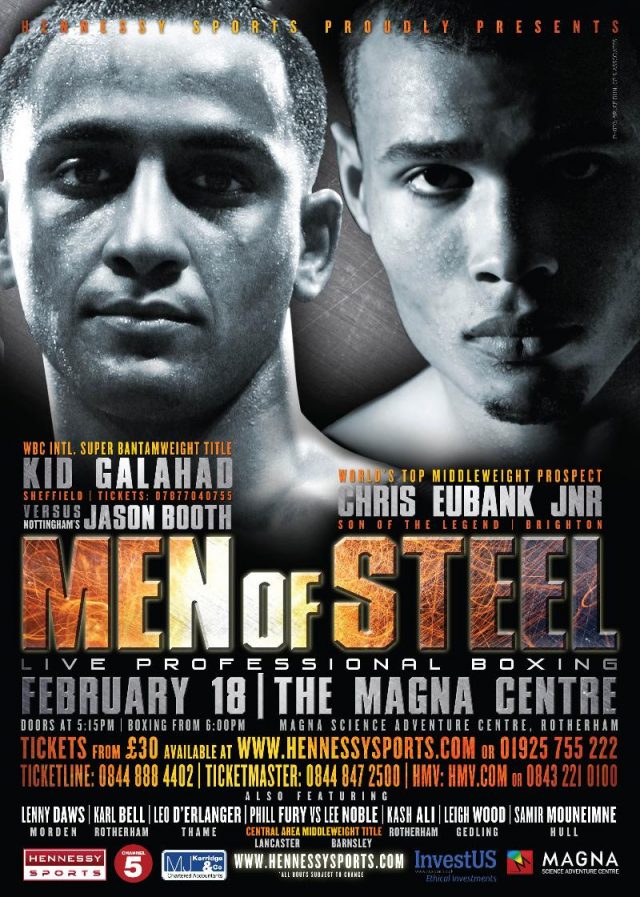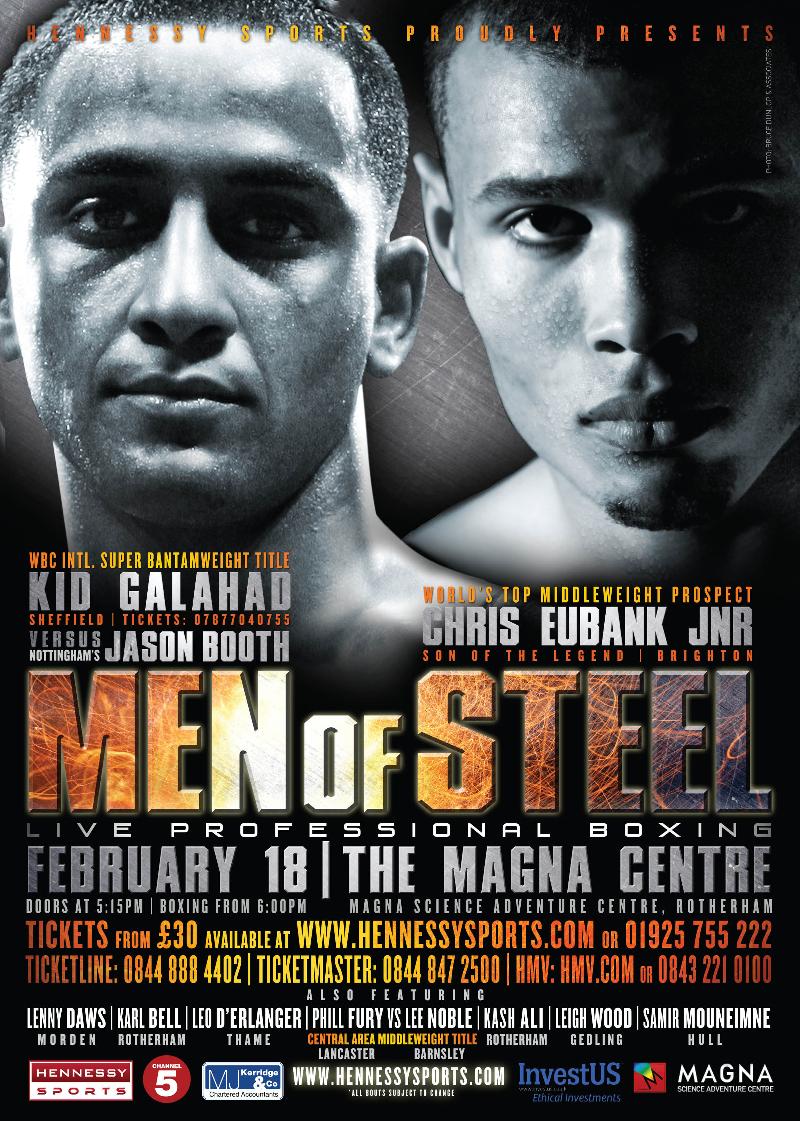 Hennessy Sports announced today that Kid Galahad and Chris Eubank Jr will be looking to impress millions of fight fans and lead the way as the new generation of boxing stars when they both appear on the "Men of Steel" event at the Magna Science Adventure Centre, Rotherham on Saturday Feb.18.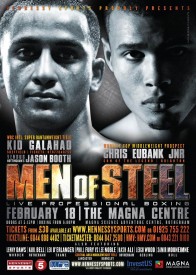 Sheffield's unbeaten hot prospect Kid Galahad will be vying for his first professional title when he takes on former British and Commonwealth champion and IBF world title challenger, Nottingham's Jason "2 smooth" Booth for the WBC International Super Bantamweight title, which has been previously held by great fighters like Manny Pacquiao and Naseem Hamed.
Kid Galahad said "Jason Booth is an experienced operator, who has fought consistently at British and European title level for most of his career and also challenged for a world title back in 2010, but come the 18th February the millions of fight fans watching me live on Channel 5 will know who KID GALAHAD is and that I'm the next major star to come out of Sheffield.
"It's an honor to be fighting for the prestigious WBC international title and I will look to emulate what Naseem and Manny have done."
Middleweight sensation, Chris Eubank Jr, son of former world champion Chris Eubank, made his professional debut back in November last year on the undercard of Tyson Fury's Commonwealth Heavyweight title defence said "I can't wait to get back in the ring and start to show the world of boxing what I'm all about"
"I'm not just here to win- I'm here to entertain. I want people to be excited about tuning in to watch my second professional fight live on Channel 5."
"I got a taste of professional boxing with my first fight and I'm hungry for more."
Promoter Mick Hennessy said. "I'm really proud to be showcasing these two brilliant young talents together on Channel 5 and with Kid Galahad headlining for the prestigious WBC International title in only his 11th fight, I believe he will show the boxing world why we have so much faith in him.
"There is great anticipation for Chris Eubank Jr's second pro fight and rightfully so, he's a special and unique talent who brings a real buzz to this great sport."
"Obviously people have known about this great fight between Kid Galahad and Jason Booth for a while now but it was stipulated by the WBC and the Boxing Board that the fight could not be announced until Jason Booths medicals had cleared, which they have now." Added Mick Hennessy
Joining Kid Galahad and Chris Eubank Jr will be former British Light Welterweight champion Lenny Daws of Morden who will be fighting Chris Truman from Birmingham, local fighters Kash Ali and Karl Bell, Leigh Wood from Nottingham and Jason Cunningham from Doncaster. The Central Area Middleweight titlewill also be contested over 10 rounds when Phill Fury from Lancaster takes on Lee Noble from Barnsley.
Fight Card – Magna Centre Feb 18.
Vacant WBC International Super Bantamweight Title
12 x 3 min rounds
Kid Galahad (Sheffield) vs. Jason Booth (Nottingham)
Middleweight Contest
6 x 3 min rounds
Chris Eubank Jr (Brighton) vs. Jason Ball (Doncaster)
Central Area Middleweight Title
10 x 3 min rounds
Phill Fury (Lancaster) vs. Lee Noble (Barnsley)
Light Welterweight Contest
8/10 x 3 min rounds
Lenny Daws (Morden) vs. Chris Truman (Birmingham)
Bantamweight Contest
4 x 3 min rounds
Jason Cunningham (Doncaster) vs. Delroy Spencer (Wolverhampton)
Super Bantamweight Contest
4 x 3 min rounds
Leigh Wood (Nottingham) vs. Pevels Senkovs (Mansfield)
Cruiserweight Contest
4 x 3 min rounds
Karl Bell (Rotherham) vs. TBA
Heavyweight Contest
4 x 3 min rounds
Kash Ali (Rotherham) vs. TBA
Lightweight Contest
4 x 2 min rounds
**Leo D'Erlanger (Sheffield) vs. TBA
**Pro Debut