The Ten Greatest Junior Middleweight Boxers in History
Ranking the top ten junior middleweights is a tricky endeavor that puts to test the full range of qualities that one uses to determine ring greatness. The old guard suffers historically from the division's lack of value in the early days. And almost all fighters worth being considered great didn't make 154 their home for too long. But despite a dicey history and the fact that this has largely been a pit-stop division, 154 has been home to some awfully good fighters and some legendary encounters.
At the top of the all-time ranking is the conundrum of what is better: a star that shines for a long time or a comet that flashes briefly. Throughout the rankings, one struggles to weigh what is more valuable. Is a long reign more impressive than a fighter who establishes clearer greatness with a smaller body of work? How do you weigh in losses? Does becoming the PFP #1 or #2 fighter in the world while at this weight count for more than having longevity?
These questions, and more, will be answered as we explore the top ten junior middleweights who ever lived.
1. Thomas Hearns (1977-2006)
I took a few liberties with this one. Throughout all the rankings, I've ignored the head-to-head component. But there is a small part of this #1-ranking that is based on the inescapable fact that a 154-pound Tommy "Hit Man" Hearns wipes out everybody on this list in a fight. Though his stay at 154 was rather brief, it's hard to argue with the body of work of the famed Motor City Cobra.
He never lost in this weight class and his work was convincing against top fighters. Wins over tough Ernie Singletary and a first-round wipeout of Marcos Geraldo led to a decision win over the great Wilfred Benitez–for the WBC crown. A defense over tough Italian Luigi Michillo preceded an unforgettable one-punch flattening over legend Roberto Duran. This is the same Duran who two fights prior had electrified a Madison Square Garden crowd with a dissection of unbeaten Davey Moore and was coming off a hairline-loss to Marvin Hagler (one point on two scorecards). No one ever did that to Duran in 30 years of fighting. His wins over Benitez and Duran illustrate the versatility of Hearns.
He could outbox the best boxers and win a dogfight with the best brawlers. Two more defenses followed–knockouts over Fred Hutchings and Mark Medal, before Hearns moved up north for good. His work at 154 was rather brief, but that's the way it really should be in a "tweener" division. Hearns' reign was explosive and while Hearns was at 154, he was considered one of the very few best fighters in the world.
2. Terry Norris (1986-1998)
Definitely the most accomplished junior middleweight of all time and one of its most talented. When watching a prime Norris, you knew you were witnessing something special–great athleticism with stunning speed and punching power. Fighters like Norris don't come around very often and one would be within reason to proclaim Norris as the one of the greatest offensive forces ever seen in the ring. Working against Norris is an iffy chin and a rather unambitious career direction. Nevertheless, some of his wins are underrated.
His wipeout of Sugar Ray Leonard is a perfect example of the chicken-egg argument. Sure, Leonard looked terrible, but Norris had a lot to do with that and he was in fact an underdog in that fight. It does an injustice to a fighter like Norris to discredit his victory on the basis of observations made after the fight. And his other work is not bad–a title-winning destruction of John Mugabi, and wins over top material like Donald Curry, Jorge Castro, Meldrick Taylor, Simon Brown, Paul Vaden, and Vincent Pettway. All in all, he made 16 defenses. But 3 knockout losses in his prime, a ridiculous propensity to foul that delayed his career progression, and the fact that most of the big names he fought were past their best costs him overall. But let's not forget that Norris at his best was absolutely top-notch.
Check out our entire collection of the all-time best fighters by weight class, as well as the breakdown of how these lists were made and what factors were included.
3. Mike McCallum (1981-1997)
The famed "Bodysnatcher" is one of the craftier fighters to ply his trade at 154. With old-school skills, McCallum's success spanned several divisions, but it was at 154 where he first illustrated his vast upside. In 1986, McCallum defended against Julian Jackson, who was 29-0–all by knockout. McCallum sponged Jackson's best shots before lowering the boom in round 2. In his highest-profile defense, McCallum dusted off an apparently-resurgent Donald Curry with a stunning one-punch knockout in round 5. Throw in knockouts over a tough 35-1 David Braxton and 31-1-1 Milton McCrory and a pre-title win over ex-champ Ayub Kalule and his body of work shines as one of the best in the history of the division.
4. Ronald "Winky" Wright (1990-2008)
Old Winky wasn't easy to like, but at the end of the day, he established almost unparalleled credentials at 154 pounds, where the crafty Floridian southpaw amassed most of his ring glory. First established his potential at 22, when he fought 55-1 champion Julio Cesar Vasquez very tough in Argentina in a title try. Winky beat some good contenders in Tony Marshall, Andrew Council, and Bronco McKart, before losing in another visiting effort–to WBO champ Harry Simon in South Africa by hairline decision. A very close decision-loss to unbeaten Fernando Vargas followed, before Wright found his winning stride. Wins over McKart and ex-champ Keith Mullings led to winning a vacant strap over Robert Frazier. Four defenses over credible contenders led to a pair of decision wins over Shane Mosley–establishing Wright as a top-flight fighter and unifying the titles. And though his days at 154 were over, his dominance at 160 against Trinidad immediately following the Mosley triumphs also speaks volumes.
5. Oscar De La Hoya (1992-2008)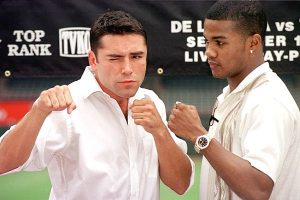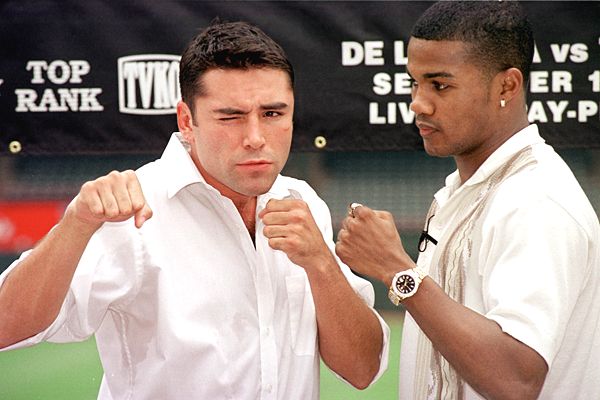 A certain amount of license is taken here, particularly in his second fight with Shane Mosley. "The Golden Boy" officially lost, but by appearing to beat a presumably juiced-up "Sugar" Shane, it's hard to look at that fight as a setback. While it will always be a "L" for DLH, it resonates as a win in many respects. Regardless, Oscar's work at 154 was dynamite. Perhaps his finest moment was against another drug-enhanced fighter in a fierce grudge match, as De La Hoya brutalized Fernando Vargas in a blood-and-guts knockout win. He earned his first belt at 154 with a wide decision over Javier Castillejo and scored a knockout over a spent Yori Boy Campas.
And other than Felix Trinidad, was the only fighter to bowl over the tough Ricardo Mayorga in short order. Even though he lost to Floyd Mayweather at junior middleweight poundage, the fact that a post-peak De La Hoya is responsible for Mayweather's only non-unanimous decision win speaks well for him also.
6. Ayub Kalule (1976-1986)
Unfortunately for Kalule, the only time most fans ever saw him was when he lost to Sugar Ray Leonard in 1981. Still, he gave an absolutely prime Leonard a pretty good fight before being stopped and otherwise compiled a fine body of work. The skillful southpaw defeated some useful talent on his way up, including wins over 66-2-4 ex-champ Elisha Obed, Miguel Castellini, Sugar Ray Seales, and Kevin Finnegan. A 15-round decision over 23-0 Masashi Kudo netted Kayule the WBA belt. Widely outscored unbeaten Steve Gregory and made 3 more dominant defenses. The 36-0 Kalule was behind only be a few points when stopped by Sugar Ray Leonard in the 9th. Setbacks against Davey Moore and Mike McCallum seemed to spell the end of his winning ways, but still managed to pin losses on future champions Lindell Holmes and Sumbu Kalambay before he was finished.
7. Nino Benvenuti (1961-1971)
One of the original standouts at junior middle, Nino was a great boxer who began to put the stamp on his legacy at 154. The first junior middleweight to be inducted into the IBHOF, Benvenuti turned pro in 1961. By 1966, he was 65-0 and reigning junior middleweight champion. Only a split nod in South Korea to Ki-Soo Kim in Benvenuti's final 154-pound appearance spoiled a perfect record in this weight class. Beat some good fighters on his way up, including wins over warhorse Gaspar Ortega, Ted Wright, and Denny Moyer. Put it all together against countryman Sandro Mazzinghi in 1965, stopping the 40-1 champion in the 6th round to win the WBC/WBA titles. He would again beat Mazzinghi by decision later in the same year. After the loss to Kim, Benvenuti was on his way north, where he would solidify his Hall of Fame resume.
8. Felix Trinidad (1990-2008)
He really only competed at this weight for one year, but "Tito" was in devastating form at 154. It says a lot about Trinidad's game at junior middleweight that he was able to crack the top-ten despite participating in this division only in the year 2000. That version of Trinidad was arguably at this best here and topped only by Hearns in his overall brutality potential at 154. He virtually took out the entire youth movement at 154 at the time and not only beat them, but rendered them spent forces.
Battered undefeated titleholder David Reid en route to an easy decision win, before defending against Mamadou Thiam. In his next fight, he tore out unbeaten champion Fernando Vargas' heart en route to a 12th-round stoppage that took a lot out of "Ferocious" Fernando. While he doesn't have the tenure of other junior middleweight champions, he was able to accomplish things at 154 that few can claim. By the time he left the division, Trinidad was 39-0 and considered by some to be the #1 PFP guy in the sport.
9. Sandro Mazzinghi (1961-1978)
Another of the early junior middleweight kings, Mazzinghi ended his reign in graceless fashion and could never solve the puzzle of Nino Benvenuti, but nonetheless compiled a sterling body of work. Sandro became only the second man to stop longtime contender Don Fullmer, before snatching world title honors over excellent Ralph Dupas via 9th-round knockout in 1963. Repeated his win 3 months later, this time stopping Dupas in 13. A few defenses followed, before Mazzinghi was stopped in 6 by the unbeaten Benvenuti. He went the distance in his second meeting with his fellow Italian, but still lost a 1965 decision. Mazzinghi rebuilt nicely, racking up a good series of wins to reposition himself for another world title go. The new kingpin was Ki-Soo Kim, who had dethroned Benvenuti. Mazzinghi won a decision over Kim to become champion a second time. Ridiculous home-cooking allowed him to retain his belt against Freddie Little. Refusing to give Little a rematch, Mazzinghi was stripped. At 64-3 (42), he had a fine career, which is good enough for #9 on this list.
10. Laurent Boudouani (1989-1999)
Under-appreciated Frenchman racked up an impressive list of triumphs, including a win and a draw over Guillermo Jones–who still reigns as a cruiserweight titlist all these years later. That wasn't all the forgotten Boudouani accomplished. On his way up the ranks, he twice defeated future titlist Javier Castillejo, stopping him in the first match. That was the only time that Castillejo was stopped in his prime years, where he fought many fearsome forces at and around 154 pounds. Laurent's title-winning effort was also impressive, as he stopped longtime titleholder Julio Cesar Vasquez in the 5th round, also the first time the 56-2 Vasquez was stopped. Among his defenses were a wide decision over 38-2 Carl Daniels and a stoppage of a finished Terry Norris. While not a great fighter, Boudouani was tough, had a big right hand, and has a vastly underrated resume.