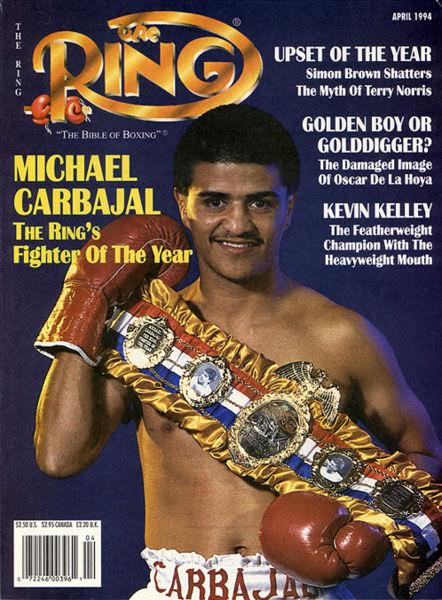 Contributed by Don Smith
Arizona Boxing News & Notes and the State of Arizona takes immense pride in congratulating six time world boxing champion Michael "Little Hands of Stone" Carbajal for his recent election to the Nevada Boxing Hall of Fame, class of 2017.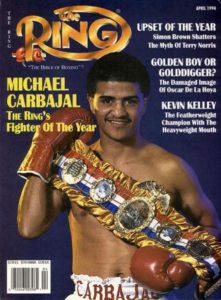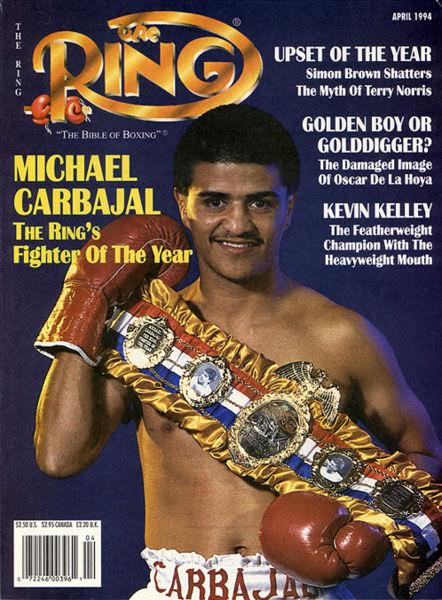 It is an accolade well deserved for a humble athlete who continues to serve the sport of boxing and his community long after finishing his illustrious career in1999. Michael Carbajal is arguably the greatest professional boxer ever, no disrespect to Muhammad Ali.
The induction ceremony will take place on August 12, at Caesar's Palace in Las Vegas, Nevada. Joining "Sir" Michael on the prestigious list of 14 new inductees are fellow 2017 classmates: Thomas "Hit Man" Hearns, Leon & Michael Spinks, Erik Morales, Lucia Rijker and the late world featherweight champion Salvador Sanchez. Those six members plus Phoenix's own (Michael Carbajal) were elected in the non-Nevada resident category.
Elected in the Nevada resident boxer category was former heavyweight champion Ken Norton and former bantamweight world titleholder Richie Sandoval Sanchez.
Chosen in the non-boxer category were late referee and Judge David Pearl, public relations specialist Debbie Munch, Las Vegas promoter Mel Greb, trainer/cut man Rafael Garcia and Dr. Elias Ghanem, the late Nevada State Athletic Commission Chairman.
NBHOF President and CEO, the widow of former two-division world champion Diego "Chico" Corrales is proud of the 2017 inducted class members.
To get a qualified understanding of the accomplishments of Michael Carbajal as a professional pugilist, we called Top Rank (his former promoter) and asked TR spokesperson and publicist Lee Samuels to comment on the boxing career of the six time world champion and former Olympic medalist Michael Carbajal.
Here is his complete and respectful statement: "Michael Carbajal is one of Top Rank's greatest champions. He fought hard every second of every round. He was by far the biggest attraction of all time in Phoenix. Michael's title fight against Muangchai Kittikasem at the Veterans Coliseum in Phoenix in 1990 was one of the greatest events in Top Rank History. Michael Carbajal is a true champion."
About Michael: According to a 3 page bio released to ABNN, his loving mother (Mary) is on record as believing her son was born a champion. DNA aside, it was his late father Manuel Carbajal who began his son's boxing journey at the age of 5. Mr. Carbajal, a former Golden Gloves Champion, transformed the tiny family garage into a training facility that featured an outdoor ring enclosed with rubber hoses serving as ropes. It was there in a very unglamorous but effective setting that the boxing seed was planted early and nurtured-helping an eager student absorb and maintain what he needed to become a world champion and boxing legend. Michael Carbajal told ABNN recently that he considers his father the only real trainer he ever had and his amateur record of 98 wins and 10 losses reflects the positive approach and result his papa achieved as his boxing mentor.
Michael, a Member of the World and International Boxing Hall of Fame, began his amateur career on 1/17/1980. He would go on to win multiple local, state, national and international medals culminating with his winning a silver medal at the 1988 Olympics in Seoul, Korea.
Michael is proud of the fact that he retired while on top and he remains one of two world boxing champions born in Arizona; the other being Louie Espinoza, a close friend. Tickets for the Nevada Boxing Hall Of Fame event are available online and at Caesars Palace Hotel & Casino in Las Vegas. Hopefully, some Arizona boxing fans can be on hand August 12 to watch the six time world champion receive his latest honored; his fans are like "Familia" to the affable legend.