Fight Prediction: Cotto vs. Trout
On December 1 in Madison Square Garden, Miguel Cotto takes on unbeaten titlist Austin Trout. The 12-rounder is for Trout's WBA title. The path is defined for Cotto. A win here and it's Saul "Canelo" Alvarez in the first half of 2013. For Trout, it's his chance to break into the big time.
Cotto is 32 and Trout is 5 years younger, has a few inches in height, and is a southpaw. You could say Trout is the bigger man, having been at this weight his whole career, even weighing in the mid-160's on occasion. Cotto first achieved fame in this sport at 140. He has achieved good results at 154, but is probably giving away a little natural size.
That's about where the advantages on paper end for Trout. He will be facing a guy who has fought at the absolute top level of the sport. He lost his biggest fights, but won plenty of big ones along the way. Cotto probably has a dozen wins that surpass anything Trout ever accomplished in the ring.
Date: December 1, 2013
Site: Madison Square Garden, New York City
Titles: WBA 154-pound title: 12 Rounds
Miguel Cotto, 37-3 (30 KOs)
Vs.
Austin Trout, 25-0 (14 KOs)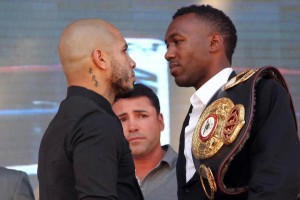 On top of that, Cotto is fighting at Madison Square Garden where he will enjoy a decided fan advantage. In all fairness, it could be worth a couple rounds on the cards. Whatever comfort Trout might have that Cotto is coming off a loss is dashed by the fact that it was in fact Cotto's best loss–a reasonably competitive fight with top dog Floyd Mayweather in May.
I really had Cotto figured wrong. After the Margarito and Pacquiao losses, where he sustained protracted beatings, I thought it would be all downhill for Cotto. He has held together remarkably well. Those who were suspect because Cotto's resurgence was based on wins over the now-forgettable Yuri Foreman, the worn-out Ricardo Mayorga, and a tattered Antonio Margarito, were assuaged by Cotto's spirited showing against Mayweather.
Is Trout closer to Mayweather or more along the lines of Foreman, Mayorga, and Margarito? I think he's probably somewhere in between, but it's hard to tell to exactly what extent. There is nothing on his record to suggest greatness, but he hasn't really had his chance yet.
I was mildly surprised to see he so decidedly beat David Lopez in 2011, with Lopez having not lost in 6 years. In addition, it was impressive that he whitewashed Delvin Rodriguez with such ease in his last fight in May, however dull it might have been.
Trout seems like a difficult guy to fight–a conservative technician with a sort of boring effectiveness about him. He's got a good head on his shoulders. For Cotto, I think it's a high-risk/low-reward fight. No one knows Austin Trout. A win paves the way for an Alvarez fight, but considering Cotto's track record, couldn't he have booked that fight without first having to do this?
It makes the Canelo fight a bit more legit if Cotto is coming off a good win, but Austin Trout is a fighter whose merit outweighs his name-power by quite a bit. You usually don't see aging stars like Cotto in fights like that–what essentially is a warmup fight against a possible diamond-in-the-rough fighter like Trout.
Trout does some things you like to see in a potential big-name fighter. His sense of distance is excellent. He has a good ring IQ. His southpaw jab snakes out with a good deal of authority. He is tricky with his feints and little moves he uses to get his opponents to commit before landing nice counters. He's patient and waits for his spots–a mature, professional fighter with a lot of talent and skills.
Cotto vs. Trout Prediction
I think it's a toss-up kind of fight that will be shaded in Cotto's favor for a few reasons. The fight being at the Garden is big for Cotto. Not that they will be looking to victimize Austin Trout, but it's hard to imagine judges going out of their way in that environment to score rounds for the New Mexico fighter. I also think Cotto's increased comfort level under the bright lights and in front of the big live and TV audience will help him get off to a better start than Trout.
Unless you have the boxing skills of Floyd Mayweather, the way to defeat Cotto is to beat the fight out of him. Trout can't do that, and while slick, his slickness is not on a level where it's easy to picture him making Cotto look foolish. Cotto is a slick veteran in his own right, a patient fighter who waits for his spots. He has outboxed fighters like Shane Mosley, Zab Judah, and others whose resumes surpass the works of Austin Trout.
If we don't know Cotto by now, we'll never know him. The result of this fight therefore inevitably comes down to the question "How good is Austin Trout?" As opposed to Cotto, he's at that stage where you really don't know. This is his litmus test–is he big-time or another in a long line of "titleholders" who were here today and gone tomorrow?
This endorsement of Cotto is made with a fair amount of trepidation. When you have an aging fighter who is bound to hit a wall at anytime against an X-factor like Trout, there is only so much assuredness one can have in making a prediction. I think Trout is good enough to give Cotto a difficult distance fight. I don't feel, however, that he has the experience to create the separation he will need to win a decision.
Prediction: Miguel Cotto by unanimous decision.
Comments
comments