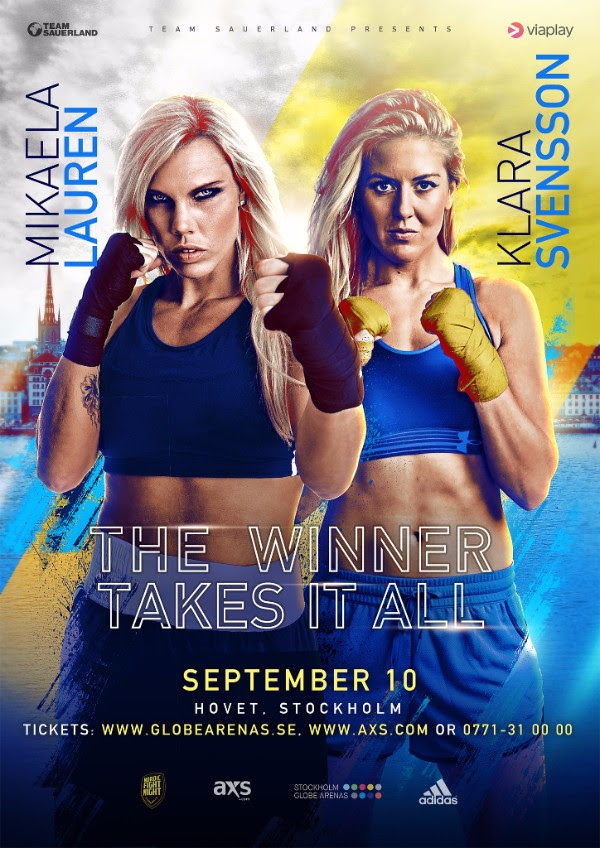 Sweden's top female boxers Mikaela Laurén (27-3, 12 KOs) and Klara "The Swedish Princess" Svensson (16-1, 5 KOs) will go head-to-head in a huge domestic showdown on September 10 at the Hovet in Stockholm.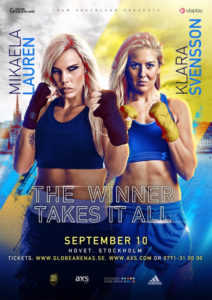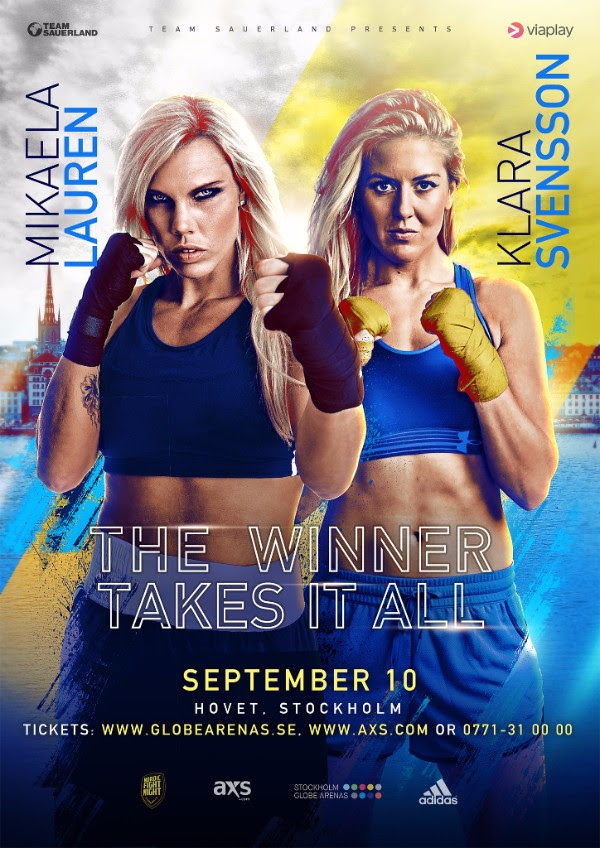 Following months of speculation, the bitter rivals have agreed to meet at the welterweight limit in an attempt to settle their differences and prove who is the country's number one female fighter.
Their hotly anticipated bout will also act as an official WBC sanctioned final eliminator to face female pound-for-pound number one and Unified Welterweight Champion Cecilia Brækhus.
''I'm thrilled this fight is finally happening,'' said Laurén. ''This is a fight I've wanted for a long time. It's no secret that we don't like each other, and now we can finally see who is the better boxer. This is going to be a huge fight for Sweden and for Swedish boxing. We haven't had a big fight like this involving two Swedish fighters since Paolo Roberto fought Armand Krajnc, and I'm sure this is a fight that will capture the imagination of the Swedish public.
''I'm very confident I will beat her. I believe I'm too big and too strong for her and on September 10, I'm going to knock her out. There is no way she can last ten-rounds with me. I'm glad this fight is happening in Stockholm so that all my friends, family and fans can be there to watch me humiliate her.''
''There is nothing fake about this fight,'' says Svensson. ''Mikaela has done and said some things that I haven't agreed with and I'm looking forward to getting in the ring and shutting her up once and for all. This isn't about tabloids or headlines, or her kissing opponents or pouring water on them, it's about boxing and who is the best, and I'm going to show her what boxing is really about. I'm not only going to outbox her, I will destroy her. Mikaela and her whole team are going to be in for a cold shower.
''I'm really looking forward to this fight. It has been building up for a long time and a lot of people are already talking about it. I think it's going to be a really big event in Sweden and hopefully it can build a lot of interest in the sport.''
Said promoter Nisse Sauerland: ''We're delighted to have made this fight. It's a genuine grudge match between two of the best female fighters on the planet. It will be a huge night for Swedish boxing and for the sport as a whole. I believe it can be as big in Sweden as Paolo Roberto versus Armand Krajnc.
''After their last fights, both Mikaela and Klara called me and told me this was the fight they wanted. There is a lot on the line and it's going to be winner takes all with pride, bragging rights and a shot at Cecilia Brækhus's World titles up for grabs. This is definitely not a fight you want to miss.''
Per Nunstedt, Head of Sports, Viasat said: ''This is the fight Sweden has been waiting for. Without a doubt this is the biggest rivalry-fight in the history of Swedish female boxing. Its also one of the most prestigious fights we have seen between two Swedes. Both Mikaela and Klara have longed to get up in the ring and show who is the best. And to be able to have this fight on Swedish soil makes it even bigger.''
Tickets for this blockbuster event, which will also feature a full undercard showcasing the very best in Swedish boxing, go on sale on Wednesday, June 29 at 12.00 and are available online via www.globearenas.se and www.axs.com or by calling 0771-31 00 00.