Fight Pick & Preview – Alvarado vs. Provodnikov:
On Saturday, Mike Alvarado defends his WBO 140-pound laurels against Russian brawler Ruslan Provodnikov. This should be a special fight between two guys whose reputations are built on being blood-and-guts warriors. It's good to see these two headlining a big HBO card, with the hard-bitten Alvarado earning a big payday in his hometown in the big arena.
Date: October 19, 2013
Site: 1stBank Center, Denver, Colorado
Weight Class: WBO 140-Pound Title
Mike Alvarado, 34-1 (23 KOs), Denver, Colorado
Vs.
Ruslan Provodnikov, 22-2 (15 KOs), Beryozovo, Russia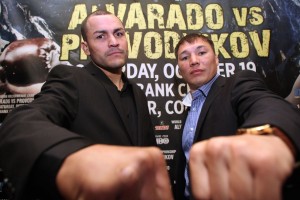 I found it very surprising that the oddsmakers have Alvarado as such a slight favorite at -120, with Provodnikov at only +110. It seemed that Alvarado, the more-accomplished pro and fighting at home after the best win of his career, would fetch a more robust quote.
But upon further thought, it makes sense to a degree. Provodnikov nearly beat Timothy Bradley, who just beat Marquez last week. And Alvarado is probably a step below Bradley, in all fairness.
Provodnikov has an extreme amount of courage, hardened by a tough life. He can punch and keeps coming with apparent total disregard for his personal safety. He can take a great punch and is one of the more difficult guys to dissuade in the whole sport. While he came up short against Bradley, it was only by a hair and he showed he can hang with world-class fighters. He's now back at a more comfortable 140. He represents a tough list of attributes to beat.
Let's not allow the graphic showing of guts by Provodnikov against Bradley to blind us from what kind of a warrior Alvarado is. He's built his name on being a brawler with guts galore. You can't overstate the depth of a fighter who is able to reverse a KO defeat to an opponent in an immediate rematch.
In October of 2012, Alvarado came out on the wrong end of a draining 7th-round TKO to Brandon Rios. In his next fight, he won a well-deserved decision and pinned the first loss on Rios in a rousing performance.
One thing I don't like about Provodnikov's standing is that it's massively built on a fight he lost. I learned the lesson of falling in love with a fighter based on a loss when I lost a bunch betting on Razor Ruddock to beat Lennox Lewis, based on Razor's two tough fights with Mike Tyson. Alvarado's status in built on a more solid foundation. Provodnikov showed a bunch of guts, but in a fight he lost. I'm just not sold that almost beating Timothy Bradley, with "Desert Storm" fighting his stupidest fight ever, is grounds for him being almost even-money with a guy on Alvarado's level.
I saw Ruslan Provodnikov's first loss on ESPN, a close decision defeat to Mauricio Herrera. The Mexican technician used long range boxing and quickness, with a lot of toughness and guile, to edge the unbeaten Provodnikov. The decision was very congratulatory to Herrera, who later lost to Alvarado. But it showed that cute long-range boxing can work against the Russian.
What does that have to do with Alvarado? Well, he may be known as a brawler and be more comfortable in that role, but long-range boxing was a key part of his rematch win over Rios.
That versatility could have him in good stead against Provodnikov. In sequences where the two men are going to war, Alvarado will not be out of his element. But if he can sprinkle in enough stretches where he puts his superior length and skills to use, that should enable him to hold the upper edge. But that's assuming a lot, too. It's assuming that Provodnikov is just going to cooperate and we know better.
There may be some super-skillful fighters where we can picture them shutting Provodnikov down with great boxing, but Alvarado is not one of them. Fighters are what they are. History points to the eventuality that Alvarado will give his opponent ample chances to land something.
Alvarado vs. Provodnikov Prediction
Provodnikov is among the more insistent fighters in the sport. Alvarado is not invulnerable. He has been rattled before and was stopped by Rios. He can be gotten to. At home, headlining the big show, and finally in a position where he can make some money in this business, Alvarado will be clawing to maintain his stature.
I see him using a combination of brawling and boxing, much as he did against Rios in their rematch. You can't rule out Provodnikov. He could easily clip Alvarado with something big and render this analysis moot. But I see Alvarado winning a clear, but very hard-fought 12-round decision. A cut or swelling-induced stoppage wouldn't be too surprising, either.
Prediction: Mike Alvarado by unanimous decision.