Bradley vs. Marquez Results & Divisional Rankings Updates:
Timothy Bradley took home a close Split Decision victory over Juan Manuel Marquez on Saturday night in Las Vegas. With the win, Bradley reestablished himself after being tarnished by the controversial victory over Manny Pacquiao. So where do Bradley and Marquez now stand in the top 10 welterweight division rankings?
Take a look at our updated divisional rankings following the Bradley vs. Marquez results.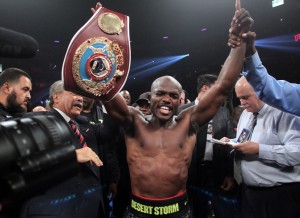 We've also updated the top 10 at 126 lbs following Orlando Salido's dominant showing over Orlando Cruz. Salido is the fighter who just won't be denied, and won't go away, and he proved to be a league above Cruz.
Also interesting though in the featherweight division rankings was the professional debut of Vasyl Lomachenko. Does he deserve to be a top 10 fighter in his division after just one fight? Take a look and see if he makes the cut, and why or why not. It certainly was one of the more impressive pro debuts of any Olympic boxer in modern history.
Ranking the top 10 in the welterweight division is tricky right now. Bradley has defeated Marquez, and Marquez has knocked out Manny Pacquiao. But Pacquiao dominated Bradley… even though he got robbed in the decision.
It's up to us sort out the mess and see where they should be placed. So take a look at the top 10 welterweight division rankings and feel free to chime in with your own thoughts in the comments below about where and how everyone should be ranked following the Bradley vs. Marquez results.