Soto-Karass looks to even the score with undefeated welterweight Mike Jones in their upcoming rematch:
On November 13, 2010 at Dallas Cowboys Stadium, while the world was waiting for the Manny Pacquiao vs. Antonio Margarito bout, Mike Jones and Jesus Soto-Karass were in the ring trading punches with each other. In their first fight, Soto-Karass got knocked down in the second round, but managed to fight his way back in roaring fashion.  Jones turned up the heat and threw everything at Soto-Karass to try to stop him, but he wouldn't go down again, and in the process, Jones tired himself out and left the door wide open for his man to turn up the heat on him. Mike Jones was awarded the majority decision victory, and the knockdown proved to be the difference in the fight.  Most boxing experts feel that Soto-Karass did enough to earn the victory, but the ringside judges saw it for Jones.
Now these two will get together to settle the score once and for all in a rematch on yet another huge fight card, as the main event will feature the two best bantamweights in the world when Fernando Montiel faces off against Nonito Donaire at the Mandalay Bay Resort & Casino in Las Vegas, NV on February 19, 2011.
Tale of the Tape
Mike "M.J." Jones is 27 years old, with an outstanding record of 23 wins and 0 losses.  He stands at 6 feet tall, with a 72 inch reach, fighting out of the orthodox stance.
Jesus "Renuente" Soto-Karass is 28 years old, with a record of 24 wins, 5 losses, and 3 bouts ending in a draw.  He stands at 5 feet and 10 inches tall, with a 73 inch reach, also fighting out of the orthodox stance.
Jones vs. Soto-Karass II Preview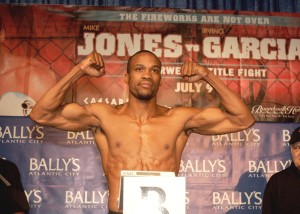 Mike Jones is the current NABA and WBO NABO Welterweight champion. Born in Philadelphia, PA, the Philly Native began his boxing career in 2005 at the age of 22 years old.  Since turning pro, Jones stormed on the scene by knocking out most of the opponents he faced early in his young career leading up to his sixth round technical knockout victory over Juliano Ramos.  With the win, M.J. was awarded the vacant NABA welterweight title. In 2010, Jones captured another vacant title by stopping New Mexico native Hector Munoz in the fifth round.  Jones was awarded the vacant WBO NABO welterweight title, and so the Jones and Soto-Karass dance begins.
Jesus Soto-Karass is the former WBC Continental Americas and NABF welterweight champion.  Soto-Karass is a native of Los Mochis, Sinaloa, Mexico who came unto the boxing scene as a professional in 2001.  Renuente has quality wins over good fighters such as Michel Rosales in which he captured the WBC Continental Americas title, Vince Phillips, and David Estrada. Soto-Karass was awarded the NABF title for his eight round technical knockout defeat of Estrada.
Jones vs. Soto-Karass II Prediction
February 19, 2011 will once again rob these two combatants of being the headliner, as the boxing world will once more watch this fight between Jones and Soto-Karass in anticipation of fireworks yet to come later in the evening, when the two best bantamweights in the world will step into the squared circle against each other, with one walking out with bantamweight supremacy.
The last fight between Jones and Soto-Karass was close.  Jones was fatigued after he used up most of his energy trying to finish Soto-Karass in the second round.  I expect Jones to box Soto-Karass and take advantage of his aggressive style by landing huge counter-punches and power-punches, even though Jones is known for being aggressive as well.  I expect Soto-Karass to try and stay close to Jones, not letting him rest for a minute in hopes of turning the fight into a brawl.
When it is all said and done, this fight will turn out to be nothing more than the guy who was the favorite in the first fight, Jones, proving that the last fight was not a fluke and had he not have punched himself out in the first fight, he would have won easily.
Prediction: Jones by twelve round unanimous decision.