Mike Tyson is set to come of retirement to face Roy Jones Jr in California on September 12, according to reports.
Tyson, 53, has sent social media into a frenzy over the past few months showing ferocious power on the pads and is set to come back in an eight round contest against former four-weight World champion Jones Jr, according to Yahoo Sports.
The pair will wear 12 ounce gloves in a charity fight at Dignity Health Sports Park in Carson and Tyson will end his fifteen year retirement, having last fought in a stoppage loss to Kevin McBride in 2005.
Jones, 51, reigned as WBA World Heavyweight champion after defeating John Ruiz in 2003, before finally retiring in 2018 after a decorated career.
Tyson's former foe Evander Holyfield and previous World Heavyweight champions Shannon Briggs and Riddick Bowe all expressed a desire to face 'Iron Mike.'
Jones confirmed just yesterday that he would be willing to come out of retirement to face Tyson and talks appear to have accelerated with a date and venue decided.
"Yes, it's true – Mike is a legend. It would be crazy to receive an offer to enter the ring with him and refuse," Jones told sports.ru.
"I had no intention of going back and fighting again but, for the sake of Mike Tyson, I agree to make an exception.
"For me, this is an opportunity that I cannot refuse.
"Of all those who wanted to go into the ring with him, he chose me. And since he did that, how can I say no?"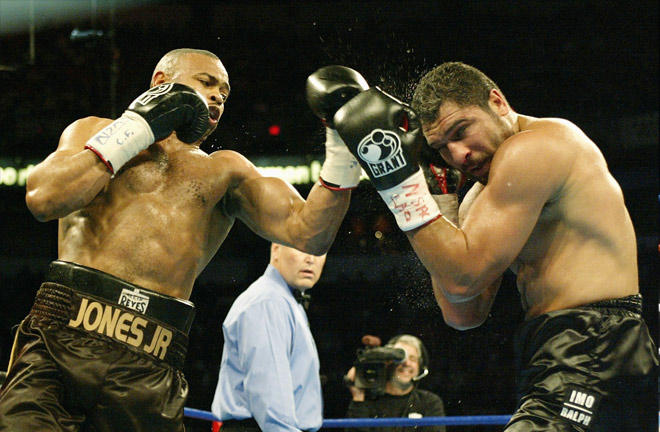 The pair were linked with a fight in 2003 when Jones was Heavyweight World champion and Tyson was reaching the conclusion of his career, after what turned out to be his final professional victory against Clifford Etienne.
Former pound-for-pound great Andre Ward claimed that up to $40 million was offered to Jones at the time, who instead chose to face Antonio Tarver.
"There was a [Mike] Tyson fight on the table, and I believe I'm accurate when I say this it was somewhere around $40 million guaranteed," Ward told JRE Clips.
"There was an upside too. You stay at heavyweight, keep the weight on, and Tyson wasn't quite Tyson at that time.
"He was still dangerous, but he wasn't quite Tyson. I think they were working towards it. What I heard was Roy wanted more money.
"Roy somehow said, 'No, the fight will be there down the road,' and put his attention to Antonio Tarver, and the rest is history."