Fight Pick & Preview – Mikey Garcia vs. JuanMa:
In what figures to be a hard-hitting featherweight title bout, newly-crowned Mikey Garcia makes his first defense against former champion Juan Manuel Lopez on June 15 in Dallas. Garcia has been making some noise lately and is beginning to venture into more dangerous waters. Lopez, meanwhile is looking to put a stop to the slide that began with his first loss to Salido–the same guy Garcia beat for the title.
By the time they step into the ring, Lopez will be just a few weeks from his 30th birthday. Garcia is only 25 and considered the fighter with a brighter future at this point. That wasn't always the case, with Lopez once considered one of the brightest stars in the lower weight classes. We're talking about a guy whose first 3 world title bouts ended in first-round KO victories, including one over Ponce De Leon.
Date: June 15, 2013
Site: American Airlines Arena, Dallas, Texas
Weight Class: WBO Featherweight Title: 12 Rounds
Mikey Garcia, 31-0 (26 KOs), Oxnard, California, WBO Featherweight Champion
vs.
Juan Manuel Lopez, 33-2 (30 KOs), Caguas, Puerto Rico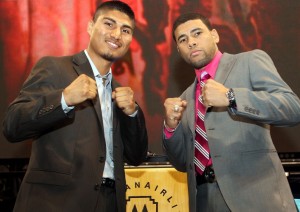 Lopez went on to score subsequent stoppage wins over good fighters like Steven Luevano and an aging Rafael Marquez. Right when he was on the verge of getting some really big fights, he was stopped twice brutally by Orlando Salido. He has registered a pair of get-well wins, but to say the jury is still out would be an understatement.
Garcia, meanwhile, has been moving along quite nicely. With 31 straight wins to begin his career, he's in a position to do some big things soon–if he gets by Lopez. Garcia is a good boxer, raised in the bustling family gym in Oxnard and working alongside his brother and former champion Robert, who is now his trainer. Along with his actual in-ring experience, young Mikey has been involved in boxing his whole life. Between his brother and Fernando Vargas, Garcia has been around champions and big-fight atmospheres before. He was raised for this.
I would have liked it more had Lopez been matched with a pure boxer. Against Garcia (26 knockouts in 31 fights), we have to wonder a little more about the wear and tear sustained in the Salido fights. This is especially true after seeing Garcia handle Salido with such ease, though that isn't always a good indicator. In fact, Garcia's more well-schooled style might be a better fit for Lopez than was the case with the more free-swinging and raw Salido.
Perhaps there was something about Salido's style that just stymied Lopez. With Garcia, he's facing a more conventional boxer, though albeit a fine one with good power. It's still not a foregone conclusion that the version of Lopez that existed pre-Salido will not again manifest in this fight. It's sometimes a bad idea to write a fighter off because of his inability to handle one guy. Before Salido, Lopez was in fact very highly-regarded and one of the top offensive fighters in the sport.
If forced to pick, though, I'd say Lopez' fall from grace isn't so much a mirage and more of a case of a fighter suddenly hitting a wall. It's happened to a lot of fighters at even younger ages and some of them are in the Hall of Fame. Even before Saildo, there were bad signs that became a bit lost amongst the offensive brilliance of Lopez. He sponged punches with their full brunt, his defense was negligible, and his chin something less that iron-clad. "Juanma" barely survived journeyman Rogers Mtagwa in a 2009 win, was dropped by Bernabe Concepcion, and even aged Rafael Marquez found him available to be hit until he was overpowered in their 2010 bout.
The first Salido beating was over two years ago with the second one coming a year later. He took tons of punishment in those fights. But even if the Lopez from the second Salido fight shows up here, he could provide a level of menace unlike anything Garcia has yet to see in the ring. Lopez is a southpaw, a hard-hitter, and fighting with his career on the line. Might not be a walk in the park.
Garcia has looked good during his rise to this point. His win over Salido was impressive for how he offensively dominated the defending champion. His reaction to having his nose broken by a Salido head-butt was a bit alarming, however, as Garcia basically ran up the white flag, sending the fight to the cards after 8 rounds. He conveyed a sense of fragility in light of Salido's late-surging aggression that might manifest later against a better opponent. Maybe this one?
It's just that other than Salido, Garcia's resume is a little thin. He has unquestionably beaten some good fighters, but if Lopez has his act together, this should be Garcia's toughest fight. He is undefeated and a very talented titleholder. But with his best win coming against an 11-loss fighter in Salido, it's not a given that he is going to romp over fighters like Lopez.
Garcia vs. Lopez Prediction
I do think there is a chance that the perception of Lopez' career being in the dumps is based on information that could be faulty. Styles make fights and Salido was all wrong for him. Maybe there is a frailty to Garcia that has never been exposed due to the type of guys he's been fighting. So Lopez is not the no-hoper some are making him out to be.
Yet, the reasons most people are picking Garcia are probably going to be the prevailing factors in this fight. He probably isn't the same guy after the two pastings from Salido. While Lopez was good enough to crack some top-ten PFP lists before he was beaten, he was never the total package–an offensive whirlwind whose neglect of the finer points eventually cost him. I expect those things to manifest in this fight. After an exciting 5-6 rounds that will fully test Garcia's mettle, I see Mikey pulling away and getting Lopez out of there late.
Prediction: Mikey Garcia by 10th-Round TKO.