Three-time world champion Mikkel Kessler (45-2, 34 KOs) has signed an early contract extension with Team Sauerland until 2014. "I look forward to continuing our successful cooperation," Kessler said. "It has been great to work with Wilfried, Kalle and Nisse Sauerland. I owe it to my fantastic fans to prove myself against the world´s best boxers and thanks to Team Sauerland, I can do just that. They have big plans for me and that suits me well."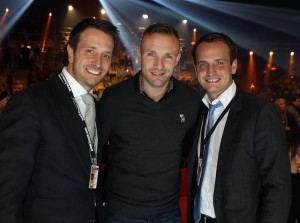 The Viking Warrior has been fighting under the Sauerland promotional banner ever since September 2009 when a TKO victory over mandatory WBA Super-Middleweight Title challenger Gusmyr Perdomo set the stage for the Super Six World Boxing Classic tournament.
"In the past three years, we have been through a lot – inside and outside the ring," Kalle Sauerland said.
"The excitement of the Super Six tournament, the shocking defeat in Oakland against Andre Ward, the epic comeback victory over previously unbeaten Carl Froch, the injury setbacks and last but not least the impressive destruction of Allan Green in Copenhagen – all this has formed a very special bond between us. We will now carefully plan the next steps to make sure Mikkel will be remembered as one of the biggest fighters in the history of boxing. He already ranks up there with the all-time greats but in the next fights he can build his very own legacy, a legacy that will be remembered not just in Denmark, Europe or America but all over the world. The sky is the limit for the Viking Warrior!"
Details about Kessler's next fight will be announced in due time as "negotiations are currently under way", according to Sauerland.