Two AIBA Road to London athletes ensured the first ever medals for their countries on the tenth day of competition at the London 2012 Olympic Games, reaffirming the benefits of this program aimed at improving the opportunities for boxers from developing countries.
Tajikistan's AIBA Women's World Boxing Championships Qinhuangdao 2012 bronze medallist Mavzuna Chorieva is now one of the program's major success stories after she defeated China's experienced Dong Cheng in the Women's Lightweight (60kg) quarter-finals to book her place into the competition's last four.
The 19-year-old Tajik rising star secured her nation's first medal at these Olympic Games with a quality performance. Chorieva now faces Irish legend Katie Taylor in the semi-finals, the boxer who beat her at the same stage at the World Championships in China earlier this year.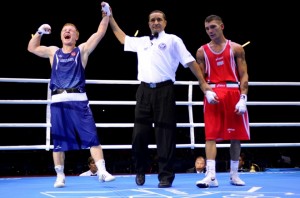 20-year-old Lithuanian Youth Olympic Champion and AIBA European Olympic Qualifying Event winner Evaldas Petrauskas became the day's second athlete from the program to move into the Men's Lightweight (60kg) semi-finals. The stocky orthodox fighter defeated Italy's 2009 AIBA World Champion Domenico Valentino to claim a minimum bronze medal, his victory also giving his country its first ever Olympic boxing medal. His next opponent will be tall South Korean Soonchul Han in what will be a real clash of style.
Unfortunately Chorieva and Petrauskas could not be joined on the podium by New Zealand's Alexis Pritchard, who also part of the program, after the experienced Kiwi boxer was defeated by the inspired two-time AIBA World Champion Sofya Ochigava from Russia.
Comments
comments