Mikkel Kessler returns to the ring on Saturday, May 19 before his hometown crowd in Copenhagen, meeting a man who he should have fought during the Super Six tournament, Allan Green. The bout also marks the Viking Warrior's entry into the heavyweight ranks, where Green went after losing to Glen Johnson a year and a half ago. The WBC's ridiculous "silver belt" is on the line, but that scarcely deserves mention.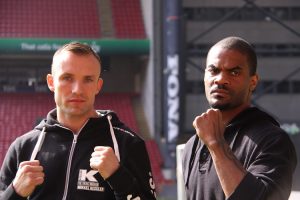 With this bout now just over a week away, I think it is safe to believe the fight will actually take place, and not be postponed or cancelled by some new injury on Kessler's part. A quick review of recent history shows the great Dane to be strangely fragile. His original fight date with Green was cancelled due to the eye injury that compelled Kessler's withdrawal from the Super Six.
Kessler was then scheduled to meet WBO titleholder Robert Stieglitz in November of last year, but that fight was cancelled on account of a Kessler injury as well. So now Kessler is back to Green, his first remotely noteworthy opponent since edging Carl Froch more than two years ago.
Allan Green (31-3, 21 KOs)
6'2″, 73″ reach, 32 years old
American
Allan "Ghost Dog" Green was never more than a fringe contender at super middleweight, where his main assets were his considerable power and reasonable toughness. His abilities are otherwise quite pedestrian, and Green has never won a big fight.
Before becoming a gatekeeper, Edison Miranda beat Green in a 2007 slug fest, two knockdowns to one and by a hefty margin on the scorecards. In the Super Six, Green was whipped by Andre Ward, but that is hardly a deficit, since Ward beats everyone (so far). The other telling bout was Green's clash with Glen Johnson, where the middle aged former light heavyweight contender beat Green at his own game and knocked him out. Since the Super Six, Green has been on the comeback trail, but has tackled only a couple of journeymen in the interim.
Mikkel Kessler (43-2, 32 KOs)
6'0 1/2″, 72″ inch reach, 33 years old
Danish
Former three-time super middleweight champion
Kessler is a well-schooled boxer-puncher of the Continental, stand-up model. While his technique is somewhat rigid and linear, an opponent needs to have quick hands and fleet feet to exploit any weaknesses in what is otherwise a methodical approach. Kessler uses that approach to apply his physical strength (Kessler was the strongest guy around back at 168 lbs) and power, knocking his opponents to bits behind a stiff jab and tight guard. Despite his injury-prone record, Kessler has proven quite tough in the ring, having fought it out with some very rugged characters.
However, questions must be asked about the Viking Warrior at this stage in his career. As previously mentioned, Kessler has become injury prone. He is 33 years old, moving up to a division where he is somewhat undersized, has fought only once in the past two years, and that fight was against subpar opposition. Ring rust and Kessler's ability to weather real damage become viable issues in that light.
Kessler vs. Green Preview and Analysis
If there were not some medium-sized question marks hanging over Mikkel Kessler right now, my belief that Kessler will clean Green's clock would be even more certain. Kessler ought to be able to use his superior technique to blunt Green's assault, setting the Ghost Dog up for return artillery. Once Kessler is going forward on a consistent basis, I expect him to walk Green down, beat him up and get him out of there.
However, I'm not 100% that Kessler is still the man he used to be. There are those pesky signs, suggesting he just might have lost something. If he isn't quite up to snuff, Green might be able to gain some traction with his superior height and reach, and if Kessler takes too much hard leather, he will cut open around the eyebrows.
So, I see three possibilities here. The most likely outcome is that Kessler stops Green. But if Kessler is rusty and has lost a bit of his physical prowess, Green could make a real fight of it. In that case Kessler's technical skill ought to see him through to a points win. Finally, Green has a very outside chance of an upset, because if Kessler is both in decline and has a bad night, Ghost Dog could capitalize and bust the Dane up.
Prediction: Mikkel Kessler TKO7 Allan Green