Undefeated Oscar Valdez (18-0, 15 KOs) from Nogales, Sonora, Mexico, and Jesse "Hard Work" Hart (18-0, 15 KOs), from Philadelphia, PA., turned in knockout performances last Friday night at The Chelsea inside The Cosmopolitan of Las Vegas.
Valdez, world-rated No. 2 in the featherweight division by the World Boxing Organization (WBO), stopped one-time world title challenger Chris "The Hitman" Avalos (26-4, 19 KOs), from Lancaster, Calif., in the fifth round. Avalos was world-rated No. 9 by the International Boxing Federation (IBF) going into the fight. Hart, world-rated No. 3 by the WBO as a super middleweight, retained his NABO and USBA super middleweight titles by serving up a ninth-round knockout victory of his own at the expense of Aaron Pryor Jr. (19-9-1, 12 KOs), from Cincinnati. Both fights were televised live on "The MetroPCS Friday Night Knockout on truTV."
Elsewhere last week, Joe DeGuardia's Star Boxing presented the 20th installment of the popular "Rockin Fights" series at The Paramount in Huntington, NY and the card more than lived up to its title. Before a capacity crowd, fast rising Light Heavyweight Joe " The Irish Bomber" Smith Jr.,(Mastic, NY) took on veteran spoiler Dion Savage, (Flint, MI), in a scheduled 10 round Light Heavyweight match up.
From the opening bell those in attendance knew they were in for an exciting fight as Smith and Savage freely traded punches. Savage showed he came to fight as he withstood an early assault from Smith before answering back with his own power punches.
The pattern stayed the same until late in the 3rd round when a barrage of punches by Smith sent Savage sprawling throughthe ropes. Savage beat the count getting back in the ring and just as the bell sounded endingthe round caught another hard right hand which had him on wobbly legs as he headed back to his corner.
Savage recovered nicely and had a decent round 4 landing good shots on the ever charging Smith. The fight was turning into a battle of attrition as both fighters kept up a fastpace and both landed numerous hard shots on each much to the delight of the crowd. As the bell sounded for round 9 and as he did in round 1, Smith charged right at Savage throwing hard punches with both hands. Savage gamely tried to fight back but Smith finally overwhelmed Savage sending him to the canvas for the second time.
Savage rose at the count of 8 and motioned Smith on as the crowd was whipped into a frenzy. Smith obliged and attacked relentlessly forcing the referee to call a halt to the fight at 2:25 of round 9.
Smith improves to 19-1 16KO's while the ever so game Savage dropped to 12-8 6KO's.
Samuel Clarkson continues winning streak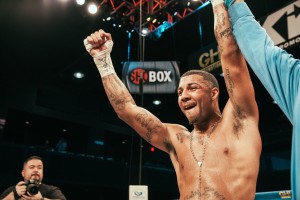 Uprising Promotions light heavyweight Samuel Clarkson (16-3, 10 KOs) picked up his third consecutive knockout victory and sixth win of the past year in late August, stopping the durable Rayford Johnson in the first round of a bout in his native state of Texas. With an impressive decision win over former world title challenger Cedric Agnew and a third round knockout of highly regarded prospect Jerry Odom over the past six months, Clarkson now looks to continue building on that momentum as he battles his way to a championship fight.
"After we fought Odom, we literally took no time off. It was basically an extended camp," Clarkson said of preparation for his contest with Johnson, which was five weeks after his Showtime debut opposite Odom. "I took off a day or two. I was running again by that Sunday, and we were sparring again by Tuesday. I really just kept the process going, working on my uppercuts and overwhelming people with my power and aggression. We just continued to keep doing what we had been doing."
The August pairing with Johnson was the second meeting between the two fighters, with Clarkson earning a unanimous decision in a six-frame bout nearly two years ago.
"Going into the fight, I knew it was going to be tough because I had fought him before," he stated. "I hit him with everything I could the first time around. It would daze him, but he was able to take all of the shots I threw. I knew I was going to be in a battle, but I was prepared to go to war with him. I was prepared for headbutts because I knew he lunged forward with his head, so I was prepared for it all. I was prepared to come back with stitches.
"I was timing his right hand. He threw his right hand, and I slipped it. I caught him with a straight left and a right hook, and it was over. After that, I hit him with four or five straight punches, and he was asleep as he went down. I did not expect that. I thought I was going to get him in the fourth round. As my dad tells me, if you are gonna show up, you gotta show out! That's just how we were rocking."
Regardless of some early stumbles in his career, Clarkson, who is trained by his father, and his team never lost faith. They knew if he remained focused on himself and perfecting his craft that he could find himself on the type of streak that he is currently enjoying.
"I definitely feel blessed, first and foremost. I feel really blessed," he remarked. "I have never been this in tune with myself before. Ever since I've been going to church, I'm so together with everything that I'm doing. I'm learning how to separate a lot of my personal issues from my boxing life. My team and I are all growing together. Our conversations are different. The way we map things out is totally different. Before I started making my march, a lot of people started counting me out because of my three losses. A big part of that was my fault because I was fighting to please people who didn't even know who I was. When you fight for those reasons, you fall short. You have to remember what you are fighting for. I fight because I love to fight. My first couple losses, I feel as though I was trying to entertain the crowd instead of doing what I am supposed to do. At the same time, it made me a better person. It humbled me, and it also made me recognize where I'm at and where I could be."
Once he took the time to reconsider, Clarkson did not have to look far to remember that the people who had always been in his corner were the ones who were most important.
"I'm fighting for me, my son and my family," he continued. "We train together, and I prepare myself mentally for whatever is going to happen. I'm prepared to die in that ring. When I step in there, nobody can help me, whether they believe in me or not. I have to fight for me. I can't be worried about anyone outside of those four corners."
One of the biggest takeaways for Clarkson during his impressive success over the past year is he has learned the importance of evolution. He has focused on growing as a fighter inside the ring and as person outside of it, and the combination has given him an entirely new outlook on his life.
"This is not a game to me, and I don't like losing," he stated. "I'm my biggest critic, and losing hurts. I told my father a million times that it hurts my pride to lose. He told me if I don't want to lose, then don't lose. It's just as simple as that. If you don't want to lose, then don't be afraid to do the extra miles. Don't be afraid to train three times a day. When it hurts, don't be afraid to an extra push-up. You can't be afraid to step outside of your box. My team, my father, my mother and my sisters – they won't let me stay in my own square. When it gets kind of scary and I'm hesitating to step, they'll just push me. There's no half-stepping with me. For the people who have seen me fight and think they know what to expect, don't think I will come out like that in my next fight because it will never be the same again."