Javier Fortuna vs. Carlos Velasquez set for Sept 29
Super featherweight world champion Javier "El Abejon" Fortuna (28-0-1, 20 KOs) takes on 2004 Puerto Rican Olympian Carlos "Twin Dream" Velasquez (19-1, 12 KOs) as PBCTOE-TO-TOE TUESDAYS on FS1 comes to the Pearl at Palms Casino Resort in Las Vegas on Tuesday, September 29.
Televised coverage begins at 9 p.m. ET/6 p.m. PT with undercard action to be announced shortly.
Tickets for the live event, which is promoted by Mayweather Promotions are priced at $100.50, $75.50, $50.50 and $20.50 plus applicable fees, and are on sale Thursday, September 10. Tickets may be purchased at www.ticketmaster.com or by calling the Pearl Box Office at 702-994-3200 or Ticketmaster at (800) 745-3000.
"I am so excited to be headlining this great event and I look forward to defending my title in Las Vegas," said Fortuna. "Velasquez is a very tough fighter, but I am going to prove that I am a great world champion. This will be an entertaining fight and I won't stop going until I get the knockout."
"It's been a childhood dream of mine to become a world champion and now that time has come to show the world that I'm worthy." said Velasquez. "I'm going to leave everything in the ring against Fortuna. He's one of the best fighters in the division and a win against him will open up many doors for my career. "
"September 29 is shaping up to be another exceptional card at the Pearl at Palms Casino Resort," said Leonard Ellerbe, CEO of Mayweather Promotions. "It will be another great night of action in the arena or on your television on FS1 from start to finish."
"The Pearl always provides a fantastic, intimate spot to watch a live boxing match," said Billy Conn, Vice President of Entertainment and Special Events at Palms Casino Resort. "We welcome these spirited and driven fighters, as well as FS1, for what will be a great night of sports action."
An amateur standout that participated in the first Pan American Junior Championships in 2003, the 26-year-old Fortuna owns victories over Abner Cotto, Miguel Zamudio and Patrick Hyland. He most recently took down the highly regarded Bryan Vasquez to earn a super featherweight world title. Representing La Romana, Dominican Republic, Fortuna looks to be impressive in his first title defense and fourth career start in Las Vegas.
Although Velasquez now calls Miami his home, he was a 2004 Olympian representing Catano, Puerto Rico. Since turning pro in 2007, he has been beaten just once and enters this fight on a four-fight win streak. He most recently earned a dominant victory over Jesus Ruiz and will be returning to Vegas for the first time since 2013 for his world title shot.
Julius Jackson Takes on Jose Uzategui
Undefeated power-puncher Julius "The Chef" Jackson (19-0, 15 KOs) squares off against the exciting Jose "Bolivita" Uzcategui (23-1, 19 KOs) in an 12-round super middleweight clash that headlines Premier Boxing Champions (PBC) TOE-TO-TOE TUESDAYS on FS1 and FOX Deportes Tuesday, October 6 from The Dancehall in San Antonio, Texas with televised coverage beginning at 9 p.m. ET/6 p.m. PT.
"With my father (former middleweight champion Julian Jackson) being who he is, my dream has always been to reach this level and then surpass this level," said Jackson. "I'm working extremely hard for this opportunity and I'm ready for my shot."
"I'm so excited for an opportunity to fight in the U.S. again and I plan on making the most of it," said Uzcategui. "I will leave everything in the ring and give the fans a great show in San Antonio."
Tickets for the live event, which is promoted by Leija Battah Promotions, are priced at $282 table of four Seats, $109, $71, $38, and $22 including all fees (w/out fees $260, $100, $65, $35, $20), and are on sale now. To purchase tickets call Leija Battah Promotions at (210) 979-3302.
The son of famous power-puncher Julian "The Hawk" Jackson, the 28-year-old and his brother John were both 2008 Olympians for their native Virgin Islands. As a pro, Jackson fought primarily in the Virgin Islands, Dominican Republic and South America before making his pro debut in December of 2014. He owns victories over Jonathan Nelson, Nicolas Dario Lopez and Crispulo Javier Andino. He enters this fight on a nine-fight knockout streak.
Born in Venezuela, Uzcategui now fights out of Baja California, Mexico. The hard-hitter made a name for himself fighting in Mexico and knocking out seven of his first eight opponents. The 24-year-old will fight in the U.S. for a second time on October 6 and picked up his most recent victory in February by knocking out Daniel Eduardo Yocupicio in the first round.
Danny O'Connor & Gabriel Bracero Set for Oct 10th Rematch
Popular Massachusetts' welterweight Danny "Bhoy" O'Connor (26-2, 10 KOs) takes on Brooklyn's Gabriel "Tito" Bracero (23-2, 4 KOs), in a 10-round rematch of their 2011 bout won by Bracero, as the main event of Premier Boxing Champions (PBC) on NBCSN Saturday, October 10 from the Lowell Memorial Auditorium in Lowell, Massachusetts with televised coverage beginning at 8 p.m. ET/5 p.m. PT.
The evening's co-main event will feature undefeated super featherweight knockout artist Jonathan Guzman (19-0, 19 KOs) battling exciting brawler Danny Aquino (17-2, 10 KOs) in a 10-round bout and rising local prospect Ryan "The Polish Prince" Kielczweski (23-1, 7 KOs) takes on the exciting Rafael "Dynamite" Vazquez (16-1, 13 KOs) in a featherweight bout.
"I'm excited to be fighting at a building with great boxing history such as the Lowell Memorial Auditorium," said O'Connor. "I won the Golden Gloves there and I can't wait to fight there again. I'm also excited to avenge my first loss against Gabriel Bracero. I'm so ready for this!"
"This is a huge fight for me and my career," said Bracero. "I only have one thought in my mind and that's victory. Danny is a tough opponent and on a winning streak right now. The best 'Tito' Bracero will be there October 10. I beat Danny before and I plan to do so again, in his backyard, even more convincingly. My best days are still ahead of me and you will see that come October 10."
"I'm excited for the October 10th PBC on NBC Sports Net from the Lowell Memorial Auditorium," said Lou DiBella, President of DiBella Entertainment. "All three TV fights are super competitive matchups with the outcomes in doubt. In the main event, Boston's Danny O'Connor will rematch with Brooklyn's Gabriel Bracero in an attempt to avenge a close decision loss. Undefeated junior featherweight puncher Jonathan Guzman will try to keep his record perfect against dangerous contender Danny Aquino. The opening bout features another 50/50-type matchup as Quincy's Ryan 'The Polish Prince' Kielczweski faces hard-punching, world-ranked Rafael Vazquez from Brooklyn."
The city of Lowell is one rich in boxing history and is the hometown of Massachusetts legend and three-time Fight of the Year participant "Irish" Micky Ward. "It is an honor to have this fight happen in my hometown," said Ward. "Danny O'Connor is so ready for this opportunity. He is focused like I've never seen him before."
Part of Lowell's deep boxing history are the future Hall of Famers who have fought in the city as amateurs, including Rocky Marciano, Sugar Ray Leonard, Mike Tyson & Marvelous Marvin Hagler.
"Bringing a big fight to Lowell is incredible," said Ken Casey, Founder of Murphys Boxing, "Lowell is such a great fight town and it is Micky Ward's hometown. For Danny O'Connor to have the chance to avenge his first loss in his own backyard with all his fans cheering him on is going to be a site to see."
Danny Roman headlines Path to Glory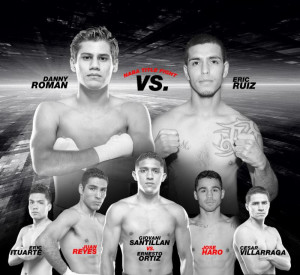 In what is shaping up as one of Thompson Boxing Promotions best shows of the year, NABA Super Bantamweight Champion Danny Roman (16-2-1, 5 KOs) of Los Angeles defends his title for the first time against Erick Ruiz (14-3, 6 KOs) of Oxnard, Calif. in the "Path to Glory" 10-round main event.
Roman, who recently was elevated to the number fifteenth ranking by the WBA, is the owner of an eight-fight winning streak. He last fought in July against Daniel Noriega – where he won his current title with a landslide points victory.
Prior to his split decision win in August, challenger Ruiz had come up short against top prospects Jessie Magdaleno and Manuel Avila.
"I saw Ruiz's last fight in August," said the 25-year-old Roman. "He likes to sit back and counterpunch. I've seen guys like him before. We know how to prepare for his style."
In the 8-round co-main event, undefeated junior welterweight standout Giovani Santillan (16-0, 9 KOs) puts his unbeaten mark on the line against Ernesto Ortiz (10-2, 7 KOs) of Mexico.
Santillan, a southpaw fighting out of San Diego, turned professional three years ago and is the former NABF Junior Super Lightweight Champion. The 23-year-old will fight for the second time this year.
In the special attraction, featherweight Juan Reyes (12-2-3, 2 KOs) of Riverside, Calif. brings his high octane fighting style to Jose Haro (10-1-1, 6 KOs) of Salt Lake City in a bout scheduled for 8-rounds.
"All three of these fights are worthy of main event status," said Ken Thompson, president of Thompson Boxing Promotions. "Danny Roman, Giovani Santillan, and Juan Reyes have all headlined our shows in the past. From top-to-bottom, the fans are getting a spectacular show."
In other action, featherweight Erick Ituarte (11-1-1, 2 KOs) of Santa Ana, Calif. meets Angel Martinez (6-1-1, 2 KOs) of San Antonio in a 6-round fight.
Budding lightweight prospect Cesar Villarraga (8-0, 4 KOs) of Colombia hopes to extend his winning streak against Manuel Mendez (5-1-1, 2 KOs) of Indio, Calif. (6-rounds).
Thomas LaManna headlines Boxing at the Beach Sept 26th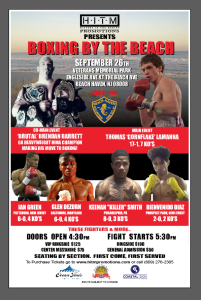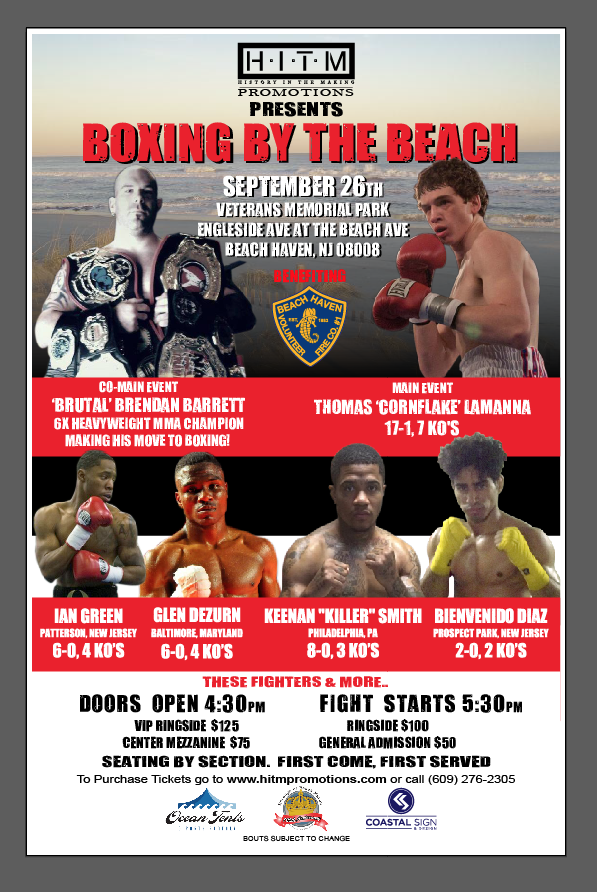 On Saturday, September 26, at Beach Haven Memorial Park (In between the Sea Shell & Engleside Resorts) at Engleside Avenue at the Beach in Beach Haven. New Jersey. In the main event, Jr. Middleweight Thomas "Cornflake" LaManna will take part in a 6-round bout.
LaManna will be looking for his 2nd straight win as he won a 6-round unanimous decision over Joshua Robertson on August 7 in Atlantic City. LaManna of Millville, New Jersey has a record of 17-1 with 7 knockouts.
Fighting in the 4-round co-feature will be "Brutal" Brendan Barrett.
Barrett, of Little Egg Harbor, NJ, is a 6-time MMA Heavyweight champion, will be making his 2nd professional boxing appearance.
He is 0-0-1 as he fought a disputed draw with James Rankin on May 8, 2009 in Philadelphia.
Also seeing action in a 6-round bouts will be Super Middleweight Ian Green (6-0, 4 KO's) of Paterson, NJ; Welterweight Keenan Smith (8-0, 3 KO's) of Philadelphia, PA; Jr. Lightweight O'Shanique Foster (7-0, 4 KO's) of Orange, Texas
In 4-round Bouts: Welterweight Arturo Trujillo (6-0, 3 KO's) of Easton, PA will fight an opponent to be named.
Jr. Lightweight Bienvenido Diaz (2-0, 2 KO's) of Prospect Park, NJ will face Joshua Arocho (3-10-4, 2 KO's) of Vineland, NJ in a four round bout.
Smith, Diaz, Foster and Trujillo are promoted by GH3 Promotions.
The full card with more bouts will be announced shortly.