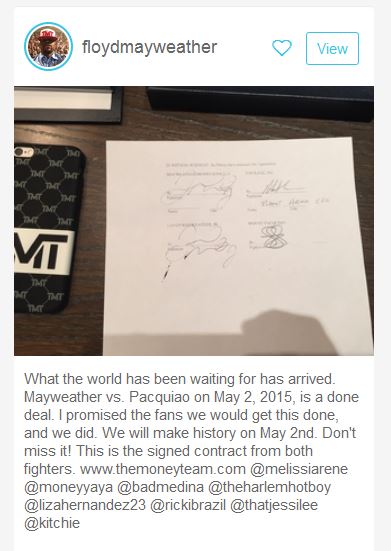 Floyd Mayweather Releases Official Statement:
As we breathlessly announced earlier, Floyd Mayweather vs. Manny Pacquiao is officially set as of this evening.  The fight will take place on Saturday, May 2, live on pay-per-view.
This event, which holds the promise of breaking every pay-per-view record in history, is being promoted by Mayweather Promotions and Top Rank Inc., and will be produced and distributed live jointly by Showtime PPV and HBO PPV.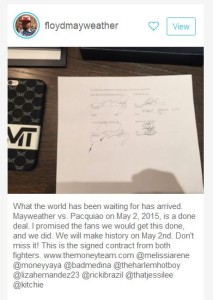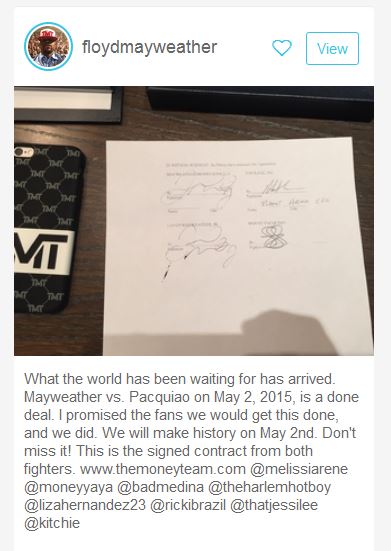 Arranging those promotional rights and television distribution rights accounted for much of the remaining entanglements to getting this fight finalized. As we previously told you, the fight will be fought at the full welterweight division limit, and USADA random blood and urine drug testing will be used. Mayweather gets a 60/40 split of the money, and each fighter can wear the (8 ounce) gloves of their own choosing. There is no rematch clause.
The fight will be for the ProBoxing-Fans.com Welterweight Championship. Mayweather is the division's champ, Pacquiao is the #1 contender.
We currently rank Mayweather #1 pound for pound, and Pacquiao #6.
Official Quotes
Floyd Mayweather:

"I am glad my decision to meet with Manny and discuss making this fight happen helped get the deal done.

"Giving the fans what they want to see is always my main focus. This will be the biggest event in the history of the sport. Boxing fans and sports fans around the world will witness greatness on May 2.

"I am the best ever, TBE, and this fight will be another opportunity to showcase my skills and do what I do best, which is win. Manny is going to try to do what 47 before him failed to do, but he won't be successful. He will be number 48."
Stephen Espinoza, Executive Vice President & General Manager, SHOWTIME Sports:
"Everyone involved, including Floyd Mayweather and Manny Pacquiao, knows this fight simply had to happen.  All of us are thrilled to be able to deliver this event to boxing fans around the world.  Now, for the second time under his current deal with Showtime Networks, Floyd Mayweather has agreed to fight an opponent that many people thought he'd never face.  We set an all-time pay-per-view record with the first event back in September 2013, and we look forward to another record-breaking performance on May 2."
Ken Hershman, President, HBO Sports:
"Manny Pacquiao and Floyd Mayweather have been the two most prominent fighters in the sport of boxing for the past decade, and fight fans around the world have been clamoring for them to face each other.  And now, on May 2nd, in what everyone believes will be the biggest boxing event of all-time, fight fans have been granted their wish.  May 2nd will be a signature moment for the sport of boxing and HBO Sports is thrilled to be a part of this spectacular event.  I know the fighters and their teams will be primed to excel and we plan to work closely with everyone involved to deliver the same level of performance from a broadcast perspective."