The Fans at the Gerry Weber Stdion in Halle/Westphalia, Germany, witnessed a great show on Saturday night wehen WBO Cruiserweight World Champion Marco Huck defended his title for the tenth time in front of 7,000 spectators. After twelve thrilling rounds, the judges saw the 27-year-old with 115:113, 115:113, and 117:111 ahead of his opponent Firat Arslan. After his 35th victory out of 38 fights as a professional, Huck is expected to receive the status as WBO's Super-Champion.
But the bout against Arslan was anything but plain sailing. "I fought like a lion against Firat – all the other world champions of this division would probably have lost tonight," said Huck. "Now I have even more respect for him.  This was one of the toughest fights in my career."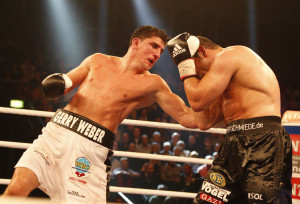 Huck started the fight well, but the 42-year-old challenger did not wait long in his attempt to force his tactics on to his opponent, which mainly consisted of attacking. Huck was seemingly surprised by the aggressive style and found himself in the ropes time and time again. In round two blood started to drip out of the champion's nose. But that did not hinder Huck in the slightest. From that moment on the man from Berlin started to turn up the heat and both men traded hard shots.
At the post fight press conference coach Ulli Wegner said: "Marco landed a lot of clean shots but Firat got through the defense with his uppercuts. Please forgive me for not talking about the result. Of course both sides
will see their own fighter as the winner. Fact is: This type of fights do not happen everyday. We were able to witness a great contest."
In the following rounds, Huck had his hands full with trying to contain Arslan's constant pressure. The former WBA World Champion repeatedly found the target with his uppercuts to the head of his opponent. The Southpaw got himself into the lead after the first five rounds.
But from then on, the WBO Champion slowly but surely took control and started to get more active. Although that did not stop Arslan from going forward, it was evident that as the fight went on the power in his punches
started to fade. Huck on the other hand proved why he is known as one of the hard hitters in the division and decked his opponent with a huge number of big shots. Especially towards the end of the championship bout, it was clear that the prodigy of Ulli Wegner still had some energy left.
At the end all three judges saw Huck as the winner. Arslan did not agree with their decision. "I am grateful to Marco for giving me this chance. But I see myself as the winner. I was dictating the fight from the first to the
last round."
Afterwards the judges scoring was the cause from some lively discussions. Kalle Sauerland: "Most boxing experts from around the world had Huck as the winner of the fight. Nevertheless, I understand that the camp of Firat Arslan is frustrated. In my opinion this is a fight all of us would like to see again. My respect to both of these guys. It was an amazing duel."
Indeed two well-known experts in the world of boxing, ESPNs Dan Rafael in America and Dean Powell of BoxNation in England thought that the champion had done enough. "I have Huck 116-113, terrific action fight, extremely close but Arslan was excellent. Great fight," said Rafael. Powell commented: "Captain Marco Huck should go down as one of Germany's all time greats, true warrior of the ring!"