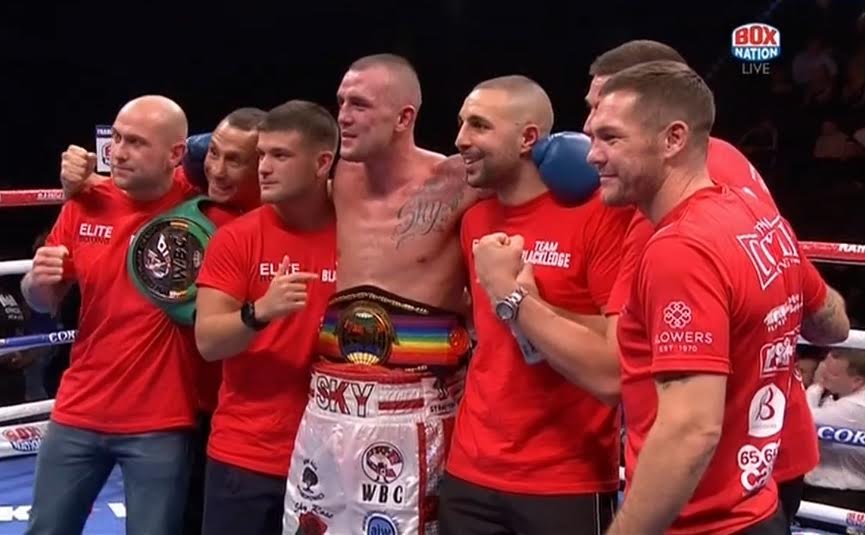 Luke Blackledge (20-2-2) retained his title with a unanimous decision over challenger Lee Markham (14-3-1) in the Manchester Arena on the undercard of Terry Flanagan's lightweight title defense. Judges at ringside scored the bout in favor of the fighter from Clitheroe at 116-113, 115-114, and 116-114.
The 25-year-old victor commented on the scoring after the fight, "I thought I won nine of the rounds and maybe lost three, or I might have lost four, tops. I thought I boxed his head off.
"I was in cruise mode, I didn't really step it up, my hands was hurting in round three or four; he had a tough head."
The fight panned out exactly as anticipated between the two durable, aggressive, forward-coming fighters.
The warring pair were locked together in the middle of the ring for 12 rounds exchanging countless blows to body and head with Blackledge producing the busier work to capture the judges' attention.
Both fighters suffered damage early on, the champion with a small nick above the right eye in the opening round from a clash of heads and the challenger receiving a nasty swelling above the left eye in round two.
Blackledge started the fight brighter and livelier from the first bell, visibly hurting Markham in round two with a left hook to the midriff.
Markham was late coming out for round three due to changing gloves in between rounds.
The penultimate round saw 'Banjo' land the best shot of the night with a cracking right hand to the head of Blackledge which caused the champion to backpedal and cover up for the remaining 30 seconds of the round.
The final three minutes witnessed the same energy, pace, and work rate that both athletes began the fight with.
The Steve Wood-managed boxer said, "It was a hard fight but I didn't really have to dig deep, it was a good learning fight."
Of the changing of gloves for Essex boxer Markham, who has fought 90% of his fights in his home county and London, Blackledge grumbled, "I was a bit peed off because I was asking for Grants gloves to begin with, then the fight got stopped and he got some Grants gloves and I thought what's going on here, where's my Grants gloves?"
The Lancashire title-holder, now ranked in the top five in the British rankings, attained his Commonwealth strap with a career-best performance against the highly-rated Liam Cameron on the bank holiday weekend in Easter this year at Blackburn's King George's Hall.
Guilty of taking big title fights too soon in the past, memorably getting KO'd by Rocky Fielding (21-0) in November 2013 when accepting the fight at just three days notice, Blackledge claims to have learnt from his mistakes, "I don't wanna' start chasing titles because I've done that in the past," he admitted. "I've got a title now, just wanna' defend it again and then step up. This is only my second fight this year because of injuries."
He continued, "I'm 25, I'm learning, been with Mat [Alex Matvienko] just over a year now, I ain't got no rush, not gonna' start calling all the big names out, I wanna' sit down with my team and defend my Commonwealth again, just got a contract from Frank Warren so I'm chuffed to bits."
Of his immediate plans for the rest of the year, he enlightened, "I've been in a ten week training camp so I'm gonna' have a good night out, I deserve a night out, and then I'm gonna' get straight back in the gym and crack on."
He concluded, "My manager Steve Wood just came in and said he can get me a fight in December."
Comments
comments