After being crushed by Sergey Kovalev and losing his WBO light heavyweight title this past August, Briton Nathan Cleverly faced few options for getting on with his career, none of them particularly attractive. Even after achieving some wins and working his way to another title shot, a process that would require a year or two, Cleverly would likely find his path blocked. Bernard Hopkins might finally fall prey to Father Time by then, but Adonis Stevenson and Sergey Kovalev will doubtless still be there, as will Jean Pascal, Lucian Bute, and Chad Dawson.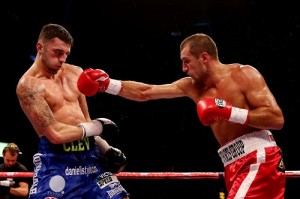 Faced with such formidable opposition and a 175-lbs title picture that has become strongly centered in North America (even WBA titlist Beibut Shumenov fights in the U.S. most of the time), Cleverly has taken the time-tested path of stymied and past-their-prime boxers by moving up in weight.
This is especially apt for Cleverly, given the long relationship between the light heavyweight and cruiserweight divisions. The very first cruiserweight champion, Marvin Camel, moved up from 175 lbs and then back down to it after the end of his cruiser career. Dwight Muhammad Qawi, Dariusz Michalczewski, Adolpho Washington, Virgil Hill, James Toney, Tomasz Adamek, Zsolt Erdei… the list goes on and on. Even Cleverly making the move at the ripe age of 26 is unremarkable, so frequent has the path he is on been trodden.
On November 30, Cleverly makes his 200-lbs debut against 29-5-1 Daniel Ammann for the Commonwealth Title. Considering his options at 175 lbs, taking the Ammann fight is undoubtedly the best move for the short-term, but what about the longer term? Unfortunately, that road looks almost as blocked as the light heavyweight route is, because it is dominated by capable, veteran champions. Marco Huck and Denis Lebedev are rugged, hard-fighting characters; Yoan Pablo Hernandez and Krysztof Wlodarczyk are technically sound boxer-punchers.
Usually what makes a move from light heavyweight to cruiserweight a sound one is that cruiserweight has been traditionally a weak division, and one that was only 15 lbs removed. But now the gap between the two divisions is now 25 lbs, and the weight class has a healthy roster with plenty of legit fighters at its apex.
Nathan Cleverly may find his path back to a world title as rough or rougher at 200 than it was at 175. He will get to avoid the big bombers such as Kovalev and Stevenson in the process, but against the physically larger men at cruiserweight, it may not make much of a difference.