5 Favorite, Modern-Day KO Kings:
In the third-installment of my series on knockouts and knockout punchers (part I explained why all boxing fans love the big KO, and part II examined some of my all-time favorite KOs in history), here I continue on the trend and look at the fighters to keep an eye on in the current scene. Here are my top 5 favorite modern-day "knockout kings" and where you can see them next.
Gennady Golovkin (Middleweight)
Current record: 27-0 (24 knockouts)
Notable victory: Defeated Matthew Macklin in June 2013 (3rd round KO)
Next fight: Curtis Stevens (Nov 2nd)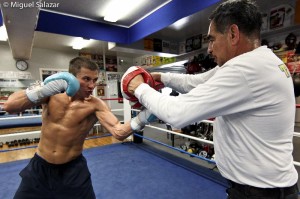 Golovkin is the current WBA Middleweight Champion and pound for pound quite possibly the "baddest man on the plant". Golovkin was a hugely successful amateur, reportedly only losing five of almost four hundred fights, before quickly rising the pro-ranks with his destructive punching power. Last time out, Golovkin stopped the highly-durable Matthew Macklin in three rounds with a vicious body shot and all eyes will be on his upcoming clash with another hard-hitting fighter in Curtis Stevens. Golovkin is not reliant on his power, unlike others in this list, and his excellent boxing skills should ensure he is a major player in the boxing game for a few years to come.
Sergey Kovalev (Light-Heavyweight)
Current record: 22-0 (20 knockouts)
Notable victory: Defeated Nathan Cleverly in August 2013 (4th round KO)
Next fight: Ismayl Sillakh (Nov 30th)
In August this year all eyes turned to a new superpower in the light-heavyweight division. Sergey Kovalev officially announced himself on the world scene with a demolition of Nathan Cleverly, relieving him of his WBO bauble. The rumors of Kovalev's punching power were widespread, crushing Gabriel Campillo and Darnell Boone early, but the way in which he dismantled a world champion was eye-opening to say the least. Kovalev will face tougher challenges in his career and then we will find out whether he has a plan B to accompany his brute force, but for now his power has got his rivals thinking twice about a showdown.
Lucas Matthysse (Light welterweight)
Current record: 34-3 (32 knockouts)
Notable victory Defeated Lamont Peterson in February 2013 (3rd round KO)
Next fight: TBA
His September 14 defeat to Danny Garcia proved that Matthysse can be outboxed, a flaw in many punchers, but if you are looking for a fighter to provide entertainment then I don't think you can go wrong with the Argentinian warrior. Matthysse hits like a freight-train. I am sure Mike Dallas Jr. will attest to that and his relentless come-forward approach is a fight fan's dream. He is a fighter through and through.
Despite his loss to Garcia, an under-sung fighter to say the least, Matthysse can still be a major player in the light-welterweight division for some time to come, having only lost to Garcia, Devon Alexander and Zab Judah (the former two controversially)  and I fully expect to see him bounce back quickly. Fights with Marcos Maidana, Mike Alvarado, Brandon Rios or Ruslan Provodkinov could give Micky Ward and Arturo Gatti a run for their money in the "instant classic" bracket.
Wladimir Klitschko (Heavyweight)
Current record: 61-3 (51 Knockouts)
Notable victory: Defeated David Haye (Unanimous decision)
Next fight: TBA
The king of the heavyweights may be "boring" to some and "robotic" to others, but if you want to see people get knocked out then you usually can't go wrong with a Wladimir Klitschko fight. Since early knockout defeats to Corrie Sanders, Lamon Brewster and Ross Purrity, Klitschko has been unstoppable, destroying everything that has stepped in his way. There is still an air of vulnerability about him which makes fans tune in, but Dr Steelhammer has found a way to protect his suspect chin and use his ramrod jab to great effect. It is hard to believe there is a challenger out there with the capabilities of dethroning him. The late, great Manny Steward worked wonders with Klitschko and for my money, turned him into an "all-time great" heavyweight champion of the world.
Deontay Wilder (Heavyweight)
Current record: 29-0 (29 KO's)
Notable victory: Siarhei Liakhovich (1st round KO)
Next fight: Nicolai Firtha (October 26th)
If there is one fighter in the Heavyweight division who seems to have the power to rip through any obstacle in his path, I introduce you to Deontay Wilder. Still green and very rough around the edges is Wilder and his record reads like a list of "victims" and so far, that is exactly what they have been. Wilder certainly needs to be tested at a much higher level before a judgement can truly be made, but from what we have seen so far, the "Bronze Bomber" has the punching power to put anyone to sleep. The Heavyweight division may not be brimming with "talent," but matchups with the likes of Chris Arreola, Tyson Fury, Tomasz Adamek, David Haye and Kubrat Pulev would at least give us an indication of whether America has finally unearthed a new leader in the blue ribbon division.
Honorable mentions go out to Keith Thurman (fighting Jesus Soto Karass in December) and the WBC Light Heavyweight Champion, Adonis Stevenson, who destroyed Chad Dawson in one round back in June, before stopping Tavoris Cloud in seven. Those guys throw punches with bad intentions. These are of course but a few of the vast amounts of "punchers" with a license right now, but if you asked my advice, I would definitely recommend you watch these fighters if you want to see knockouts.