Nathan Cleverly lost his WBA Light-Heavyweight title on Saturday night, on the undercard to Mayweather vs McGregor in Las Vegas, to Badou Jack via a fifth round stoppage.
Cleverly, 30, who became the WBA champion when he defeated Juergen Braehmer last October, was having his first defence of the title against Swedish boxer, Badou Jack in Las Vegas, which ended to be his last in the ring.
Badou Jack, 33, stepped up from Super Middleweight to Light Heavyweight for the bout for the first time, defeated Cleverly in the 5th round after referee, Tony Weeks, intervened to end the fight.
From the beginning of the fight, Cleverly tried to hit Jack with his jabs, only for the Swede to counter with combinations and a right hook. Cleverly was able to land a right of his own but Jack had already looked the superior of the two.
Badou Jack carried on his attack and continued to punish Cleverly with another right hand and it was plain to see that Cleverly could not adjust to the Swede's tactics.
The Welshman kept on going, even as the Swede hit him with a flurry of left and rights, looking as though Cleverly had broken his nose, as he bled heavily. Things didnt look good for the Welshman.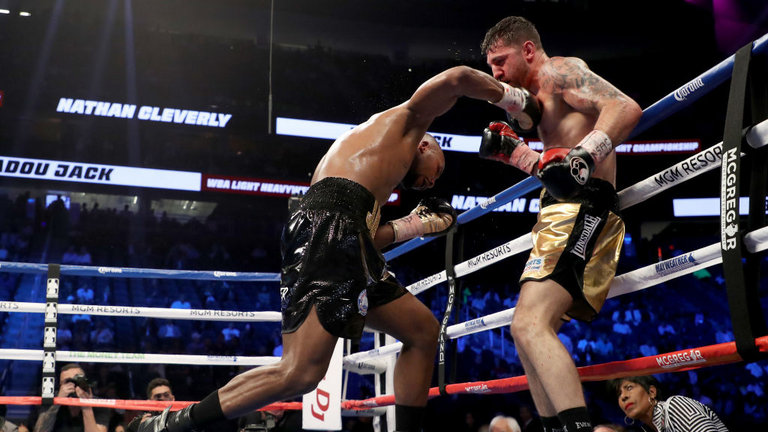 The 5th round saw the end, as Jack carried on his aggressive fighting and could see that Cleverly was vulnerable. Repeatedly hitting the Welshman with punches up against the ropes, Cleverly was unable to counter and eventually, saw the referee stop the fight in favour of the Swede. Badou Jack was the new WBA Light – Heavyweight champion.
The following day, Nathan Cleverly decided to call time on his professional boxing career, announcing his retirement on Twitter, which spanned over 12 years. Good luck to the Welshman.
— King Clev (@NathanClev) August 27, 2017