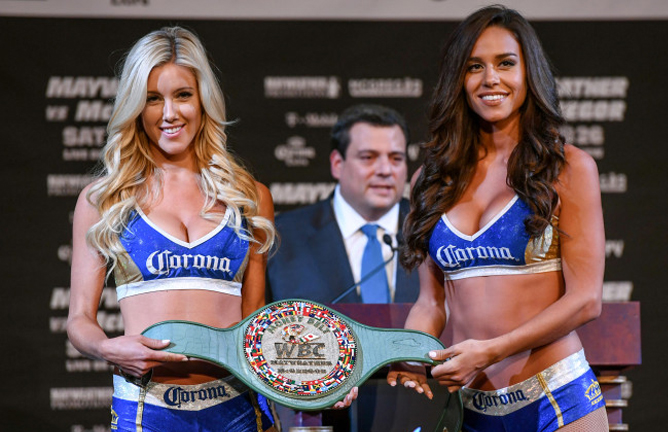 Plenty of people had an eye out on the Floyd Mayweather/Conor McGregor bout on Saturday night, which saw Mayweather defeat the UFC fighter in the tenth round.
But at the same time, many people were interested in finding out who the beautiful and gorgeous Ring Girls were for the event.
Thanks to the sponsorship of Corona Beer, these four ladies were selected and we would like to introduce them to our readers, if you don't already know them! The four ladies are: Kyra Keli, Tawny Jordan, Jessica Harbour and Samantha Kumiko.
Below, you will find images of the lovely ladies, with a brief description of where you may have seen them before.
Kyra Keli – Images from Instagram.com/kyrakeli
Kyra Keli was born in Florida on September 6th, 1990 and she grew up in New York City where she studied Dramatic Arts at the New York Conservatory. She has been featured in Sports Illustrated magazine and was hired as a Ring Girl for the Mayweather/McGregor fight.
Tawny Jordan – Images from Instagram.com/tawnyjordan
Tawny Jordan was born in Illinois on January 9th, 1992 and began modelling when she was 19. She is known for her Instagram account and the thousands of followers she has, posting photo's of herself posing. She is signed to Envy Model Management.
Jessica Harbour – Images from Instagram.com/jessharbour
Jessica Harbour was born in San Diego, California on October 3rd, 1990 and has been in many ad campaigns such as Rockstar Energy Drink and Zing Vodka.
Samantha Kumiko – Instagram.com/SamanthaKumiko
Samantha Kumiko was born in New York, on May 3rd, 1992. She has been a Ring Girl for the Austin Trout vs Miguel Cotto fight as well as the Paul Malignaggi vs Adrien Broner fight.
Follow the girls on Instagram and Twitter for updates and news!