If Nonito Donaire takes on either of his two rumored opponents in April, Abner Mares or Guillermo Rigondeaux, he'll enter the ring as the betting favorite, but he'll certainly be on upset alert. Mares and Rigondeaux are the number 2 and 3 fighters in the division behind Donaire, and Mares is right behind him in the pound for pound rankings as well. Each man would present Donaire with a unique set of skills which he'll need to be able to solve to retain his current lofty position in the sport.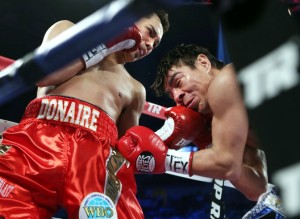 Donaire is likely fighting in April in Las Vegas, potentially on April 13th or April 27th. First, it appeared that Donaire would be facing Rigondeaux, however, there has been plenty of buzz about Donaire vs. Mares, which is one of the biggest fights to make in the entire sport.
Against Rigondeaux, Donaire will have to deal with a super-slick, defensive minded counter puncher. Rigondeaux would look to pick off Donaire once he opens up, and land crisp counters to control the action of the fight.
Against Mares, Donaire will be in against a completely different fighter. Mares is an offensive minded boxer-puncher, with a tendency to pressure his way inside, and then maul his opponent once he's in close. He's physically imposing, has good hand speed, and has displayed great heart. His defense is certainly not at a top level, he can be hit. The question is if you can land something big enough to actually deter or stop him, before he breaks you down with his own attack.
As mentioned, both of these potential fights in April wold likely end up in Las Vegas, and at the Mandalay Bay. If you're making the trek out there, and you're visiting the sportsbooks to bet on Donaire against either man, then you should be wary. Donaire will be on upset-alert against both of these guys. Depending on how high the odds go – are we talking 3:1, 5:1, or what? – then siding with a potential upset could make sense, even with the reigning Fighter of the Year.
Of course, while you're in Vegas, you may be thinking about hitting up some other gambling opportunities, where just about every casino, table and poker game you could possibly think of is available. Mandalay Bay even offers free poker lessons at 2pm from Monday to Thursday, so head down for the fight week festivities and improve your poker skills while you're at it.
Besides improving on your poker in person with free lessons, consider online poker sites like those offered by Ladbrokes.com, which have grown phenomenally in recent years, and are a great way to get in the gambling mood before your big trip and to brush up on your skills.
As for Donaire against either Mares or Rigondeaux, if the odds become slanted in his favor, consider siding with the underdog. Mares and Rigondeaux are completely different as fighters, but either man would offer Donaire a legitimate and difficult challenge.
Comments
comments