Fight Pick & Preview – Donaire vs. Rigondeaux:
On April 13 at the famed Radio City Music Hall, Nonito Donaire takes on Guillermo Rigondeaux to determine the identity of the top dog at 122 pounds. This is unquestionably the best fight at Super Bantamweight since at least 2000, when Erik Morales and Marco Antonio Barrera went at it in a memorable war.
This fight represents big things to each man. For Rigondeaux, this is his chance to crash the party of the those who occupy the top-level of the sport. For Donaire, a win surely tips his career into Hall of Fame-worthy status. For fans, this is an increasingly rare opportunity to see the top two men in the weight class decide who is number one.
Date: April 13, 2013
Site: Radio City Music Hall, New York City, New York
Titles: WBO/WBA Super Bantamweight Title
Nonito Donaire, 31-1 (20 KOs), Philippines/San Leandro, CA, WBO Champion
Vs.
Guillermo Rigondeaux, 11-0 (8 KOs), Cuba/Miami, FL, WBA Champion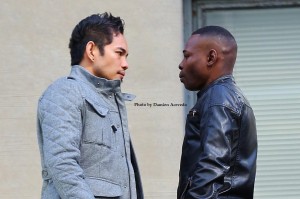 Donaire, already 30, has been on the big-time boxing scene since dramatically knocking out undefeated 112-pound champ Vic Darchinyan with one shot in 2007. He has since added titles at 115, 118, and now 122–where this will be his 5th fight. The 2012 Fighter of the Year is considered one of the very best pound-for-pound fighters in the world.
Rigondeaux, 32, has deep credentials for an 11-fight pro. The Cuban defector was one of the greatest amateurs of all-time, winning Olympic gold in 2000 and 2004. He would have likely won again in 2008 if he didn't fall into disfavor after a failed defection. In any event, his amateur credentials make him an experienced, well-tested, and seasoned fighter despite his scant pro track record.
Donaire is a special fighter. He can box with advanced and highly-polished skills. What separates him from the pack is his punching power. There have been a lot of fighters who can take a guy out with one punch, but how many of them pulled that off that multiple times against the top guy in their division? Donaire's stoppages of Darchinyan and Fernando Montiel were electric and sudden. His ability to bring big fights to an instant finish is captivating.
The southpaw Rigondeaux is undoubtedly a top performer, but this is a gigantic step up in class. One shouldn't question whether the Cuban's amateur credentials bridge a gap created by having only 11 fights. At the same time–while defeating the best amateurs in the world and his pro resume are nice, they don't necessarily suggest he can cope with the full scope of skills presented when facing a top pound-for-pound guy like Donaire.
I like Rigondeaux's southpaw style and the way he carries himself defensively. He's only 5'4" and he uses that squatness to his benefit. Whether it's the way he holds his head, uses his shoulders, or his expert knowledge of range–I'm not sure. He's just hard to hit. One can't be sure Donaire will be able to land those neck-snapping shots against a target as unavailable as Rigondeaux.
In the areas of skills, Rigondeaux matches up well with Donaire. This is probably Donaire's toughest fight. He has faced more-accomplished pros and beaten them in the past, but the Cuban is a real puzzle to solve in the ring. Rigondeaux's experience, know-how, power, speed, defense, and ring generalship are all top-notch. What he doesn't have, however, are the things that would make you like Donaire in this fight.
"The Flash" has a certain intangible will to win, a little something extra that has gotten him to this point. Call it desire or ambition, but whatever it is–he's going to be an awfully tough guy to beat. While Rigondeaux is a complete package of skills and talent, I'm not sure he rates as the super-duper wrecking machine one would need to be to beat someone along the lines of Nonito Donaire.
Donaire vs. Rigondeaux Prediction
Rigondeaux will hang in there with Donaire in spots. Those might be long spots, where the fight is a high-pitched pitting of skills. Those stretches will be interrupted with displays of Donaire's greater seismic potential. I expect the durable and resourceful Rigondeaux to hang in there through some rocky moments. In a close fight, however, those more eye-catching moments will stand out and pave the way to a close, but clear and unanimous win for Nonito Donaire.
Prediction: Nonito Donaire by unanimous decision.
Comments
comments