-Weekly Mailbag with Reader Feedback & Questions on the Latest Breaking Boxing News-
ProBoxing-Fans.com is back this week with the second edition of our new mailbag, On the Canvas with Rich. Send in your questions to be included in next week's mailbag here: Mailbag@www.proboxing-fans.com. This week a few different topics are covered, included the worthiness of Antonio Margarito as an opponent for Manny Pacquiao, the arrest of Floyd Mayweather, and Andre Ward's position in the 168 lbs division.
Hey Rich…. after the crazy scoring in the Shane Mosley/Sergio Mora fight, don't you think it's time there is a better scoring or judging system put into place? Something has to change with some of these scorecards. How did you have the fight? – John C.
I think something needs to be changed with the scoring system, but replacing the existing system inevitably raises the question of "with what?" The amateur scoring system, which is clearly more objective, is at the same time more flawed and just as prone to human error. I think the focus of any scoring/judging reform should focus first and foremost on the training and qualifications of the actual judges. Too often, getting started as a professional fight judge is a bit of state-level patronage, enabling a supporter to earn a little extra money. A judge can climb to the top of the profession from there with no real technical qualifications or even demonstrating any aptitude for the job, but simply through being a smooth political operator. That does not describe all judges, but it ought not describe any of them.
On the Canvas, nobody seems to be talking about this Mayweather arrest. Dude could spend 34 years in jail, shouldn't this be a bigger story? – Ryan W.
I think that story is getting as much attention as it deserves. Whenever there is a new development, it is well-covered. Mayweather is probably dismayed to discover that he isn't as famous as Mike Tyson was, however, and that his meltdown is not receiving the same "Breaking News" style coverage as Tyson's altercations in the 1990s did. Until Mayweather goes to court, then there isn't that much to say or show about it than is already being done.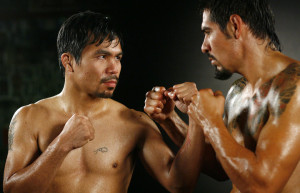 Everybody is bashing the Pacquiao vs. Margarito fight. Wouldn't it be fair to say that Pacquiao is facing the biggest and strongest fighter of his career, at another new weight class, and that it's a real challenge and a good fight?? – Anthony L.
That would be true if Margarito had faced another top-ranked opponent prior to this fight. The problem is that we don't really know how much of an impact having his hand wraps packed with plaster had on his career. To name just one high profile fight, did Margarito have plaster in his gloves for the Cotto fight, and if so, could he have beaten Cotto without them? We do not know, and until we do know Margarito has no business being in the ring with the P4P King and the biggest meal ticket in town.

Andre Ward seems to be "the man" at 168 lbs. now. He made beating Mikkel Kessler look easy, and in some ways that reminds me of Roy Jones. Could Ward be the next RJJ? – Adrian G.
Beating Kessler is Ward's only truly impressive win to date, and it is not quite the same thing as Jones's victory over James Toney. Kessler is respected and a good fighter, but Toney was regarded as a P4P contender and feared as a monster in the ring at the time Jones whomped him. However, Ward does seem set to eclipse Jones in what was Jones's best division. If Ward meets and beats Dirrell, Froch and Abraham, he will have fought four times as many real contenders at 168 lbs. than RJJ.
—-> Submit your questions for next week's mailbag! Mailbag@www.proboxing-fans.com