Unbeaten in eighteen bouts, sixteen opponents have not heard the final bell. Brandun Lee is making himself a name to remember at the tender age of twenty.
Lee, who is a Korean-Mexican fighter, enters the ring once more tomorrow evening [13th March 2020] as he takes on Camilo Prieto who has only lost twice in seventeen fights. It would be fair to say Prieto hasn't fought anyone of Lee's calibre but the lack of experience could hinder Brandun.
It is in sparring where Lee has soaked in his experience learning. Against the likes of Devin Haney, Mikey Garcia, Timothy Bradley and Maurice Hooker. Each man reigned as world champion sharing the ring with a young novice, a teenager at the time, gaining invaluable learnings from his gym wars.
It was in the amateurs where Lee had caught the attentions of his now manager, Cameron Dunkin, when he was aged just thirteen. A wealth of experience gained in the unpaid ranks saw Brandun have over 200 fights in a head guard winning an estimated 195 of those.
Dunkin has a proven eye for talent as he managed the likes of Johnny Tapia, Timothy Bradley, who were amongst the thirty-four world champions Dunkin managed, and now the highly rated duo of Jaron 'Boots' Ennis and Brandun Lee.
Lee first walked into the boxing gym aged just two-years-old. It was his fathers gym, boxing ran deep in the blood of the Lee family. Two of Lee's uncles boxed to a high level in the amateurs, both were trained by Brandun's grandfather and it is now his father, Bobby Lee, who trains him still to this day.
Lee, who has clearly been brought up extremely well, is a young man of an old school mould. From a young age Brandun would cook not only for himself but for his family too. The twenty-year-old has also maintained a key focus on education.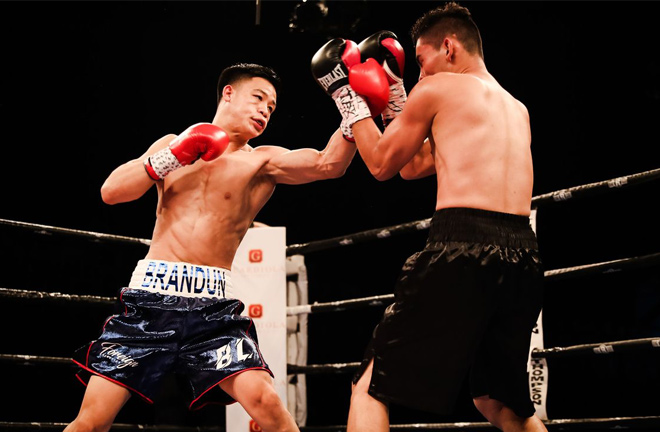 Currently studying whilst boxing Brandun has recently been accepted too enrol into the California State University to further his education and allow himself to have a career to pursue once the boxing has served its cause.
Education is so important to the Lee family that in fact, Brandun was not allowed to compete in some amateur tournaments due to his parents not allowing him to take part as he would've missed out on school.
Almost a ritual now for Brandun. After his fights he will purchase a new pair of trainers highlighting his youth, which is easy to forget, when you see the articulate young man who has his head screwed on correctly in a day and age of a troubled generation of youngsters filled with knife crime and county lines issues. It is refreshing to say the least.
Looking to etch his name into the history books in years to come, Brandun Lee is certainly one to watch.