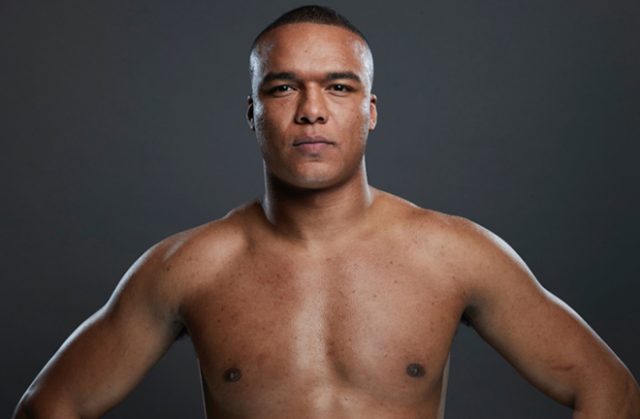 Fabio Wardley is a man learning on the job and on Saturday night in just his ninth professional fight he stands on the cusp of claiming the English Heavyweight title on Matchroom's Fight Camp opener.
By his own admission, Wardley "fell in" to the sport and is on a meteoric rise since taking the unusual decision to forgo an amateur career and move straight from four white collar bouts into the paid ranks.
In eight professional bouts, the Ipswich man has dispatched seven of his foes by stoppage and is yet to go past six rounds, displaying crisp fundamentals and predatory finishing instincts.
"I played football since I was a kid," Wardley told Pro Boxing Fans.
"I was half decent, nothing special and when I was a bit older I got some ankle injuries which kind of took me out of it, it was too much hassle to play.
"I stopped that for a few years and went into a boxing gym one day and I just never seemed to leave.
"I was just there one day and then that was it, that was me, I was hooked. I was in from then onwards."
Wardley highlights Ricky Hatton's captivating Welterweight World title clash with Floyd Mayweather Jr in 2007, as his earliest memory and says his admiration for the sport has developed from then on.
"I wasn't a massive die hard boxing fan, but I always enjoyed it," Wardley continued.
"One of the biggest fights I remember watching when I was younger anyway was Mayweather and Hatton, that was a big fight that I watched that I really enjoyed.
"I wasn't watching boxing every week or whenever it was on, but again like I say it was just one of those things that progressively over time I fell more in more in love with.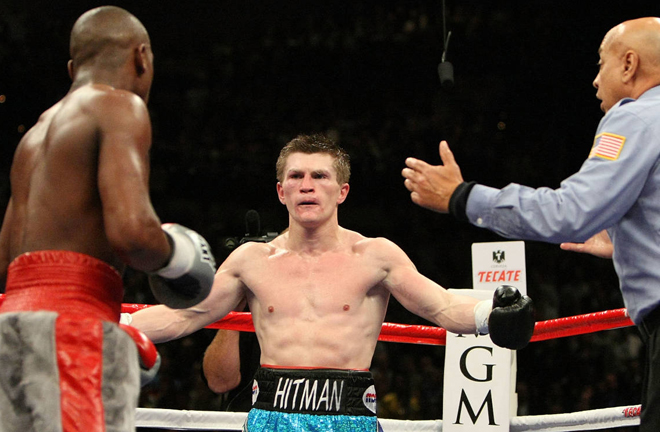 "Hatton was a massive star for the UK, so he was someone I was interested in and Mayweather as well was just a massive boxing star in his own right."
Despite an unbeaten start to his professional journey, the path hasn't always been as smooth as it appears for Wardley, whose professional bow was delayed five times, an experience he highlights as his lowest point.
"My whole journey into boxing has been a rollercoaster it's been ups and downs, its been hard days and bad days, it's just part of it.
"I had my pro debut cancelled five times in a row, that was five times where I went through a training camp, all the way to the end or a week before or two weeks before and it was cancelled for one week or another.
View this post on Instagram
"So in the initial stages there were a lot of issues, so by the end of that I was probably at my lowest point, because I'd barely been able to even have my chance to step into professional boxing and things were already going really wrong.
"I had some more cancelled fights down the line, but they weren't all as bad and at the end of the day once you've done it a few times, you kind of get used to it.
"I grew a bit numb to when fights were getting cancelled, it was something I learnt to deal with over time that it wasn't too much of an issue anymore."
In only his fifth fight, Wardley stopped the teak-tough Phil Williams in three rounds becoming only the third man to halt him, with the 34-year-old going the distance in all of his 19 fights since, albeit winning just two.
The victory also marked his first appearance on the undercard of now-manager Dillian Whyte, who has guided his career onto televised Sky Sports slots, giving him the opportunity to showcase glimpses of his talent and for that Wardley is indebted to the WBC interim Heavyweight champion.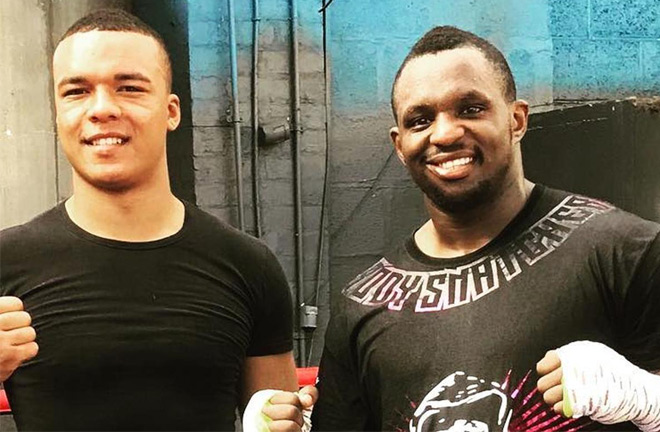 "Without his help and his assistance and his guidance, I wouldn't be nowhere near the level where I'm at now," Wardley admitted.
"I definitely wouldn't be fighting for an English title in the coming weeks like I am going to be.
"I owe a lot to him and he didn't need to do that and he didn't have to, he doesn't owe me anything.
"It doesn't do anything massively for him to have me under his wing, he's doing it off the goodness of his heart, because he had that hard road up himself through ticket deals and those rough early fights and those early days of going under the radar on small hall shows.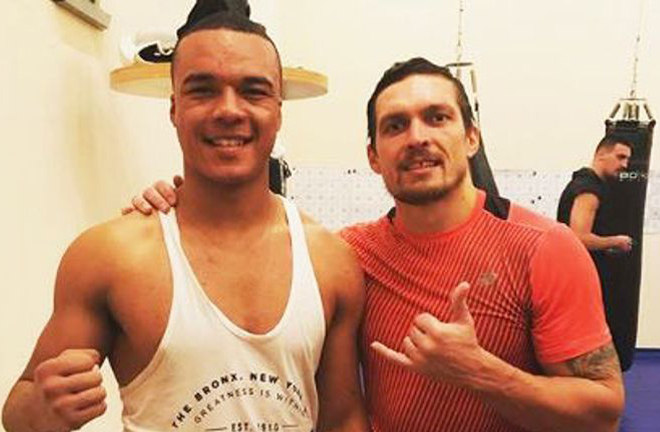 "So he's done it and knows how hard it can be, so he's a great person to have in your corner, because again like I say he's done it all as well."
Wardley ironed out Morgan Dessaux and Dennis Lewandowski in convincing fashion, prior to his last outing on the undercard of Whyte's victory over Oscar Rivas at the O2 last July, where he pounded Mariano Ruben Diaz Strunz into a sixth round stoppage.
The 25-year-old is exciting to watch, leading everything off his pinpoint jab and despite making some defensive mistakes, expected from an inexperienced novice, Wardley is proving more elusive with every fight, using his quick feet and sharp hand speed to evade attacks and load up with fierce accuracy.
Much of his early success is undoubtedly helped by the level of elite sparring he's undertook to replace his lack of in-ring experience.
WBC Heavyweight champion Tyson Fury, former undisputed Cruiserweight World champion, Oleksandr Usyk and Whyte himself have helped him to hone his craft and given him the grounding to adjust to the progressional set-up.
Training alongside his manager, Whyte he described as particularly brutal.
Asked to compare the differences between the sparring, Wardley explained: "With Fury it was at the earlier parts of his comeback where he was getting ready for one of the two warm-up fights.
"He'd only just been back from his long lay-off, he still had a bit of extra weight on him, but he was still just as agile, just as quick and just as difficult to pin down and land shots on.
"With Dillian, it's obviously progressed over time, but the sparring sessions with us our just pure war, we'll just go for each other.
"You'd think probably we don't like each other the way that we spar and stuff, but its there to put that in you, to instil that in you.
"To know that when you're in the ring hard times will come, but if you can power through in sparring then you can power through it on the fight night.
"Then going over to Ukraine with Usyk, the sparring over there is just such a high technical level that you have to be switched on 24/7, then obviously with him being southpaw as well, it would make things twice as hard."
On Saturday night, Wardley will make history fighting on the first Matchroom UK card, since Jono Carroll's stunning win over Scott Quigg on March 7th, after an enforced lay-off due to the Coronavirus pandemic.
Tough operator Simon Vallily is adamant of winning a maiden English title having fallen short in his first attempt at Cruiserweight to Arfan Iqbal in 2018.
Yet, in a career that has flattered to deceive at times, there is no doubting that the experience and pedigree is on the Middlesborough man's side, who has promised to inflict a stoppage on his foe.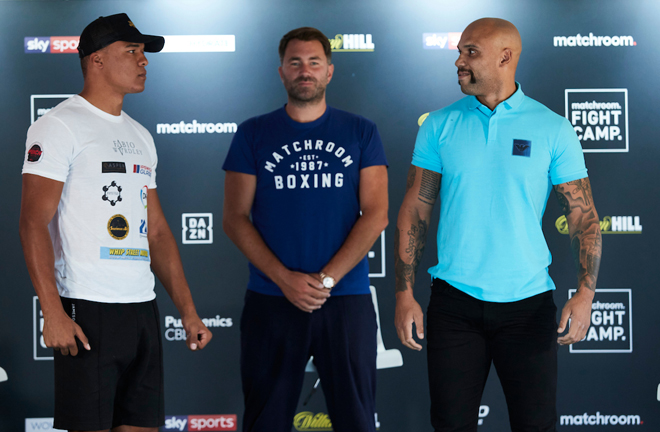 A gold medalist at the 2010 Commonwealth Games in Delhi, the 34-year-old is on a four-fight unbeaten streak since moving up to Heavyweight and Wardley remains under no illusion of the task at hand.
"I know he was a good amateur, he's got a good amateur pedigree, he's won a gold medal at the Commonwealth Games so that's no easy task.
"So, he has that background there, with regard to his pro career, he's been a bit up and down in moments, but he says he's at a good point now, he's at a high point, so perfect bring that on."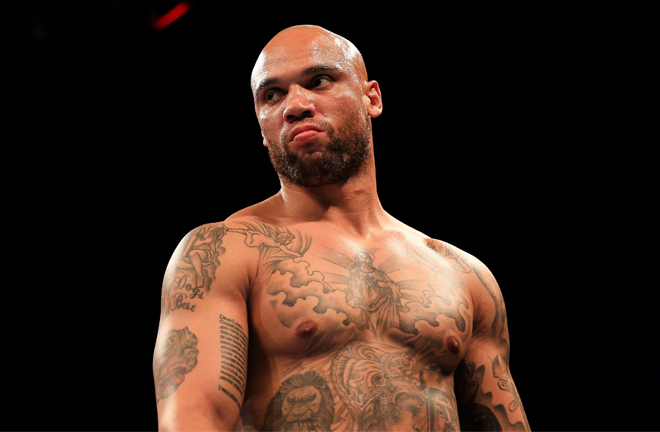 Asked if it would be a breakthrough victory, Wardley revealed: "Yeah, most definitely, for two parts.
"One for beating someone with such a good pedigree like Simon.
"The contrast in our backgrounds is like chalk and cheese, like it's completely different.
"I've come from white-collar, only having four fights and he had a long amateur career winning a gold medal, so there's a complete difference in how we've started out.
"So to see that come forward would be a massive achievement in one right and to win the English title at the same time is another bonus, so there's two bits there that then throw me right in the mix."
Not only would victory ensure the English belt heads to Ipswich, the window of opportunity that follows is equally as appealing.
Daniel Dubois holds the British and Commonwealth titles and is set to face Joe Joyce, providing he comes through Erik Pfeifer on August 29, whilst a host of established and rising Heavyweights are all in contention, including Nathan Gorman and Dave Allen, with the latter admitting he'd be open to facing Wardley should Dubois vacate his belts.
Wardley has the first of those tests on Saturday night in the pristine gardens of Matchroom's Headquarters, a unique setting to elevate an already highly promising early career.