"What I want to do personally is put more respect on the Juniors' name. We have a bad rap, we have a terrible rap, especially in the fight game."
Fernando Vargas Jr may have inherited his fathers name, ring moniker and boxing ability, but he isn't looking to duplicate his father, he wants to make a career of his own.
"I know I'm not my dad [if I thought that] I'd already be losing," the 24-year-old told proboxing-fans.com.
"He was the youngest Olympian, the youngest junior middleweight champion of the world, three-time junior middleweight champion. His accolades are farfetched."
Vargas Jr grew up in and around the boxing gym all his childhood. Spending time around punchbags, speed ropes and even ringside at the world's best arenas.
"I can remember being in camps being a little kid, man, running around the boxing gym. Smelling the sweaty gloves, just being around the culture of the boxing scene since a kid.
"[I remember] being at the [Oscar] De La Hoya fight, the [Felix] Trinidad fight [and] just the energy I would see at these fights would be crazy, the energy was ridiculous!
"Now that it's me fighting it's very different. I think my dad gets a lot more nerves now but he's my dad that's what he's supposed to feel."
Although the son of a fighter, boxing was never the dream for Jr as he found himself playing basketball and working on construction sites.
"I never had a desire to box. I picked up the game late, I started when I was around 17-years-old. I had around 47 amateur fights, but I was always an athlete.
"I used to play basketball but we opened up a gym here in Vegas and my dad would just throw me in there to spar and I ended up dropping some sparring partners. I ended up really feeling good in there and I knew that it felt right.
"But, I knew if I was going to do this I would have to put my whole heart, I was going to have to do it my whole life, put all my energy into it because that's what I saw.
"My dad would miss birthdays, miss christmases because he would be in camp or something related to boxing that he would do. It's definitely different from any other sport. It's dangerous, you put your life on the line every time, but I wouldn't trade it for the world."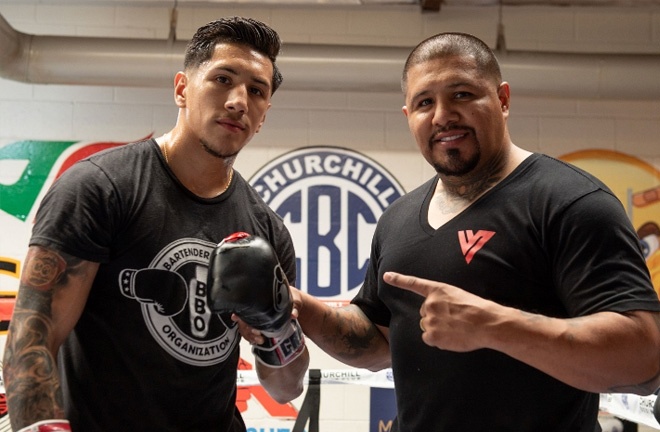 Fernando has got his head screwed firmly on. Fully aware of the dedication required to partake in this sport after seeing his father go through it. Jr stated: "you can't cut no corners in this sport, if you try to do that the ring won't lie to you."
Being a father involves being a mentor to your offspring. Vargas Sr had experienced all the highs and lows that the sport had to offer throughout the late '90s and early '00s and now he passes on his wisdom to ensure Jr has as plain a sailing career as possible.
"Certain things he done in his career that have affected him, or maybe, 'hey, I should've done this different,' he tells me all the time.
"I know one of the things my dad gets criticised for a lot is him being rushed, him being thrown in there with top, top fighters. I mean, look, the 154lb division back then, bro, back in the day was ridiculous.
"There were so many monsters, you had Trinidad, you had [Shane] Mosley, you know what I'm saying. It was just a different era of fighting.
"I feel, honestly, now the fight game has been watered down. You see a lot of these champions now, they hide behind promoters, they hide behind belts, there's like five champions in a division?! That doesn't make any sense to me!"
The second coming of 'El Feroz' currently finds himself 2-0 winning both inside the distance, firstly in Mexico then his second professional bout taking place in Puerto Rico.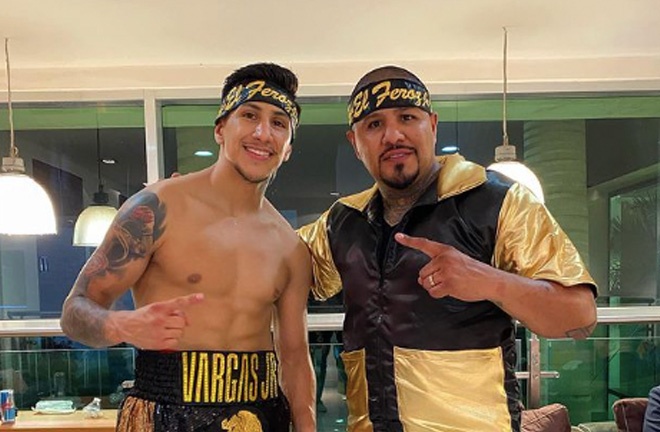 Two rounds is all his debut lasted, many would be satisfied with that going into their second bout. But not Vargas Jr.
"I felt very anxious. I felt a little bit of nerves for the first fight. I know that for this fight I've been tuning up.
"I've been working on things that I saw from the first fight that I needed to do, establish my jab a little more, put my punches together cleaner instead of just one load up shot and to just be patient."
The interview was conducted prior to Jr's second bout where there has been a change of opponent for Fernando, he fought on Salome Flores Torres from El Salvador.
"I know anybody with gloves is dangerous.
"I've been very focused this training camp, I was actually in Los Angeles helping [Serhii] Bohachuk get ready for his fight with [Brandon] Adams and I was sparring [Bryan] Castano, Castano just became world champion he beat Patrick Teixeira, the Brazilian, a very tough, rugged fighter.
"I was in there with dogs and I know I'm going to be ready for this fight."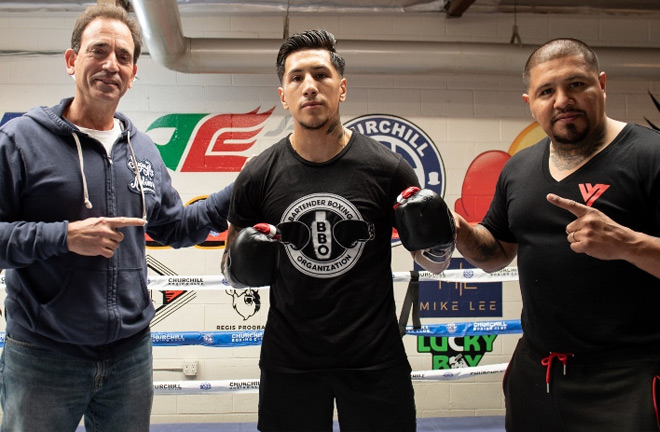 The 24-year-old knows what he wants from his career and isn't scared of taking risks or losses to get to where he wants to be. An old school mentality for an old school fighter, he is his father's son.
"I'm grateful for the position God has put me in, I know who I am and what I want to do is put more respect on the Juniors' name and I want to show that this Junior can compete with the highest level. That this Junior could take his role serious and give fight fans fights. I want to be a throwback fighter."