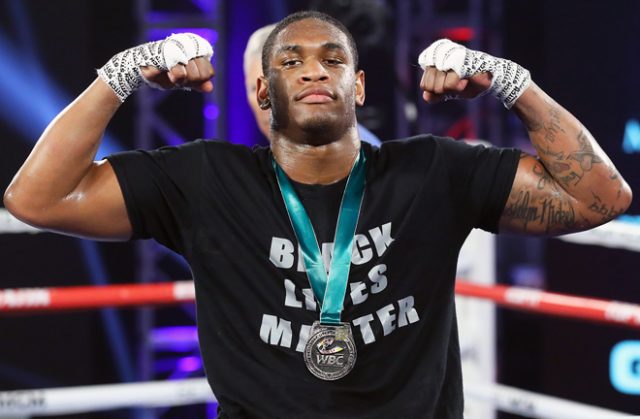 The heavyweight division has undergone a much needed resurgence over the last few years in particular.
Anthony Joshua has drawn unprecedented crowds, selling out Wembley Stadium to capacity twice.
Whilst, WBC world champion Tyson Fury's comeback story from the brink of suicide to dominating Deontay Wilder in a dramatic Las Vegas rematch has struck a chord with the nation.
Thousands flocked to Sin City in February; a site reminiscent of the British faithful which invaded Vegas for Ricky Hatton's mega fights with Floyd Mayweather Jr and Manny Pacquaio, over a decade ago.
The pair are set for two fights next year, providing Joshua comes through a rescheduled clash with Kubrat Pulev and Fury takes care of business on December 5, with an opponent still to be confirmed after his trilogy with Wilder fell through.
Dillian Whyte gets his chance at revenge against Alexander Povetkin on November 21 and Derek Chisora attempts to upset the applecart against WBO mandatory Oleksandr Usyk on Saturday.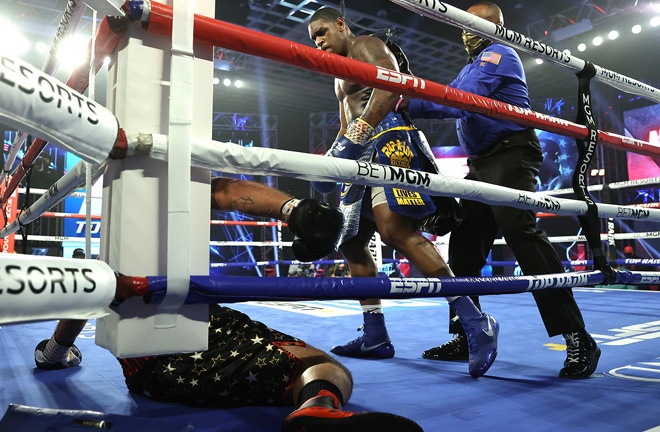 However, out of the last eight heavyweights mentioned, Joshua is the youngest at 31-years-old, with Povetkin the oldest at 41-years-old.
The landscape of the division is set to change over the course of the next five years and this golden period, which has recaptured the imagination of the public back to the fighting days of Lennox Lewis, Evander Holyfield and Mike Tyson will soon make way for a new crop of heavyweights.
From a UK standpoint, 22-year-old, British and Commonwealth champion Daniel Dubois is widely regarded as a future heavyweight great, despite a high stakes showdown against Joe Joyce on November 28.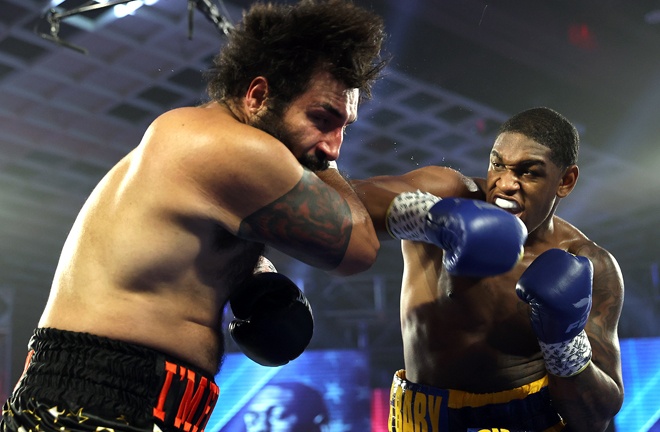 David Adeleye, also under Frank Warren's Queensberry stable and a sparring partner to Tyson Fury is displaying early potential with three knockouts from as many victories.
In the USA, another 'Gypsy King' training partner, Jared Anderson (6-0, 6 KOs) has all the credentials to reach the same heights.
A four-time US national champion at youth, junior and elite level, 'Big Baby' has won all six of his opening professional bouts by stoppage and makes his fourth appearance inside the Top Rank Bubble in Las Vegas on Saturday night, on the undercard of Naoya Inoue's Bantamweight world title showdown against Jason Moloney.
By his own admission, boxing was not Anderson's preferred option growing up, however six years in and the ambitious Ohio native sees himself as the USA's next heavyweight ruler.
"I didn't want to be a boxer when I was younger. It kind of grew on me when I got older," Anderson told Pro Boxing Fans.
"I started off boxing when I was 8 years old. I probably didn't start taking it serious and actually really wanting to box until I was like 13/14.
"There were a few years I was just in it to be it. I had some friends in boxing so I would come to practices and stuff with my friends.
"Other than that I was just there, then I started to take it serious and that was when I started to excel.
"Without a doubt, I believe I'm the next best thing. I believe im going to be the fighting pride for sure."
Called in to Tyson Fury's camp for February's rematch, the 20-year-old alongside Adeleye, George Fox and Jordan Thompson, was regarded as the perfect preparation for Fury, with his hard-hitting style already drawing comparisons to Wilder.
Anderson, who has also sparred former WBO Heavyweight World Champion, Joseph Parker recalls the period with considerable pride and admits he joined forces with his fellow sparring partners as part of a tag team, in an attempt to nullify Fury.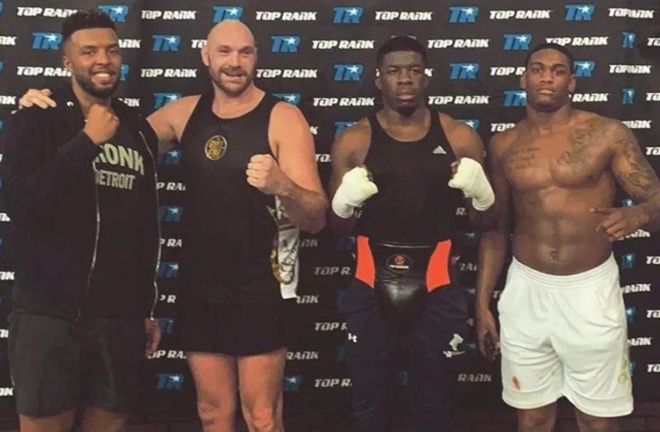 "They brought me in and I just showed what I had. It was a great experience, I loved everything about it," Anderson added.
"Everybody was like family. Hanging with the sparring partners was great, they were all cool people we still keep in touch.
"We taught each other some stuff, we kind of tag teamed Tyson.
"We were picking each other's brains and helping each other out, where we thought would be better for us to throw in the sparring session.
Asked what impressed him the most about the now WBC champion, Anderson responded, "His speed and his mobility to be as big as he is."
Top Rank chairman Bob Arum, who signed Anderson to a promotional contract last September, heaped praise on his charge in the aftermath of Fury's stunning victory over Wilder and 'The Real Big Baby' says the support from the veteran promoter means the world to him, as he looks to make his breakthrough in the professional ranks.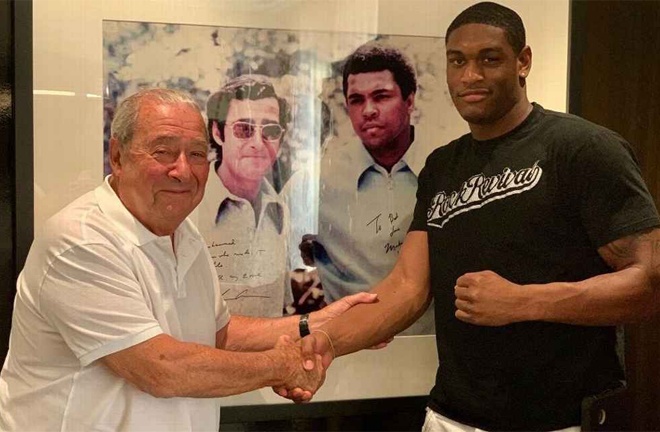 "It means everything," Anderson exclaimed.
"He's given me the praise that I needed.
"The well deserved praise helping me get out there and everybody know my name and know that I'm coming in the game that I'm coming up and being a prospect.
An unsung hero of @Tyson_Fury's victory Saturday night is 19-year-old Heavyweight Jared Anderson, who was Fury's main sparring partner and helped him get ready for the fight against Wilder.

Well done, @TeamBigBabyy. pic.twitter.com/xp8mvGMMnd

— Bob Arum (@BobArum) February 24, 2020
"It means a lot, it's really helping out the audience that is coming to me and the fans that are attracting to me."
Anderson faces the unheralded Luis Eduardo Pena on Saturday, in what is expected to be a seventh straight win by stoppage.
His Californian opponent is coming off a knockout defeat in August, but has six victories by knockout to his name.
Anderson looks to be on a collision course to face fellow undefeated prospects and Top Rank stablemates Sonny Conto and Guido Vianello in the coming years, as he aims to establish himself as America's primary heavyweight.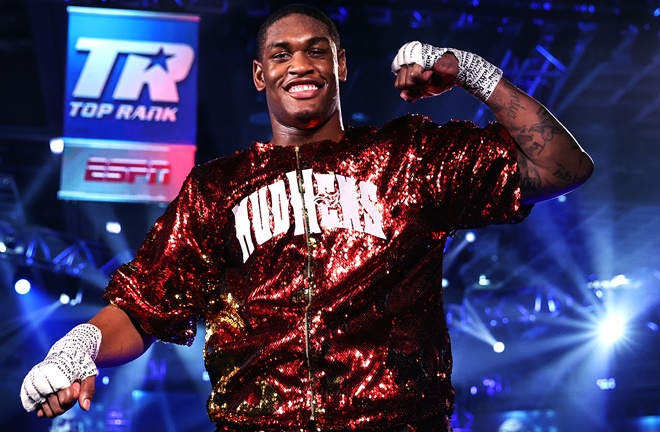 Just as Wilder did so successfully, following a lengthy lull and it appears that the American heavyweight scene is reaching a similar critical period with Anderson confident of taking the baton.