All fighters pose a mountain to climb for one another, the coach's job is to make that mountain as high as possible. Behind each steep climb stands a confidant, a teacher and in many ways a sculptor.
Manny Robles helped guide some of the sport's very best, whilst defying the harshest odds and claiming history in the most dramatic way.
From helping his father train the likes of Reggie Johnson to guiding Mexico's first ever heavyweight world champion in one of boxing's biggest ever upsets, Robles has had quite the career.
But far from the accolades of Trainer of the Year, this journey began in a very different setting than the scenes of adulation witnessed during Manny's world title haul over the past few years.
"I was six-years-old when I came here [to Los Angeles], I was actually from the same town as Canelo; Guadalajara, Jalisco.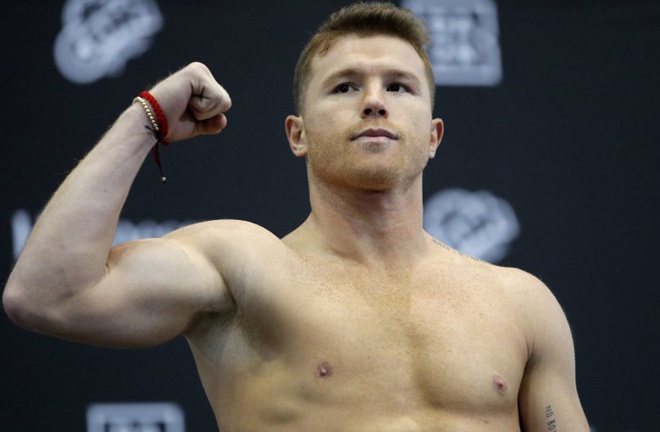 "My parents migrated to America and being six-years-old you don't have a choice! I've been here now since 1978."
Manny Robles recalls in an exclusive interview with proboxing-fans.com, "when I got here I was chucked into English speaking schools. I had a hard time, it wasn't easy!
"You can imagine being six-years-old coming into a school where nobody speaks your language, but it is a lot easier to catch on when you are that young.
"The culture shock was hard, as you can imagine. But thank God that I was able to perceive. 
"I had hard-working parents, obviously my Dad was a professional boxer himself and eventually he became coach.
"He actually started with me. It was because he took me to the gym for the first time, he did have me there to work with the other coaches, but he noticed I wasn't getting that much attention, so he took on the role of coach. I owe it all to my Dad.
"We were primarily in a Mexican/American community in L.A, he took me to the Azteca Gym. It was a very popular gym, very famous.
"Julio Cesar Chavez used to train out of that gym whenever he would come from Mexico to the United States. Hector 'Macho' Camacho used to also train out of that gym among many other world champions."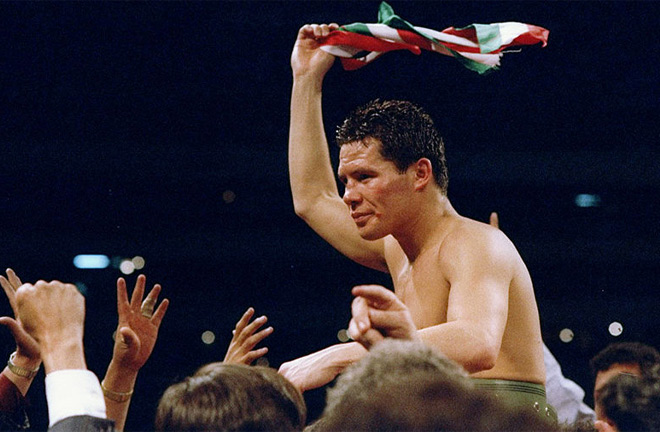 Manny added; "I was ten-years-old when I first stepped foot in the gym, I was very fortunate to train out of this gym. It's a real landmark in Southern California for boxing."
After his introduction into boxing, Robles continued as he delved further into his in-ring career, "I was an amateur, then I became a pro. I had a handful of professional fights, but I had to stop due to injuries and the need to work more than anything!
"Having to help my parents with the bills and being an immigrant you didn't have the choice to go to college because it doesn't pay the bills.
"Then eventually I took on the role working many different odd-jobs; A dishwasher, a busboy, a gardener, construction. Man, I did it all.
"Eventually I was left with no choice. I got married to my wife Sandra and I didn't have documentation, I didn't have a green card! I must have been 34-years-old by the time I became a citizen to be honest with you.
"Can you imagine not having any documentation from the age of six to 34!
"It means you can't land a decent job and my boss knew this, unfortunately you get treated badly due to this. I had a wife and kids already, what else could I do?
"There are a lot of people who have had struggles like me, Mexican, Latin American, South American and Caribbean.
"We are all hard working people, most of us come here in the hopes of helping our families create a better life and making this a nation."
The avalanche of issues facing Robles in his early years of being a man were relentless. However, changed thanks to his late father, Manny 'Chato' Robles.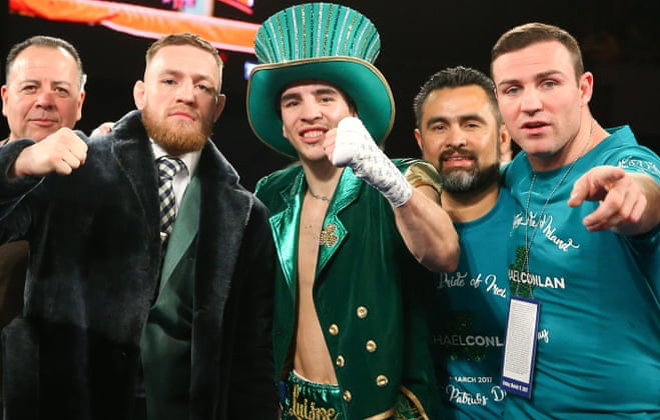 "Eventually after the day-in-day-out problems, my Dad asked if I wanted to work with him. He had his residency and a good situation in place, so he took me in.
"Me and my Dad actually grew together, he was training me as an amateur and he was so good that other kids' parents would ask him to teach their children. 
"Eventually my Dad grew to become a professional coach all the way to running the Azteca Gym.
"I learnt everything from my Dad as far as coaching is concerned, he took me under his wing and the whole thing took off. My dad was a very popular coach in California, he had his share of world champions and up-and-coming talented boxers. 
"Sadly on March 3rd 2007 my Dad passed away, it was a very difficult moment for me, then my Mum passed away three years later, so life has its ups and downs. It was probably the darkest time in my life. It wasn't easy, but God had a plan for me."
As things started to look up, they started to look down again for Robles, who already dealt with a rebuilding process a few years prior. 
Losing both parents was hard enough for the coach, but what led on from that only worsened his situation; losing his job consequently led to financial issues for the Robles family.
In what could've been a destructive time for Robles a ray of sunshine appeared.
"Then I had my son. This is where the story gets really interesting!
"When I would take my son [Manny Robles III] to the gym in the amateurs, the same thing that happened to my Dad happened to me.
"The kids' parents would ask me to teach children just like what happened to my Dad. By this time I already had some experience coaching and had somewhat of a reputation in boxing because of my Father.
"I started working with amateur fighters and developing them from day one, then went on to win state titles, regional titles, national titles and going on to be pro's. I grew with them just like I grew with my Dad."
Back from the brink at the second time of asking things really did take off for Robles. The likes of Oscar Valdez and Jessie Magdaleno achieved world title success under his stewardship.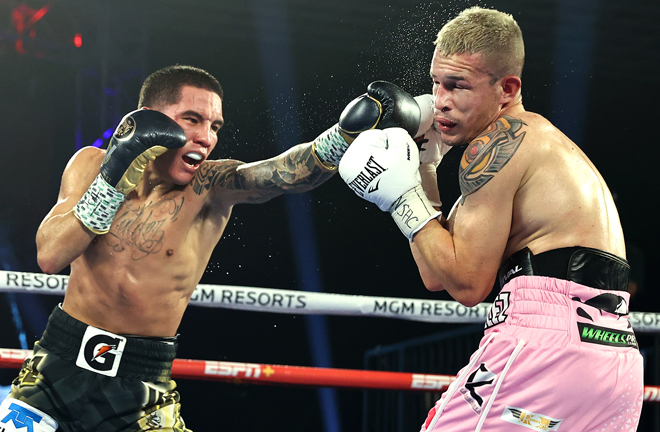 "Frank Espinoza brought Oscar Valdez to the gym and asked if I could work with him, of course I said yes!
"Obviously Oscar wasn't a world champion yet, I started working with him and in the end we had over five title defences and around fifteen fights altogether, or something like that.
"It was amazing [winning a title], I had already experienced this with my father so I need to understand this feeling.
"But with starting all over again like we spoke about, winning that world title with Oscar was bigger than anything else.
"We had such a great relationship, and we still do I believe, we are still friends. That relationship made winning the title mean so much more."
Robles had doubled his world champions with Jessie Magdaleno with a win over Nonito Donaire, the accolades were firmly flowing in his direction.
"It was a big high point! Right before a press conference people were coming up and saying if I was going to be trainer of the year and stuff.
"I was like, 'what are you talking about?' I had never thought of that before. A couple of organisations actually did give me Trainer of The Year, it was a great honour."
Robles had seen just about everything through the years, surely the ceiling had been reached. However, history was about to be broken when Manny received a call from Andy Ruiz Jr.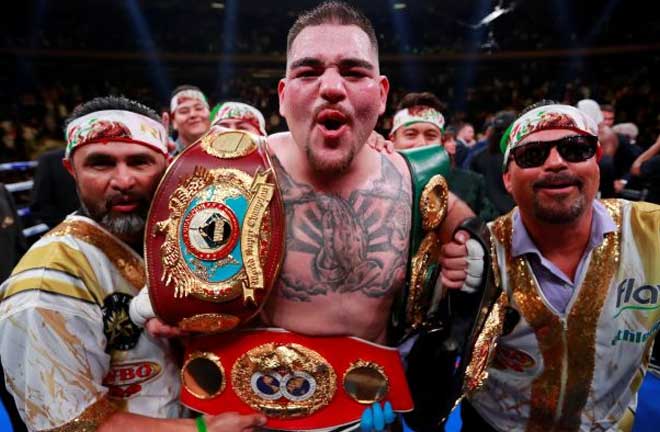 "Andy and I had been working together for a little while, at least a couple of years. He was having his shares of ups and downs, not getting fights, not getting paid much and so on.
"He opted out of his contract, Al Haymon signed him and we got the fight with Alexander Dimitrenko and it was the best thing to happen to him.
"First of all, to win that fight, then getting a call off of Anthony Joshua a week later meant we could get straight back in the gym and get him ready.
"By the time the Joshua fight came around he was in great shape. It just worked out perfectly."
Robles dug deeper revealing an insight into his mindset during the momentous scenes when Ruiz Jr pulled off an enormous upset over unified champion, Joshua.
"You have to try and stay calm and collected. When Andy went down in the fight we weren't too worried.
"He went down, took the eight count, we could see he was fine.
"He came back to the corner in that round, we had a one minute conversation in the corner about what he needed to do and we had a great game plan. The rest is history."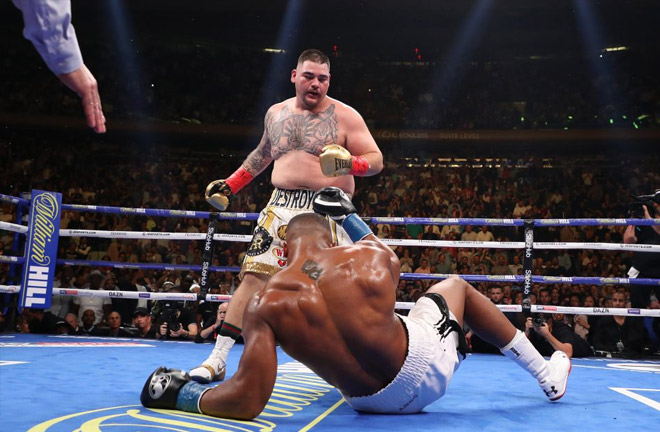 Just as history is achieved the rollercoaster of life had more downward turns for Robles with Ruiz losing the rematch, where his preparation had left a lot to be desired.
"I felt let down, yeah. I wouldn't have said anything if Andy had stayed quiet, but then we are at the press conference and he said it himself, that he didn't prepare properly and then he apologised to me.
"I would have preferred him to stay quiet and say that I lost to the better man, that's what Joshua did when he lost.
"He didn't make one single excuse, but Andy on the other hand went out on a limb and said he wasn't prepared."
The Manny Robles story is one of achievement and struggle. World champions will come and go, some will fall and some will fly, but Robles clocks in to his gym everyday regardless, ready to build his next mountain.
"You are aware they are not all going to make it. You have to be aware of that as a coach, but at the very least you know they can become champions in life.
"They can become good role models, good citizens. If you work with someone like that, you know you got yourself a champion."
By Adam Noble-Forcey
Follow Adam on twitter @Adam4cSports