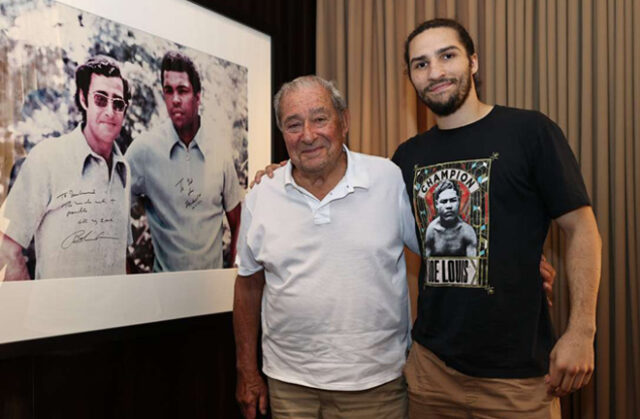 Almost 46 years ago, Hall of Fame promoter Bob Arum was ringside in the Philippines as Muhammad Ali overcame great rival Joe Frazier after an epic 14 rounds of heavyweight world title action.
On Saturday night, Arum will be ringside for an Ali fight once again, this time the first bow of Nico Ali Walsh, the grandson of Muhammad who laces up the gloves on the undercard of the trilogy between Joshua Franco and Andrew Moloney in Oklahoma, live on ESPN in the USA and Sky Sports in the UK and Ireland.
It seemed fitting and to a degree nostalgic when it was announced that the middleweight prospect had signed with the same promoter that had overseen 27 of his grandfather's bouts.
"Signing with Top Rank is a dream come true," Ali Walsh said upon inking a deal with the US-based promotional giants.
"I'm going to have fun on Aug. 14 and the next time I fight.
"I am honoured to continue the fighting legacy that my grandfather started. It is a responsibility I don't take lightly."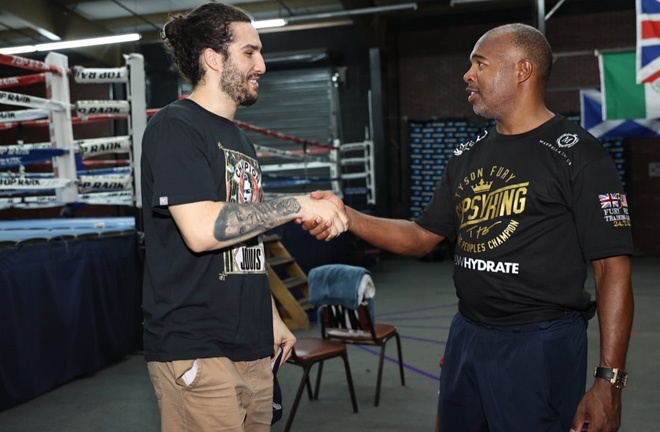 'The Greatest' transcended the sport of boxing for over two decades with his larger than life character, coupled with his extraordinary ring prowess and skillset to become heavyweight world champion on three occasions.
Ali is widely considered as one of the most naturally gifted fighters to ever step into a ring and has a legacy few can rival inside and outside the ropes.
It is of course not the first descendant of the late, former heavyweight great to turn over with his daughter Laila Ali, who is Nico's aunt becoming world champion during a stellar, undefeated career.
View this post on Instagram
Despite the perceived pressure that comes with his last name, the 21-year-old insists he is not paying too much notice to the weight of expectation.
"Honestly, everyone says it's a lot of pressure," Ali Walsh told IFLTV.
"But I believe everyone says it's a lot of pressure, because yes to me he's the greatest boxer of all time, but he's also just my grandfather.
"So, I feel like I have as much pressure as any normal boxer would. Anyone getting in a fight feels the pressure of the fight, but to me he's just my grandfather so I don't feel that extra pressure."
He had a choice. And now it gets real, as @NicoAliX74 chases a feeling instead of fame. (via @MarkKriegel)

Nico Ali Walsh makes his pro debut Saturday night on ESPN. pic.twitter.com/SAobKVuSso

— Top Rank Boxing (@trboxing) August 13, 2021
In recent years, there appears to have been a rise, in particular of sons of former fighters following in their footsteps by becoming professional fighters.
Tim Tszyu, Conor Benn, Chris Eubank Jr and Shane Mosley Jr are all competing in the same vein that their world champion fathers did, trying to create a legacy of their own.
Campbell Hatton, the son of former two-weight world champion, Ricky begun his journey this year and has spoken on record of how during his amateur career his opponents were more determined to beat him than anyone else they would face.
Ali Walsh, who had around 30 amateur fights can relate to the Brit and is proud to continue the legacy.
View this post on Instagram
"The way my Aunt Laila put it, she said you get the best versions of everyone you fight, they come with their absolute a-game," he said during a media Zoom conference call on Monday.
"I actually watch Campbell Hatton and obviously I love that story. I love continuing tradition and forging your own legacy, so yeah that was my entire amateur career.
"I got introduced as so-and-so's grandson a million times over every single fight and they always find out without me telling them, so that was my amateur life."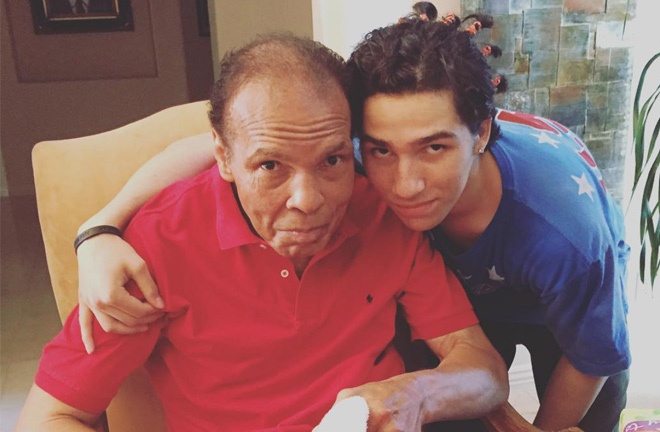 The prospect will be coached by SugarHill Steward and therefore training alongside WBC heavyweight champion, Tyson Fury when he makes his return to the USA to continue preparations for his trilogy with Deontay Wilder on October 9.
Despite the attention and anticipation which has built ever since he turned over to the paid ranks, the Las Vegas resident appears to be a level-headed, calm customer focused on the possibilities which could come his way in the future.
The journey begins for him on Saturday night against Jordan Weeks (4-1, 2 KOs), a fighter with a winning record, who will undoubtedly be motivated to boost his profile by claiming the scalp of Ali's grandson.
It will be a familiar story throughout his career, but a ride that will certainly be exciting and one to keep an eye on.