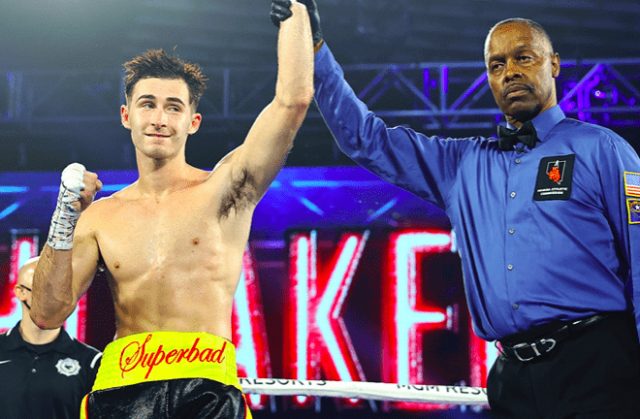 "A lot of fighters want to be rich like Floyd [Mayweather], but I want to make a difference like Muhammad Ali did."
Vlad Panin shares a similar mentality to that of sparring partner Ryan Garcia, who is determined to leave a legacy behind far beyond his achievements inside the ring.
The unbeaten Welterweight is rising up the ranks and bounced back from the one blemish on his record to claim a majority decision victory over Benjamin Whitaker inside the Top Rank Bubble at the MGM Grand, Las Vegas in June.
The pair went viral after landing simultaneous uppercuts in the first round and 'Super Bad' admits he is consistently reminded of the unprecedented moment.
"I really don't even remember it, but the internet won't let me forget it," Panin recalled to proboxing-fans.com.
"I mean, he was backing up, he was on the ropes and then I just threw a combination and he countered and we both landed uppercuts at the same time.
"I didn't even know what happened, I was just so in it, I've got to chase this guy down.
"But, I didn't even realise we landed at the same time, because both of our heads went back."
Panin (8-1, 4 KOs) moved to Las Vegas from his native Bulgaria at seven-years-old and originally started his journey in Karate.
However, after being disqualified from an event for knocking out an opponent, Vlad sort to shift his passion to Boxing.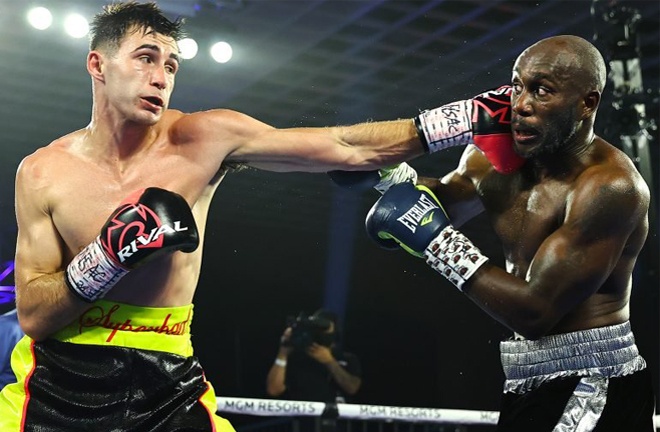 "I started in Karate and I just wanted to spar," Panin added.
"I used to be like 'coach when are we going to spar?' I just wanted to gear up and get in there.
"I did my first tournament when I was probably 12 or something and I had a match and I hit the guy in the face and I jabbed him and they warned me and they were like, 'you can't hit the face mask.'
"The headgear we were wearing, it covered the face so if you hit the face you didn't even hit him and I kept scoring points and they kept warning me, they were about to disqualify me.
24 hours later, we're still wrapping our minds around that crazy double uppercut from last night's show. 😮 pic.twitter.com/FD0VEBu3jQ

— Top Rank Boxing (@trboxing) June 27, 2020
"So then I calmed down, and then he scored a couple points on me and I was like 'screw this' and I just did a jumping head kick and I knocked him out and he started crying and then they disqualified me, so I was like 'you know what I need something more real, like more intense.'
"So then I found a boxing gym and I had a really good first coach and he had a really slick, defensive style and growing up watching Floyd [Mayweather] and Roy Jones, Bernard Hopkins and Andre Ward, those type of guys, the American style, I really learnt to compete the art of it."
After moving to Los Angeles, where he now resides Vlad started boxing, whilst studying at UCLA and met his coach Ramon Espada, who he has been with ever since his first amateur fight.
Panin, who graduated in English had 40 amateur fights, claiming a regional championship and a silver medal in two national championships, before beginning his professional journey in November 2017.
'Super Bad' is targeting a return to the ring in February, potentially on a Top Rank card and is aiming to truly establish himself this year.
View this post on Instagram
"I try to just take care of my business in the ring and let my performance do my talking and whoever wants to get in there with me and test their skills, I'm willing to take it," Panin continued.
"I would say [I am] a boxer puncher and now that I'm more comfortable, now that I've had enough pro fights, I definitely want to come forward more.
"I feel like I'm pretty well rounded, I can box, I can move, I can use my jab, I can stay long, I can come forward, I can throw body shots, cut the ring is, whatever the style in front of me, whatever I need to do, kind of like Andre Ward, he would actually mix up his style depending on who his opponent was, because whoever you fight they're going to give you different opportunities.
"So you have to be able to like Bruce Lee said, be water, be formless, be shapeless, so that's kind of like the approach I take."
In January 2020, the world was rocked by the untimely and tragic death of former NBA star and worldwide icon, Kobe Bryant.
Growing up around LA, where Bryant was revered due to his career-long association with the Los Angeles Lakers, Kobe's passing shocked Panin, as it did globally and the 25-year-old reveals that he remains an inspiration to him, as he harbours ambitions to stamp his mark in the sport.
"Just his mentality, the Mamba mentality, get up and work, dont complain, put the work in, that kind of mentality," Panin continued.
"Floyd, just, all the greats really, Muhammad Ali definitely.
"I feel like a lot of fighters nowadays want to be rich like Floyd, but I want to make a difference like Muhammad Ali did, I want to use my voice to inspire people and create change and be bigger than boxing, that's the ultimate goal.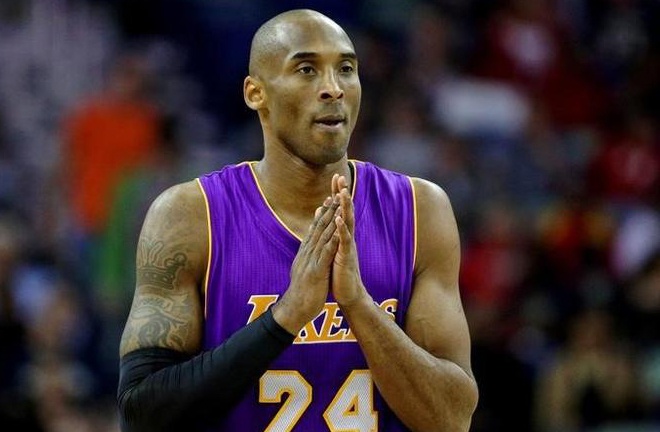 "It was tough, but he left us so many gems in all of his interviews and stuff that I just go back.
"Before every fight, I watch his documentary on SHOWTIME, it's called Muse. I'll watch little bits of that before every fight just to get myself in that mindset."
Panin has built experience sparring some of the best in the world, including Garcia and unified Super Featherweight world champion, Jo Jo Diaz and as he looks to breakthrough in 2021, it's evident that Vlad has the mentality and determination to achieve the heights of his inspirations and establish himself amongst the best at 147lbs.
Watch the full interview with Vlad Panin below and check out his thoughts on the exhibition between Floyd Mayweather Jr and Logan Paul here: