Boxing Fantasy Fight: De La Hoya-Tszyu
When it comes to fantasy fights, I've always found the most fascinating scenarios the fights that could have happened, but didn't, like Roberto Duran vs. Donald Curry. The Golden Boy vs. The Thunder from Down Under is a perfect example. The two men had a brief career intersection when they were both undefeated champions at 140 lbs, and de la Hoya's critics slammed him for years afterward for "ducking" Tszyu. Although that charge was lacking in substance, the fact remains that a De la Hoya vs. Tszyu fight would have been very exciting.
The Backstory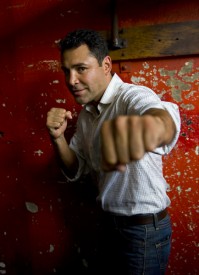 Kostya Tszyu is widely considered one of the greatest amateur boxers of all-time, and defected to Australia just prior to the fall of the Soviet Union. Turning pro, Tszyu captured the IBF Super Lightweight Title in 1995, and defended it five times before suffering a upset, knockout defeat at the hands of Vince Phillips in 1997.
Oscar de la Hoya's amateur career was also distinguished, if not quite as distinguished as Kostya Tszyu's, but his rise to the top of the sport was even more rapid. He moved up to 140 lbs early in 1996, and captured the WBC strap from an aged Julio Cesar Chavez later that same year. He defended his green belt only once before moving on to meet Pernell Whittaker for the welterweight crown in April 1997, only one month before Tszyu met Phillips.
This timeline combined with the fact that de la Hoya was struggling to make weight throughout his tenure at 140 lbs (when asked what he thought about moving up to 147 and fighting Whittaker, the Golden Boy responded by saying it was great, because he got to eat an extra shrimp or fish taco every day) should make it plain why accusations that De la Hoya ducked Tszyu are pure horse manure. But what would have happened if de la Hoya's onward march was delayed by Pernell Whittaker insisting on a larger share of the purse?
As negotiations dragged out, Oscar's camp would begin looking for another mid-to-late spring dance partner, one who would enhance their negotiating position vis-a-vis Whittaker. That dance partner would have been Kostya Tszyu, and HBO would have been thrilled to have staged a WBC-IBF unification bout on World Championship Boxing.
De La Hoya vs. Tszyu: The Fight
The Golden Boy came out of his corner seeking to box Tszyu aggressively, applying his faster hands, three-inch height advantage and six-inch reach advantage. He stuck the jab viciously and tried to force Tszyu back, but the Russo-Australian was having none of it. Tszyu stood his ground, got his head snapped back repeatedly, and fired back. Heavy, thudding blows landed on de la Hoya's guard, but a few shots got partway through, and at the end of the round Tszyu lands a hard hook to the body. Oscar won the round, however.
Round 2 went much the same, with Oscar trying to force Tszyu into backing up with rapier-like jabs and quick, outside left hooks, while Tszyu attempted to find his range, find his timing, and walk his man down. Tszyu lost that round as well, but in Round 3 he threw a short, sharp counter-right over Oscar's jab and put the WBC champion on his butt. De la Hoya rose, embarrassed but more or less unhurt, but finished the round moving side to side rather than trying to move forward.
With Golden Boy on the defensive, Tszyu pushed forward, throwing more leather and coming on with greater determination. De la Hoya scored repeatedly with the jab, but Tszyu unleashed plenty of heavy artillery at medium-range. By the end of Round 4, de la Hoya had shifted gears completely into counter-puncher mode, and this yielded some dividends. Sidestepping Tszyu's right, Oscar landed a sharp counter left hook that spunTszyu's head, but failed to put him down. The punch stole the round for de la Hoya.
Phillips defeated Tszyu largely because the Russo-Australian became enamored with his power early in his pro career, and allowed his defensive skills to deteriorate. For Phillips, that meant landing solid counter rights. Oscar started working his counter-left hook instead. Tszyu didn't make it easy, coming in close and trying to smother De la Hoya's power. Oscar shifted again, finding counter lefts to the body than headhunting. Tszyu pressed the action even harder, firing combo after combo of heavy-handed power shots.
De la Hoya was sometimes overwhelmed and forced to clinch, and got mauled for his trouble by the shorter, muscle-bound man. The middle round warfare had the crowd at the Thomas and Mack Center on its feet, baying for blood. Because close-up body shots don't score well with Las Vegas judges (not unless your name is "Julio Cesar Chavez"), Tszyu swept the middle rounds on the basis of his more photogenic aggression, but it costs him.
By Round 8, both men had visible facial swelling, were cut and bleeding, and looked battered, but it is Tszyu who was visibly tiring. Drained by making weight, Oscar was tiring as well, but the source of the exhaustion had different effects on each man. Oscar lost some of his mobility, but none of his speed. Tszyu, who had been battered into exhaustion, suffered from duller reflexes. De la Hoya saw this and capitalized, shifting from the body to the head. At the end of Round 8, de la Hoya stepped aside from another Tszyu fusillade, landed a wide, sweeping counter left hook, and put the IBF champion down.
Tszyu was clearly hurt, but rose by the count of eight. The Golden Boy came forward and tried to finish off the Thunder from Down Under, but with only 20 seconds remaining in the round, he couldn't close the deal.
Both men came out for Round 9, but it is De La Hoya who came out on a mission. Throwing everything but the stool at Tszyu, Oscar forced him back onto the ropes, staggered him again, and almost beat Tszyu down to the canvas. This time, the Australian didn't get up.
Oscar de la Hoya KO9 Kostya Tszyu