Oscar "Finito" Gonzalez (21-1, 17KOs) will look to stop the flight of Tijuana journeyman Arturo "Aguilita" Valenzuela (20-15, 17KOs) once and for all on Saturday, April 2nd, in the seaside port of Rosarito, MX, in a fight card presented by Erik Morales' Box Latino.  The multi-bout fight card will take place at the Ernesto Ruffo Appel Municipal Gymnasium twenty minutes south of the San Diego-Tijuana border.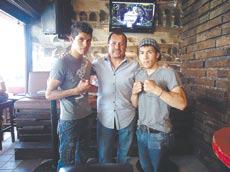 Gonzalez, who is one of Box Latino's up and coming stars along with Alejandro Sanabria, Pedro Guevara and Omar Estrella, was present yesterday at a press conference in downtown Tijuana to announce his fight scheduled for ten rounds in the featherweight division.
"I think it is going to be a tough fight but we are very prepared," Gonzalez stated.
Gonzalez of Tijuana, MX, by way of Tepic, Nayarit, holds the WBC Youth super bantamweight title.
The fight card also includes popular Tijuana welterweight Javier "Pelon" Gomez (10-7, 7KOs) and hard hitting flyweight Jose Estrella (7-2-1, 6KOs).
Tickets are available at the Ernesto Ruffo Appel Municipal Gymnasium box office in Rosarito, MX.  For more info, please visit www.BoxLatino.com