Plus Danny O'Connor Takes On Gabriel Bracero and Willie Nelson Battles Vincent Arroyo:
After three straight victorious appearances on ShoBox: The New Generation, Marcus Johnson hopes to make his fourth an eye-catching performance on the path from prospect to contender. Touted as a top American prospect on many boxing lists, Houston's unbeaten and hard-hitting Johnson (20-0, 15 KOs) will make his fourth consecutive appearance on the popular series featuring boxing's youngest and brightest stars as he goes up against another ShoBox alumnus in Boca Raton's Dyah Davis (18-2-1, 9 KOs) on Friday, April 8, in a 10-round super middleweight main event as part of a spectacular tripleheader LIVE on SHOWTIME (11 p.m. ET/PT, delayed on the West coast).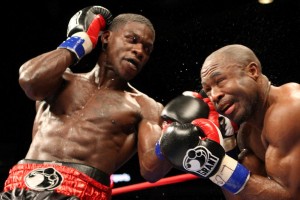 The night of boxing begins with two exceptionally matched co-features. Two unbeaten, 14-0 fighters will square off in an eight-round junior welterweight affair as 25-year-old and brand new father Danny O'Connor (14-0, 3 KOs) takes on 30-year-old Gabriel Bracero (14-0, 1 KO) of Brooklyn, N.Y., by way of Puerto Rico.
In the evening's first televised fight, a pair of 23-year-olds tangle as former amateur standout Willie Nelson (16-0-1, 10 KOs) of Cleveland, meets Vincent Arroyo (10-1, 7 KOs) from Amherst, N.Y., in an eight-round welterweight bout.
Promoted by DiBella Entertainment, the "Rumble on the Rio" will originate from the Laredo Energy Arena in Laredo, Texas.
"Yeah, four straight on ShoBox, that's pretty exciting," said Johnson. "I've fought on SHOWTIME in Oklahoma, Chicago and North Dakota and now I'm in Texas. I wish it could be in Houston but Laredo is fine. It's about a five-hour drive from Houston."
When we last saw the 25-year-old Johnson, he was polishing off Kevin Engel back in November, 2010, in Fargo, N.D., recording a third-round TKO. Johnson won the WBO NABO championship last April by scoring a 10-round decision over then-unbeaten Derek Edwards in Chicago and in October, 2009, he decisioned Victor Villereal in Newkirk, Okla.
Johnson hopes the April 8 fight will advance his status as a fighter and some boxing experts agree. "A convincing win over Dyah Davis would suggest that Marcus Johnson is ready to make a move in the 168-pound division," said SHOWTIME boxing analyst Steve Farhood.
The 29-year-old Davis — son of 1976 Olympic gold medalist Howard Davis Jr. — fought as recently as February, battling to a controversial 10-round majority draw with formidable Mexican Francisco Sierra on Feb. 5 in Maywood, Calif., although most observers, and one judge, felt Davis had done enough to win.
"I definitely thought I won the fight," Davis said. "I thought I did enough to win but in boxing it's politics. It was his promoter's show. But for me I think it was a learning experience: I have to be able to put guys away when I have the chance. This fight is going 10 rounds and if I have the opportunity to put him away, I will this time. I have to let my hands be the judges."
Fighting on the same card as Johnson-Engel in Fargo, N.D., Davis lost an eight-round decision to Aaron Pryor Jr., on ShoBox last Nov. 5 in an all-action and entertaining fight.
"I didn't see [Johnson's] fight there but I know he's fundamentally sound but nothing that special," Davis said. "My style will give him problems, for sure. This is the toughest test for both of us. He hasn't fought anyone as strong as I am. I see myself victorious."
He added: "I don't care that the fight is in his home state. I've fought in England and Mexico. Fighting in someone else's territory never really bothered me."
Johnson recently watched the Davis-Sierra fight and concluded, "He's a good boxer and we both have that classic boxer-puncher style. He probably thinks I'm going to come out and brawl and I don't think he's aware of my speed as well as my power."
The southpaw O'Connor from Framingham, Mass., is described as an all-action fighter who trains at Peter Manfredo's gym in Rhode Island. He is managed by Leon Margules. "It really should be an exciting fight," Margules said. "I like Danny because of his amateur pedigree but here you have two fighters at basically the same stage of their careers. That's what makes boxing great when you have two unbeatens going at it. It's a real coming-out and a chance for fight fans to see two very skilled boxers."
O'Connor was the 2008 National Golden Gloves Champion, an alternate on the 2008 U.S. Olympic team and a 2007 U.S. Olympic Trials bronze medalist.
On March 10, O'Connor and his wife welcomed home new son Liam. It's given O'Connor a new outlook and fresh perspective on life. "It really hasn't been a distraction in my training," he said. "It's actually been more motivating than I can put into words."
O'Connor knows he'll be facing an unbeaten fighter on April 8. "We both have zeros. I have to do everything in my power to take his away," he said.
This will be Bracero's first fight outside of New York, who has turned heads since returning to boxing in 2009 after an eight-year absence. He has been a mainstay of DiBella Entertainment's "Broadway Boxing" series, headlining fight cards at B.B. King Blues Club in seven of his last nine fights, creating a very vocal and enthusiastic hometown fan base.
Bracero's lone knockout came against Raymond Betancourt, on July 28, 2010, in Bracero's 11th pro contest, but the majority of his victories by decision have been virtual shutouts.
The tall and lanky 6-foot-3 Nelson comes from a long line of outstanding Cleveland-area boxers and is quickly being looked at as a rising prospect in the talent-thick welterweight division. After more than 200 amateur fights, Nelson made his pro debut in 2006 with the only negative mark on his record so far a controversial draw in then-unbeaten Antonio Johnson's home state of California.
Nelson's biggest career win was against former "Contender: Season One" contestant Jesse Feliciano, whom he knocked out inside one round last June. Last time out, Nelson stopped Quinton Whitaker in similar fashion with another one-round knockout in Atlantic City, on the undercard of the Sergio Martinez-Paul Williams rematch, on Nov. 20, 2010.
The heavy-handed Nelson has a "boxer-puncher" style and has been described as a fighter who will try to keep his opponent on the outside. Nelson trains with ShoBox standout Shawn Porter.
The tough and aggressive two-time national junior champion Arroyo, facing his third straight undefeated opponent, can bring the power too as he was last seen scoring an upset knockout over formerly undefeated Jeremy Bryan. His only loss came at the hands of ShoBox alum Mike Dallas Jr., in September, 2009.