-Pacquiao vs. Margarito Might Make Dollars, but it Makes No Sense-
I find it hard to fault the resume of Manny Pacquiao. There have been moments when Pacquiao side-stepped the best opposition, such as when he fought David Diaz in 2008, instead of seeking out Nate Campbell, Juan Diaz or even a rubber match with arch-rival "El Dinamita" Juan Manuel Marquez. Still, I don't fault him for that. Sometimes fights are dictated by promotional or financial considerations, and only a fool forgets that boxing is a business first and foremost. Also, when a guy spends most of his career taking on the toughest A-List opponents out there, every so often that man is due a break with a journeyman or a B-Lister.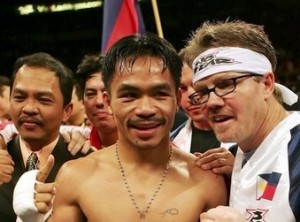 Yet I find I cannot write the same thing of Pacquaio's November bout with Antonio Margarito. Nothing justifies it. I am not one of those people who thinks Margarito should be permanently banned from the sport. Plenty of very experienced, sagacious boxing figures with no interest in Margarito have come out and said that the Mexican fighter might have had no idea his wraps were packed with plaster, and barring proof that he did know, he has suffered enough. Margarito's trainer should be banned for life, but not Margarito himself.
My problem is that Margarito doesn't deserve a shot at a world title or a big money engagement with Manny Pacquiao at this juncture, but plenty of other fighters do. Since Floyd Mayweather wants nothing to do with the speedy Filipino, the next best challenger is Andre Berto. However, if Pacquiao would prefer an easier opponent and a bigger share of the purse (something I will forgive him for, as previously described), why not Luis Carlos Abregu? Or Luis Collazo? Pacman could drop down to 140 lbs. and seek a kingly sum for a fight with one of the hot names in that division, such as Bradley, Alexander and Khan. Why not give every fight fan their next best choice after a showdown with Mayweather, namely a rubber match with Juan Manuel Marquez?
Instead of any of those fights, we get Antonio Margarito instead. Margarito beat up a journeyman in a light middleweight contest in May, but otherwise he hasn't done anything since his knockout defeat at the hands of "Sugar" Shane Mosley. That was the defeat that brought the plaster issue to the world's attention, and the truth is that no one has any idea whether Margarito's fearsome reputation is worth anything now that his fists aren't faced with masonry. Combine that with the cloud that still hangs over him, and it becomes clear that Margarito has no challenging for a world title or collecting a huge pay day until he has proven himself to be a viable contender. This fight is going forward solely because Bob Arum promotes both Pacman and Margarito, and Margarito is the sole "name" welterweight Arum has left who has not already fought with Pacquiao. Bob Arum's greed is not a good enough reason to justify this fight. Let Margarito fight an Abregu or Collazo first, and then let him dance with Pacman.