Promoters Are Keeping Their Fighters "In-House" To Maximize Returns, While Foregoing the Biggest Fights
The boxing game today is ruled by a collection of powerful individuals and companies, who collectively control the majority of the talent and the majority of the dollars that the sport has to share. This select list includes several of the biggest promoters, along with a handful of powerful managers, and the major networks who provide the majority of the financial backing for them.
One of the most influential companies, Top Rank Promotions, headed by Bob Arum, has maintained its position through its control over some of the sport's biggest stars. Oscar De La Hoya and Floyd Mayweather Jr. were once promoted by Top Rank, just as Manny Pacquiao and Miguel Cotto both are today. Other recognizable names like budding superstar Juan Manuel Lopez and former middleweight champion Kelly Pavlik are also promoted by Arum and his team.
Besides being responsible for directing the careers of many of the most recognizable names in the sport, Top Rank is also at the forefront of a growing trend in the industry, stocking up talent and then matching them all up against one another. It's a perfect situation for the promotional company, who does not have to share its profits with another outfit, and is assured of coming out of each fight with at least one winning fighter, regardless of the outcome.
Delving into the Matchmaking of Top Rank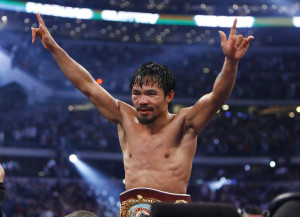 If you take a look at the recent records of some of these fighters, the effort to do this becomes quite clear. Manny Pacquiao has fought fellow Top Rank fighters in his last two outings, and three of his last five. Counting his pending bout against Antonio Margarito, that's three in a row and four out of six. As another example, Miguel Cotto has fought a Top Rank stablemate in his last three outings as well, and five of his last six. Rumors have it that he could be taking on Julio Cesar Chavez Jr. next, which would make it six of seven, on a card also featuring Fernando Montiel vs. Nonito Donaire, two more Top Rank fighters.
This in and of itself is not necessarily a problem. After all, the willingness of a promoter to pit his fighters against each other could in theory be commendable. Even though the company comes out with a winner, it's also assured of coming out with a loser as well.
However, the alarming trend with these in-house fights is that the best matches are often passed over, while lesser fights are put together between fighters who just happen to be under the same promotional flag. If a promoter cannot get along with another promoter, or the management team of a fighter or anyone else, then surely he can come to terms with himself, for a 100% stake in the fight, to align two of his men in the same bout.
Pacquiao vs. Margarito
The case of the upcoming November 13 bout of Manny Pacquiao vs. Antonio Margarito is particularly alarming.  Margarito is attempting a comeback following his infamous hand wrapping controversy. Prior to walking out for his bout against Shane Mosley on January 24, 2009, Margarito was caught with plaster on his hand wraps. Following an epic and all too deserved beat down at the hands of Mosley, Margarito was suspended for a year by the California State Athletic Commission, a suspension enforced throughout the rest of the country. As of this time, California has not yet relicensed Margarito, and the commissions of some other major boxing hotbeds, such as the Nevada State Athletic Commission, have taken a pause themselves, opting to wait until the original state makes a judgment or at least conducts another hearing.
Margarito has had just one bout in the interim, a match against unheralded Roberto Garcia, contested in Mexico in May of this year. Not yet licensed, only one relatively meaningless bout in over 18 months, coming off a knockout loss and what should be an unforgiveable offense in a sport where men are paid to pummel each other in the face, and Margarito now gets a chance at the vacant WBC junior middleweight title, and a showcase against the sport's reigning pound for pound king. Say what?
Top Rank Isn't Alone
Of course, Top Rank isn't the only promotional company taking part in this sort of endeavor. HBO announcer Max Kellerman recently called out both Top Rank and De La Hoya's Golden Boy Promotions for such tactics, sick of watching fights like Floyd Mayweather vs. Manny Pacquiao and what would have been a spectacular junior welterweight tournament fall to the wayside.
It's not that it's impossible for promotional companies to work together, and the Super Six Tournament is a spectacular example of just that. It's that all too often they are choosing not to, instead taking the easy, and in the short term more profitable, route. In the long run, though, failing to make the best fights only harms the sport and the bottom lines of the companies, managers and networks either pulling the strings or enabling those who do.
When fights like Floyd Mayweather  vs. Shane Mosley and Manny Pacquiao vs. Miguel Cotto are offered up, there's certainly no shame in two fighters under one roof squaring off. However, when the best fighters in the sport are steered away from one another, and Antonio "Manos de Plaster" Margarito gets a title appointment against Manny Pacquiao, then the practice has gone too far and it's time for a change.
Ultimately, fight fans are enabling this to happen just as much as the promoters and matchmakers are. It's we who really control the purse strings of these power-and-profit hungry individuals. Just as we can vote out an elected official who fails to heed our requests and meet our needs, we can forego paying for Pay-Per-View contests which fail to satiate our desire for meaningful, enticing boxing contests. If Top Rank or any other promotional company or manager wants to secede from the rest of the sport and handle everything on their own terms, then so be it. I just won't be paying to watch.